The world's oldest known person, Lucile Randon, has died aged 118, her spokesman said.
Ms Randon, known as Sister Andre, was born in southern France on 11 February 1904 when World War I was still a decade away.
She became the oldest person in the world last April when Japanese woman Kane Tanaka died aged 119.
She died in her sleep at her nursing home in Toulon, spokesman David Tavella said.
"There is great sadness but... it was her desire to join her beloved brother. For her, it's a liberation," Mr Tavella, of the Sainte-Catherine-Laboure nursing home, said.
"People say that work kills, for me work kept me alive, I kept working until I was 108," the Catholic nun had previously said.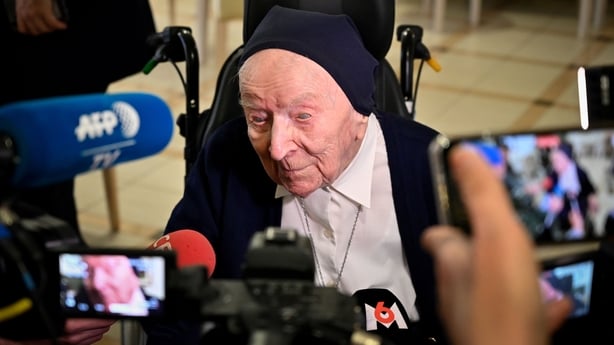 Born Lucile Randon in 1904 in Ales, southern France, Sister Andre's days were punctuated by prayer, mealtimes and visits from other residents and hospice workers, as well as a steady flow of letters, almost all of which she responded to.
In 2021, she even survived a Covid-19 infection, becoming a symbol of hope for people from around the world.
Another Frenchwoman, 122-year-old Jeanne Calment who died in 1997 in Arles, holds the record for the oldest confirmed age reached by any human being so far.