Rescue teams are searching for missing people in central Alabama and the death toll was expected to climb, local officials said, after thunderstorms and tornadoes damaged dozens of homes and knocked down trees.
Seven deaths have been reported in Alabama's Autauga County, emergency management director Ernie Baggett said on MSNBC.
County Coroner Buster Barber told Reuters the number ofcasualties would rise.
The tornado caused widespread damage yesterday, ripping off rooftops and hurling other debris.
"We are finding more bodies as we speak," he said in a phone interview. "We've got search teams out in the area."
In Georgia, a tree fell on a car, killing a five-year-old child and leaving an adult passenger in critical condition as they were driving home, Butts County Coroner Lacey Prue said.
The National Weather Service confirmed that at least five tornadoes touched down in the central Alabama region yesterday, according to meteorologist Jessica Laws.
The longest twister was tracked from southwest of Selma, Alabama, to the Georgia-Alabama state line, she said.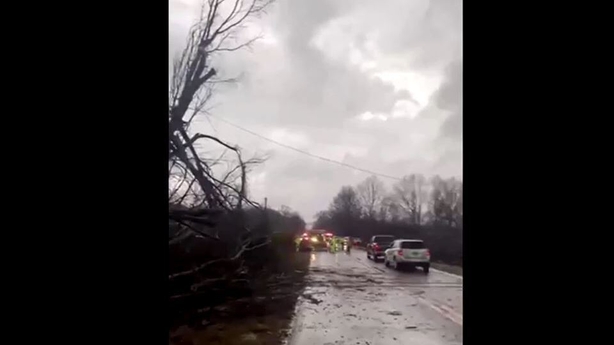 Today, the weather service said it had dispatched multiple damage survey teams to the field.
The agency warned that gusty winds and cold wind chill temperatures will persist through tomorrow morning.
As many as 50 properties were damaged by the storms in Autauga County, according to the local sheriff's office.
Some churches and establishments have opened their doors to provide food and hot showers for residents.
Alabama Governor Kay Ivey yesterday declared a state of emergency for six counties hit hard by the storm.
Those include Autauga, Chambers, Coosa, Dallas, Elmore and Tallapoosa counties.
Nearly 20,000 customers were without power in Alabama today, according to PowerOutage.us.
The storm also led to power outages in neighboring states of Mississippi and Georgia.