Billions of people across the world are benefitting from improved living conditions.
The collective success of better sanitation, healthcare, education and gender equality have contributed to people living longer than ever before.
While there has also been a steady move from high to low levels of fertility and mortality.
By 2050, the United Nations expects the number of people aged 65 or older worldwide to more than double, rising from 761 million in 2021 to 1.6 billion.
The UN's World Social Report 2023 is urging better measures to ensure the rights and wellbeing of older people are at the centre of efforts to achieve a sustainable future.
It reports, "population ageing is a defining global trend of our time. People are living longer, and more are older than ever before".
Over several decades both the number and population share of older persons have risen globally, while the number and share of children and youth have begun to shrink.
Population ageing is furthest along in Europe and Northern America, Australia and New Zealand, and most of Eastern and South-Eastern Asia, according to the report.
In most countries in these regions, the proportion of people aged 65 years or older, exceeds 10% - and in some cases 20% - of the total population.
In the past death was common at all ages, for example, many children died from infectious diseases, or women frequently perished during childbirth, but currently in most countries 'premature death' before age 60 or 70 is relatively rare.
The report warns, however, that statistical averages hide some broad disparities.
In almost all societies women live longer than men on average, and the rich live longer than the poor.
The World Health Organisation and the UN have designated 2021-2030 as the Decade of Healthy Aging, building on the Madrid International Plan of Action on Ageing and aligns with the timing of the Sustainable Development Goals.
The aim of the Decade is to promote strategies that support well being among older people and developing and maintaining independent living skills and activities.
As we continue to live longer lives and have smaller families, population ageing is inevitable and is largely irreversible.
This is where the UN is urging governments to take action.
In Ireland, Sean Moynihan, the Chief Executive of the charity Alone, which helps older people age at home, said: "The Irish government launched a national positive ageing strategy in 2013 which states as it mission: 'Ireland will be a society for all ages that celebrates and prepares properly for individual and population ageing.
"'It will enable and support all ages and older people to enjoy physical and mental health and wellbeing to their full potential'.
"The hard fact is we didn't act on this strategy. We now have around 800,000 older people of which 100,000 over 65 living in or at risk of poverty and the present trolley crisis that disproportionately affects older people.
"At a time when our state has never been wealthier we need make the changes across health, housing, transport and financing to meet an aging population. We need these actions to begin in earnest."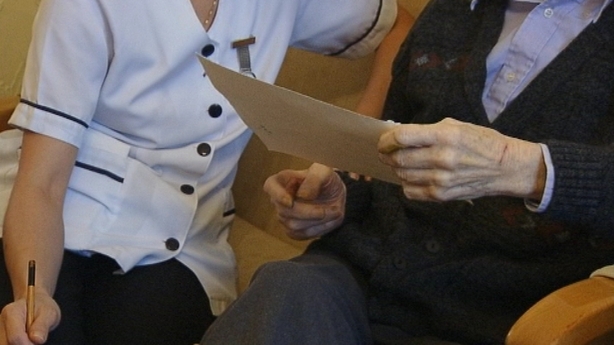 Foresight and planning
Without collective actions, measures and policy decisions on how to allow society to benefit and adapt to ageing populations, the UN predicts high social, economic, fiscal and health related costs, for both current and future generations.
It urges appropriate foresight and planning by governments to manage the challenges, and to enhance opportunities to ensure no one is left behind.
The report also notes how the Covid-19 pandemic exposed existing weaknesses in health care for older people, and how it can aggravate inequalities.
It refers to how a lack of reliable protocols to prevent transmission within health facilities contributed to a heavy death toll in this age group and highlighted the imperative for reforms of long term care.
The UN report highlights two types of policy actions that are need; one set to a give everyone an equal chance from birth in terms of education and access to labour to prevent poverty, and one set consisting of policies to reduce inequality and promote economic security including better pensions and healthcare.
It warns most public pension systems have not kept up with employment patterns, especially the growing insecurity of low-paying jobs.