Ukraine has said that Russia destroyed homes in the southeast and knocked out power in many areas with a new volley of missiles today, while Moscow said Ukrainian drones had attacked two air bases deep inside Russia hundreds of miles from frontlines.
A new missile barrage had been anticipated in Ukraine for days and it took place just as emergency blackouts were due to end, with previous damage repaired.
The strikes plunged parts of Ukraine back into freezing darkness with temperatures now firmly below zero. However Kyiv said it shot down most of the missiles.
At least two people were killed in Russian attacks in Ukraine's southern Zaporizhzhia region, Kyiv said.
Meanwhile, Ukrainian drones attacked two air bases at Ryazan and Saratov in south-central Russia, killing three servicemen, wounding four and damaging two aircraft, Russia's defence ministry said.
We need your consent to load this rte-player contentWe use rte-player to manage extra content that can set cookies on your device and collect data about your activity. Please review their details and accept them to load the content.Manage Preferences
Ukraine did not directly claim responsibility for the attacks. If it was behind them, they would be the deepest inside the Russian heartland since Moscow invaded Ukraine on 24 February.
One of the targets, the Engels air base near the city of Saratov, around 730km southeast of Moscow, houses bomber planes belonging to Russia's strategic nuclear forces.
"The Kyiv regime, in order to disable Russian long-range aircraft, made attempts to strike with Soviet-made unmanned jet aerial vehicles at the military airfields Dyagilevo, in the Ryazan region, and Engels, in the Saratov region," the Russian defence ministry said.
It said the drones, flying at low altitude, were intercepted by air defences and shot down, with the wreckage causing light damage to two aircraft. The deaths were reported on the Ryazan base, 185km southeast of Moscow.
The Russian defence ministry called the drone strikes a terrorist act aimed at disrupting its long-range aviation.
Ukraine said it shot down more than 60 of more than 70 missiles fired by Russia today - the latest in weeks of attacks targeting its critical infrastructure that have cut off power, heat and water to many parts of the country.
It comes as a Group of Seven (G7) price cap on Russian seaborne oil comes into force today, while the West tries to limit Moscow's ability to finance its war in Ukraine.
Russia, the world's second-largest oil exporter, has said it will not abide by the measure even if it has to cut production.
The G7 nations and Australia on Friday agreed a $60 per barrel price cap on Russian seaborne crude oil after European Union members overcame resistance from Poland.
This morning, the Kremlin said the price cap would destabilise global energy markets but would not affect Moscow's ability to sustain its military operation in Ukraine.
Kremlin spokesman Dmitry Peskov said Russia was preparing how it would respond to the move.
Mr Zelensky said the world had shown weakness by setting the cap at that level while Russian Deputy Prime Minister Alexander Novak said it was a gross interference that contradicted the rules of free trade.
The G7 agreement allows Russian oil to be shipped to third-party countries using G7 and EU tankers, insurance companies and credit institutions, only if the cargo is bought to or below the cap.
The level of the cap is to be reviewed by the EU and the G7 every two months, with the first such review in mid-January.
Industry players and US officials said in October that Russia can access enough tankers to ship most of its oil beyond the reach of the cap, underscoring the limits of the most ambitious plan yet to curb Russia's wartime revenue.
China's foreign ministry said that Beijing would continue its energy cooperation with Russia on the basis of respect and mutual benefit, following the EU's agreement of the price cap, Russia's RIA news agency reported.
---
Read more on Russia's invasion of Ukraine
---
The US and its allies have imposed sweeping sanctions on Russia since its invasion of Ukraine and sent billions of dollars in aid to the Ukrainian government.
French President Emmanuel Macron, however, drew criticism from Ukraine and its Baltic allies over the weekend for suggesting the West should consider Russia's need for security guarantees if it agrees to talks to end the war.
An aide to Mr Zelensky, Mykhailo Podolyak, said the world needed security guarantees from Russia, not the other way around.
Meanwhile in Ukraine, Russia has been pounding power infrastructure since early October, causing blackouts and leaving millions without heating as temperatures plummet.
Russia says the assaults do not target civilians and are meant to reduce Ukraine's ability to fight, while Ukraine says the attacks are a war crime.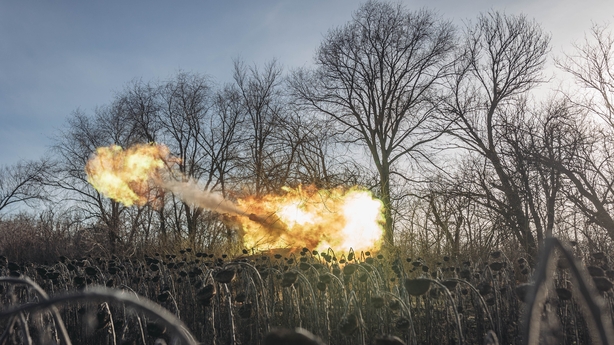 In a video address last night, Mr Zelensky urged citizens to be patient and strong in resisting the rigours of winter.
"To get through this winter, we must be even more resilient and even more united than ever," he said.
Kyiv Mayor Vitaliy Klitschko said on Telegram that blackouts would be confined from today to planned "stabilisation" cut offs to get the grid working again, but added the situation remained "difficult".
Ukraine's largest power supplier, DTEK, said blackouts were planned for three other regions: Odesa, Donetsk and Dnipropetrovsk in Ukraine's south and east.
In Kherson, which has been largely without power since Russian forces abandoned the southern city last month, the regional governor said 85% of customers had electricity.