Although the weather was kind - a gentle breeze blowing in the desert at the Al Bayt stadium - the football gods did not smile on the hosts Qatar as they slumped to an opening day defeat to Ecuador meaning their chances of emerging from Group A, a group that also includes The Netherlands and Senegal, are slim.
Money can bring the world's biggest football event to this tiny Gulf state but it could not buy a win for the hosts.
This was the game that the Emir of Qatar and the local Supreme Committee for Delivery and Legacy had changed the entire World Cup schedule for, one of the ways in which they have shown FIFA who is really in charge here.
The opening ceremony was primarily a political occasion, a celebration of Arab culture.
Among the guests were the Saudi Crown Prince, the King of Jordan and the Presidents of Egypt, Turkey and Algeria along with the Secretary General of the United Nations.
But apologists still insist that this World Cup is not about politics or is not part of a wider sports washing strategy.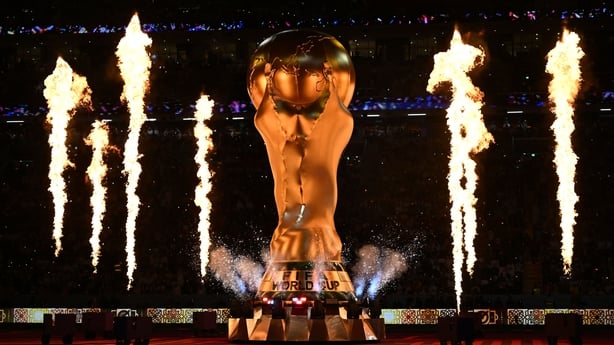 FIFA President Gianni Infantino could not resist a microphone again, but he still has not committed to a compensation scheme for the families of many migrant workers who died building the stadiums and the incredible infrastructure here, the ultimate vanity project.
The plight of migrant workers who died during construction projects since 2010 was one of the issues highlighted by human rights groups ahead of the big kick off, along with environmental concerns and the treatment of the LGBT community in a country where homosexuality is illegal and can be punishable by up to seven years in prison.
Mr Infantino defended the hosts and accused European nations of hypocrisy and double standards in relation to human rights issues saying Doha was ready to host the best World Cup ever.
That remains to be seen.
The whole vanity project is estimated to have cost over $200 billion dollars and the 22nd edition of the World Cup has been tarnished, mired in controversy ever since the tournament was awarded to the desert state in 2010.
FIFA's hope is that now once the ball is rolling people will focus on the football.
Questions though, should continue to be asked throughout the four week tournament and beyond.
In bidding for a World Cup in the future, FIFA and prospective hosts must put human rights at the very top of the agenda.