President Volodymyr Zelensky has called for Ukraine's allies to share "all the data" held on the missile that landed in Poland, which Kyiv insists was fired by Russia, a claim contradicted by Warsaw.
Two people were killed yesterday when at least one missile hit the village of Przewodow near the Ukrainian border, during a mass Russian bombardment aimed at civilian infrastructure inside Western-backed Ukraine.
In the immediate aftermath of the incident there were fears it could mark a new escalation in the conflict, but by today Poland announced the projectile likely originated from Ukraine's own air defences. That theory was then endorsed by Washington.
"We want to establish all the details, each fact. That's why we need... access to all the data that our partners have and the site of the explosion," Mr Zelensky said in his nightly address.
Mr Zelensky had earlier said Kyiv had not seen proof that the missile was Ukrainian and that it was imperative that Kyiv become part of an investigation.
Poland's President Andrzej Duda said today it was "very likely" that the deadly missile that struck a Polish border village was from Ukraine's air defence.
"Absolutely nothing indicates that this was an intentional attack on Poland.
"It's very likely that it was a rocket used in anti-missile defence, meaning that it was used by Ukraine's defence forces," he told reporters.
NATO Secretary-General Jens Stoltenberg also said the explosion was likely caused by a Ukrainian air defence missile, adding there is no indication for a deliberate attack or that Russia is preparing offensive military actions against NATO.
"This is not Ukraine's fault. Russia bears ultimate responsibility as it continues its illegal war against Ukraine," he said.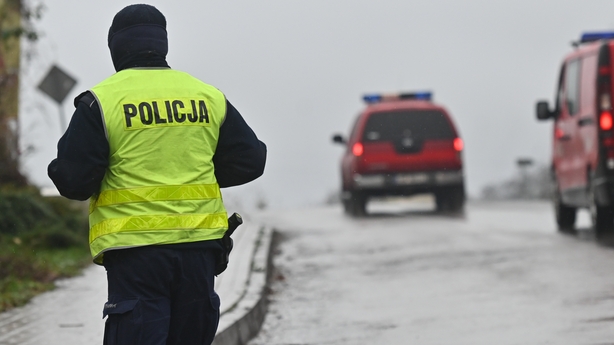 Ukraine has requested access to the site.
"Ukraine requests immediate access to the site of the explosion," the secretary of Ukraine's national security and defence council, Oleksiy Danilov, said on Twitter, adding they were ready to hand over "evidence" regarding allegations against Russia.
Russia this afternoon summoned the Polish ambassador to the foreign ministry in Moscow, a ministry spokeswoman confirmed.
Speaking on RTÉ's Six One News, Poland's Ambassador to Ireland said that if Poland's security is in danger, it will invoke NATO's Article 4.
Anna Sochanska said yesterday's missile strike highlighted the situation along its borders.
"We have a very unstable environment, unstable situation at the border," she said.
"One has to remember that we not only share a border with Ukraine, but also with Belarus and with Russia.
"So, of course we feel more secure as members of the strongest alliance in the world, NATO, but such situations show us how fragile stability and peace is."
Ms Sochanska said it is believed to have been an accident but that Russia's actions were ultimately responsible.
"We think it was an incident. What is really important to underline here, that doesn't matter if it was a defensive or offence missile," she said.
"Had it not been for Putin and his barbaric war, we wouldn't have such tragedies and those people would be alive.
"I think the reason not to invoke Article 4 of NATO is that it was an accident, but of course in the situation when the security of Poland is endangered, I think we would decide to invoke Article 4."
Earlier, US President Joe Biden said the missile that struck a village in Poland killing two people was probably not fired from Russia.
His remarks followed a hastily arranged meeting of G7, NATO and EU leaders on the margins of the G20 meeting in Bali in response to the incident, which has raised concerns about a wider escalation of the war in Ukraine.
"We agreed to support Poland's investigation into the explosion," Mr Biden told reporters after the gathering.
"We're going to make sure we figure out exactly what happened ... and then we're going to collectively determine our next step."
Asked if the missile had been fired from Russia, Mr Biden said there was "preliminary information that contests that".
It follows a night of fast-paced global consultations and reactions to reports that missiles had killed two farm workers near the village of Przewodow, about 10km from the Ukrainian border.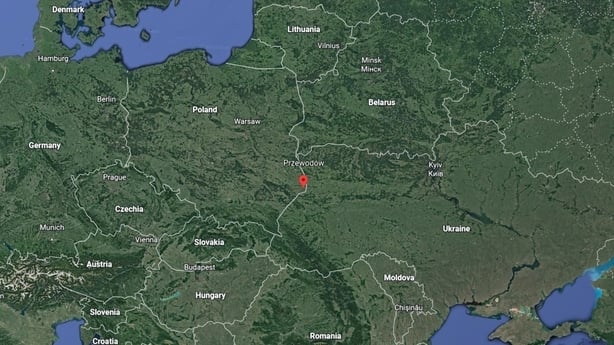 President Biden spoke by phone to Polish President Andrzej Duda pledging his support.
Mr Biden then called a gathering of Western leaders on the margins of the summit, including those from France, Germany, Britain, Japan, the Netherlands, as well as the heads of the European Council and Commission.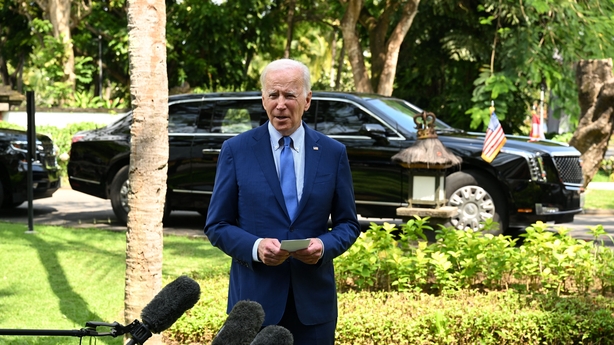 In a statement they condemned what they called Russia's barbaric missile attacks across Ukraine yesterday and said they offered their full support for Poland in the investigation over the missile attack.
An official read-out of the gathering said: "Today, the leaders of Canada, the European Union, France, Germany, Italy, Japan, the Netherlands, Spain, the United Kingdom and the United States met on the margins of the G20 summit in Bali and released the following statement:
"We condemn the barbaric missile attacks that Russia perpetrated on Ukrainian cities and civilian infrastructure on Tuesday.
"We discussed the explosion that took place in the eastern part of Poland near the border with Ukraine. We offer our full support for and assistance with Poland's ongoing investigation. We agree to remain in close touch to determine appropriate next steps as the investigation proceeds.
"We reaffirm our steadfast support for Ukraine and the Ukrainian people in the face of ongoing Russian aggression, as well as our continued readiness to hold Russia accountable for its brazen attacks on Ukrainian communities, even as the G20 meets to deal with the wider impacts of the war.
"We all express our condolences to the families of the victims in Poland and Ukraine."
---
---
Last night, Poland summoned Russia's ambassador to the capital Warsaw for an explanation after Moscow denied it was responsible for the missile strike, dismissing reports that it was to blame as a "provocation" intended to escalate tension.
The head of the permanent mission of Russia to the United Nations also described the incident as an attempt to provoke a direct clash between Russia and NATO.
"There is an attempt to provoke a direct military clash between NATO and Russia, with all the consequences for the world," Dmitry Polyansky said on his Telegram channel.
A statement from the countries said that support and assistance would be provided for Poland's ongoing investigation.
Ukrainian President Volodymyr Zelensky told G20 leaders this morning there was a "terrorist state" among them, accusing Russia of the missile strike on Poland.
Speaking by video link, Mr Zelensky called the strike "a true statement brought by Russia for the G20 summit", according to a copy of his speech seen by AFP.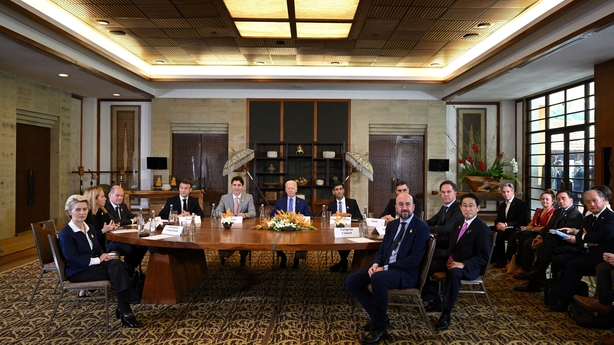 Meanwhile, European Commission chief Ursula von der Leyen said G7 and NATO representatives at a meeting condemned brutal acts by Russia in Ukraine and stood united behind Kyiv, for "as long as it takes".
In a video message, she said participants stood ready to assist Poland in the investigation over the missile strike near the Ukrainian border.
The Polish Ambassador to Ireland has said had yesterday's missile strike on Polish soil proved to be a deliberate attack by Russia, it would have meant "the beginning of World War III".
Speaking on RTÉ's Drivetime, Anna Sochanska said a Russian strike on Polish soil would be a strike on NATO, and as such would warrant response.
Ms Sochanska said it was "really devastating" to hear that two people had died in the incident, adding that upon hearing the news, she questioned how something could happen in her country so long after WWII.
Asked what consequences would come about had the strike been a deliberate act by Russia, Ms Sochanska said a "strike on Polish soil would be a strike on NATO".
"I suppose there would be a NATO military reaction … that would be a WWIII," she said. "I hope there are still such people in Russia who think in such categories, that it would just be the beginning of WWIII."
Ms Sochanska said people's initial reaction following the incident was one of nervousness, as there were fears it could have potentially been an attack on Poland, however there is no evidence to suggest such.
"We think it was just an accident. The investigation is ongoing. Our top authorities decided not to invoke NATO Article 4.
"What is important is that we are in constant consultations with our NATO and EU allies, and we really felt huge support," she added.
Additional reporting Tony Connelly