With the World Cup just days away, the spotlight is shining on Qatar, the controversial hosts of the tournament.
RTÉ Soccer Correspondent Tony O'Donoghue reports from Doha on calls for compensation for the families of the migrant workers who lost their lives in the building of the stadia and infrastructure in the tiny Gulf state.
---
Human rights groups have demanded that FIFA, football's world governing body, and Qatar compensate migrant workers and their families for human rights abuses suffered in the building of World Cup infrastructure.
Amnesty International has called on FIFA and Qatar to publicly commit to establishing a comprehensive remediation programme of $440m, the equivalent of the prize money on offer during the four-week tournament, to provide remedy for all abuses related to the preparation and delivery of the World Cup and for the funding of programmes to prevent further abuses.
With less than a week to go until kick-off in the opening game of the tournament between the hosts Qatar and Ecuador on Sunday, Steve Cockburn, Amnesty International's Head of Economic and Social Justice said time is running out for FIFA President Gianni Infantino to commit to compensating migrant workers for the abuses suffered during preparations for the tournament.
"Unless he breaks his silence on the issue of compensation, Gianni Infantino looks set to refuse a golden opportunity to leave a World Cup legacy that respects and honours the workers who made it possible," Mr Cockburn said.
"He has been presented with reams of evidence about the human consequences of the last twelve years, and a concrete proposal to help victims and their families rebuild their lives, so the message from Zurich and Doha cannot simply be to focus on football.
"FIFA cannot use the spectacle of the World Cup to dodge its responsibilities. It has a clear duty towards the hundreds of thousands of workers who suffered while building the stadiums and infrastructure needed for the tournament. A public commitment to a compensation fund, while not undoing the past, would represent a major step forward. Time is short but it's still not too late for FIFA to do the right thing."
Sam Rowe of Amnesty International Ireland told RTÉ News that a lot of work detailing the human rights abuses of migrant workers has been done.
"We have found that many of them work 12-to-14-hour days often in extreme heat conditions," Mr Rowe said.
"Until only very recently there was no minimum wage. Now there is a minimum wage and that minimum wage is $275 a month and a lot of these workers are coming from abroad from places like Nepal and Malaysia to get money to their families so it doesn't go very far."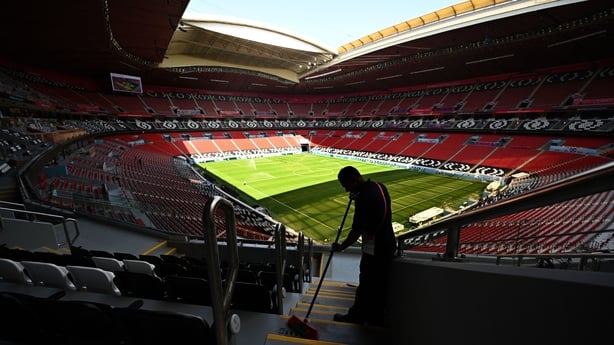 Qatar has faced fierce criticism for its treatment of migrant workers and last year The Guardian newspaper reported that 6,500 workers had lost their lives in World Cup construction since 2010.
Authorities here in Doha dispute that claim and say that worker welfare has improved significantly.
Five years ago, Qatar partnered with the International Labour Organisation to introduce a nationwide Labour reform that abolished the 'Kafala' system which tied a foreign worker to a sponsor.
Mr Rowe agrees that there have been some improvements.
"Especially with the minimum wage, and changes to the Kafala system means you can now change jobs without the permission of your employer, but we're still seeing that isn't really put into practice," he said.
"Trade unions, for example, are still banned, and when workers try to avail themselves of their rights, and when they do try and change jobs, we're still seeing employers drive their employees to the police station and try and punish them for doing such a thing.
"But we know that it's certainly a huge figure, the number of fatalities in the build-up to the tournament but the trouble is Qatar themselves are not counting the people who are dying at the World Cup.
"What we are seeing is people coming from around the world to work in Qatar who are healthy, they are young, in their 30s and after working in extreme conditions, they end up dying and the death certificate can be something like 'cardiac arrest' or death unknown and we don't know how that's happened.
"And so, Qatar needs to start investigating these deaths so families can get compensation and justice can be done."
In May 2022, Amnesty and a coalition of organisations launched a campaign calling on Qatar and FIFA to establish a comprehensive remediation programme for the hundreds of thousands of workers who faced abuses, such as illegal recruitment fees, unpaid wages, injury and, in the worst cases, death.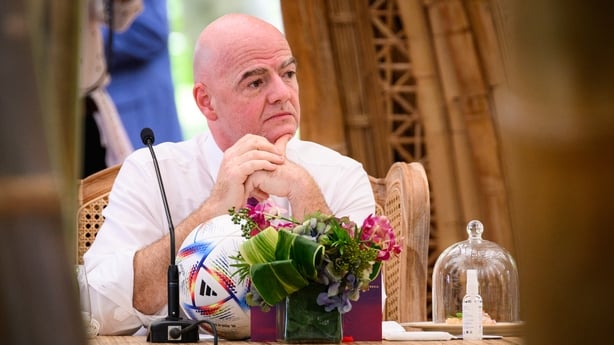 To date, Mr Infantino has provided no response to a joint letter sent by the coalition on the campaign's launch, while consistently avoiding the issue of compensation in public.
The remediation proposal has gained widespread support, from more than a dozen football associations including those of England, Germany, France, Netherlands and the USA; World Cup sponsors Coca Cola, Adidas, Budweiser and McDonalds; and, via a viral video last month, the Australian national team.
However, while FIFA's senior leadership have acknowledged the importance of compensation, the footballing body and its president are yet to make any public commitment.
A global poll commissioned by Amnesty across 15 countries revealed that 84% of likely World Cup viewers also favour the proposal.
On 4 November, Mr Infantino wrote a letter to all 32 nations competing at the 2022 World Cup urging them to focus on the football and set aside human rights concerns.
It followed comments from Qatar's Labour Minister Ali Bin Samikh Al Marri dismissing Amnesty's campaign as a "publicity stunt" and accusing them of "racism".
Human Rights Watch (HRW) responded by saying his rejection of compensation pleas ignores the criticism of Qatar's Labour record and that while Qatar has made notable reforms they came late, were narrow in scope and were weakly enforced.