Iran's judiciary said that four prisoners have been killed and 61 others were injured yesterday after a fire broke out at Tehran's Evin prison overnight, the official state news agency IRNA reported.
According to the report, the four prisoners died due to smoke inhalation caused by the fire and 61 others were injured, with 51 of these treated on an outpatient basis, IRNA added.
Earlier Iranian state television aired a video apparently showing that calm had returned to the prison today following the fire, as unrest sparked by Mahsa Amini's death last month.
The 22-year-old died on 16 September, three days after falling into a coma following her arrest by Iran's notorious morality police for an alleged breach of the Islamic republic's strict dress code for women.
Iranian authorities said the workshop in the prison had been set on fire "after a fight among a number of prisoners convicted of financial crimes and theft".
Evin prison holds many detainees facing security charges, including Iranians with dual nationality.
Asked about the prison fire, US President Joe Biden told reporters during a campaign trip yesterday to Portland, Oregon that the Iranian government was "so oppressive" and that he was surprised by the courage of the Iranian protesters.
Iran's foreign ministry said President Biden had interfered in state matters by showing support for the anti-government protests. The authorities have responded with a brutal crackdown.
"On Saturday ... Biden interfered in Iran's state matters by supporting the riots ... In recent days, the US administration has tried desperately to inflame unrest in Iran under various excuses," Foreign Ministry spokesman Nasser Kanaani said, ISNA reported.
Evin prison holds foreign inmates including French-Iranian academic Fariba Adelkhah and US citizen Siamak Namazi, whose family said he was taken back into custody this week after a temporary release.
Mr Namazi's US attorney Jared Genser said he had now spoken to his family and "is safe and has been moved to a secure area of Evin Prison".
Australian academic Kylie Moore-Gilbert, who was held in Evin for most of her 800-plus days behind bars in Iran, said she had heard that all the women political prisoners were safe.
US State Department spokesman Ned Price said Washington was monitoring the incident "with urgency", warning that Iran was "fully responsible for the safety of our wrongfully detained citizens" and calling for their quick release.
We are following reports from Evin Prison with urgency. We are in contact with the Swiss as our protecting power. Iran is fully responsible for the safety of our wrongfully detained citizens, who should be released immediately.

— Ned Price (@StateDeptSpox) October 15, 2022
Award-winning dissident Iranian filmmaker Jafar Panahi and reformist politician Mostafa Tajzadeh are also among those believed to be held at Evin.
The prison has been dubbed "Evin University" because of the sheer number of intellectuals held there.
Rights groups said at least 240 protesters had been killed in the anti-government protests, including 32 minors. Over 8,000 people had been arrested in 111 cities and towns, Iranian activist news agency HRANA said yesterday.
Among the casualties have been teenage girls whose deaths have become a rallying cry for more demonstrations across the country.
Iran, which has blamed the violence on enemies at home and abroad, deny security forces have killed protesters. State media said yesterday at least 26 members of the security forces had been killed by "rioters".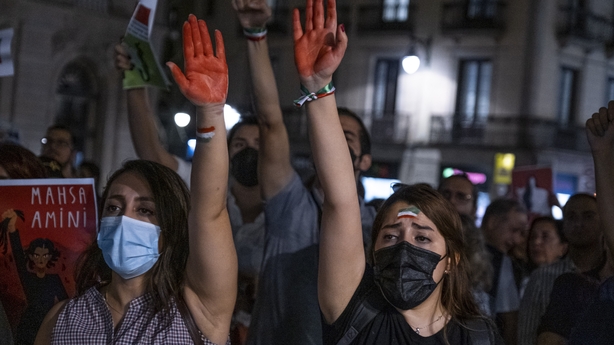 The protests have attracted international condemnation, with the US, Canada and some European countries imposing sanctions on Iranian officials and organisations "involved in the clampdown on protesters".
The footage of Evin prison aired on state television showed firefighters inspecting a workshop with fire damage to the roof. It also showed inmates in their wards apparently "sleeping as calm has been restored".
Video obtained by Reuters showed protesters marching amongst traffic towards Tehran's Evin prison last night and into the early hours of this morning.
Iran's notorious Evin prison, which holds criminal convicts as well as political detainees, has long been criticised by Western rights groups and was blacklisted by the US government in 2018 for "serious human rights abuses".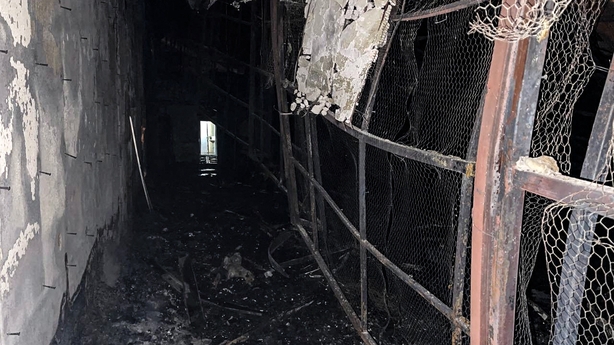 The protests mark one of the boldest challenges to clerical rule since the 1979 revolution, with demonstrations spreading across the country and widespread calls for the downfall of the Islamic Republic, even if the unrest does not seem close to toppling the system.
Rights groups reported protests in solidarity with Evin detainees in Tehran late into the night, after angry demonstrators had taken to streets across Iran yesterday despite internet cuts.
Young women have been at the forefront of the current wave of street protests that erupted after Amini died on 16 September, three days after falling into a coma following her arrest by Iran's notorious morality police.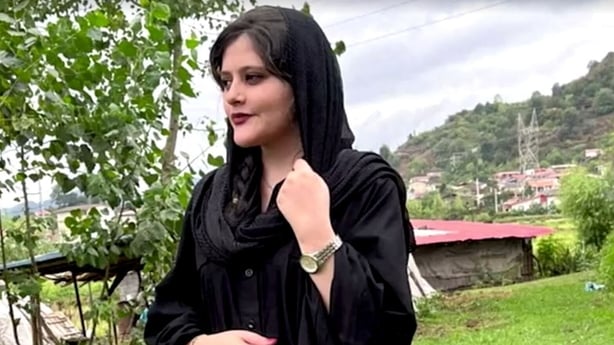 "Guns, tanks, fireworks; the mullahs must get lost," women without hijabs chanted at a gathering at Tehran's Shariati Technical and Vocational College, in a video widely shared online.
Scores of jeering and whistling protesters hurled projectiles at security forces near a landmark roundabout in Hamedan city, west of Tehran, in footage verified by AFP.
Despite what online monitor NetBlocks called a "major disruption to internet traffic", protesters were also seen pouring onto the streets of the northwestern city of Ardabil in videos shared on Twitter.
There had been an appeal for a huge turnout for protests yesterday under the slogan "The beginning of the end!"
Meanwhile, European Union countries agreed this week to level new sanctions, and the move is due to be endorsed at the bloc's foreign ministers meeting in Luxembourg tomorrow.