"There is already enough food to feed everyone in the world; those going hungry just lack access."
That's according to the chief economist at the Food and Agriculture Organisation, Maximo Torero.
It's hard to escape how unfair that is. People, most often children under the age of five, are literally dying of hunger in some parts of the world, while other countries struggle with how to dispose of surplus or spoiled food.
The Global Hunger Index (GHI) report admits that it makes for grim reading.
There are 828 million people in the world who are undernourished, meaning they don't have access to enough food. Among them are millions and millions of children who have stunted growth, or are 'wasting' or underweight, and of course those who die of hunger before they reach their fifth birthday.
This study, which examines data from 136 countries, shows that 44 countries are suffering serious or alarming levels of hunger.
The undernourished figure, which is creeping towards one billion, doesn't include the 3.1 billion people globally who cannot afford nutritious food, and depend on starchy foods for calories.
"The three key drivers of hunger - climate change, violent conflict, and economic downturns including those caused by the Covid-19 pandemic - are each worsening. The war in Ukraine adds an additional layer of complexity, disrupting food, fertiliser, and energy markets around the world," according to the report.
Concern's CEO Dominic McSorley said: "The toxic cocktail of conflict, climate change and the Covid-19 pandemic had already left millions exposed to food price shocks and vulnerable to further crises.
"Now the war in Ukraine - with its knock-on effects on global supplies of and prices for food, fertiliser, and fuel - is turning a crisis into a catastrophe."
The 2022 Global Hunger Index, published today by Concern and German NGO, Welthungerhilfe, finds that nine countries in the world have alarming levels of hunger, where as much as half of a country's population is going hungry.
These are Central African Republic, Chad, Democratic Republic of Congo, Madagascar and Yemen.
Also included are Burundi, Somalia, South Sudan and Syria where data is insufficient, but the countries have been designated as provisionally being in the 'alarming' category. That also means that once the figures do come in, these countries could move into the 'extremely alarming' category where more than half a country's population is undernourished.
The report states: "Parts of Somalia in particular are facing a serious risk of famine in 2022 owing to an exceptionally severe and prolonged drought, sharp increases in staple food prices due to the war in Ukraine, and rising conflict and insecurity.
"There are reports of an alarming increase in acute malnutrition in children and child deaths related to hunger in southern Somalia."
Those working in the aid sector, and indeed those on the ground, say a declaration of famine may grab the headlines, but once a famine is declared, it's usually too late.
In 2011, around a quarter of a million people died in Somalia, the majority of whom died before the famine was declared.
According to the GHI, close to 12% of Somali children die before they reach their fifth birthday, the highest rate of child mortality in the world. But as discussed, figures are not available for some parts of Somalia, often due to conflict.
Another country with alarming levels of hunger is the Democratic Republic of Congo (DRC), also in Africa.
DRC has the highest number of hungry people of any country in the world; 27 million people.
One in four children aged under-five there is stunted and almost 40% of the population is undernourished.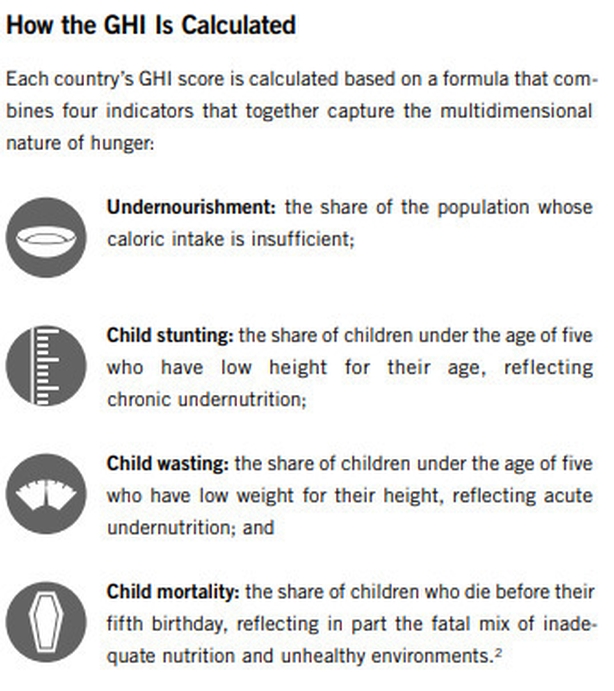 Antoine Sagot-Priez is country director for Concern in the DRC, he says that of the 27 million suffering hunger, "five million [are] actually in a very bad situation; starving, basically fighting to get access on a daily basis to really basic and often insufficient food."
Severe malnutrition can be treated. In the developing world, that's often with high-calorie food pouches. But that requires families to be able to get help, and on time.
Even with help, for those children who suffer from severe acute malnutrition, there can be lifelong consequences, developmentally-speaking.
Mr Sagot-Priez said: "It is impacting both in terms of development for those kids, but also in terms of perspective for the bright future of the youngest generations.
"And obviously when there are so many people affected by stunting [in one family], you can imagine how life is for the for the families ... it means worse access to school, to education, and in the long run as well."
DRC has been suffering the effects of conflict for decades, and some five million people are currently displaced within the country. That's equivalent to the population of Ireland, living away from their homes, their communities, often in temporary and unsuitable housing.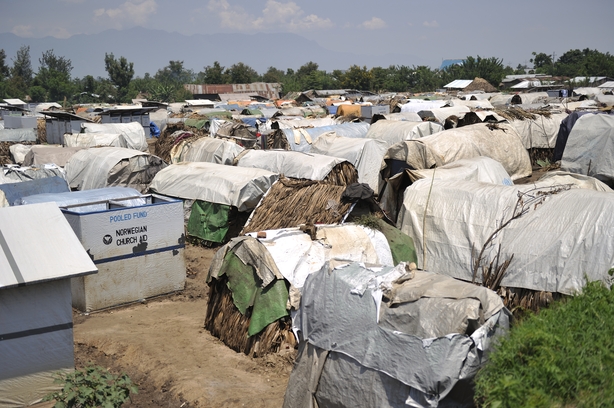 "A large majority of people rely on access to land and on farming to cover their needs," said Mr Sagot-Priez.
"So when they are displaced, when they are fleeing wars, they lose access to this activity. Which is why [Concern has to] implement some distribution of assistance until they are able to get back to their land. So, this is a major cause of food insecurity."
Other countries suffering the effects of conflict such as Yemen, Syria and Afghanistan are singled out in the report.
Yemen, with a GHI score this year of 45.1, which is considered alarming, has the painful distinction of the highest score of any country in 2022.
Yemen's been embroiled in a civil war since 2014 and is highly dependent on food imports including from Russia and Ukraine.
South Asia has the highest hunger level of any region, and by far the highest child wasting rate. The technical term for having a low weight for their height is also a poignant pun for the wasted opportunities for so many children.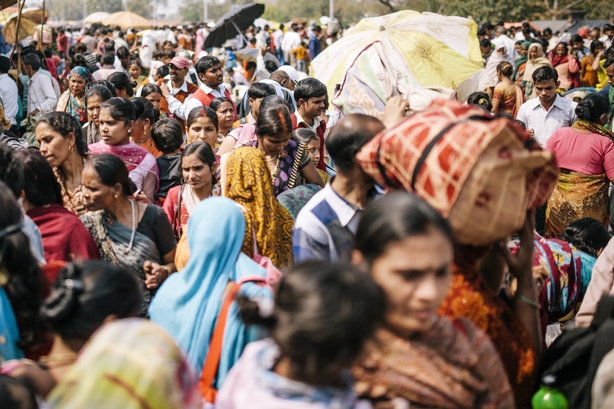 These figures are slightly skewed by the vast population of India (currently 1.4 billion, soon to surpass China's number one spot in the world).
India's child wasting rate, at 19.3%, is the highest of any country in the world and drives up the region's average owing to its population.
Afghanistan has the highest rate of child stunting in South Asia, where children have a low height for their age.
More than 38% of children in Afghanistan are stunted. To compare, that figure is more than 55% in Yemen.
Figures are not available for Somalia, which has the highest child mortality rates in the world.
The report predicts that the global hunger situation will worsen in 2023 with the ongoing war in Ukraine which has further increased global food, fuel and fertiliser prices already this year.
Just last month, opening the UN General Assembly, Secretary General Antonio Guterres, said urgent action was needed.
"Without action now, the global fertiliser shortage will quickly morph into a global food shortage, "he said.
Concern's Réiseal Ní Chéilleachair said the target of 2030, previously set by the UN to end world hunger, is no longer possible.
"While we may not be able to end hunger by then, we can stop it heading in the wrong direction.
"The number of shocks people are experiencing means more effort is needed to increase global food, nutrition and livelihood security."