The Iranian authorities' crackdown on protests following the death of Mahsa Amini has left at least 76 people dead, the Norway-based Iran Human Rights (IHR) NGO said today.
"We call on the international community to decisively and unitedly take practical steps to stop the killing and torture of protesters," said IHR director Mahmood Amiry-Moghaddam.
He added that video footage and death certificates obtained by the group showed "live ammunition is being directly fired at protesters".
Iran has arrested more than 1,200 protesters, officials said, in its lethal crackdown on 10 nights of unrest driven by outrage over the death of Kurdish woman Mahsa Amini, 22, in morality police custody.
Nationwide demonstrations were sparked by her death following her arrest for allegedly breaching Iran's strict rules on hijab headscarves and modest clothing.
Tensions grew between the Islamic republic and Western nations as Germany summoned the Iranian ambassador, a day after the European Union protested the "widespread and disproportionate use of force" and Tehran called in the British and Norwegian envoys.
Iran has accused the United States of using unrest triggered by the death of a woman in police custody to try to destabilise the country.
"Washington is always trying to weaken Iran's stability and security although it has been unsuccessful," Iran's Foreign Ministry spokesperson Nasser Kanaani told Nour news in a statement.
The media outlet is affiliated with a top security body.
On his Instagram page, Mr Kanaani accused the leaders of the United States and some European countries of abusing a tragic incident in support of "rioters" and ignoring "the presence of millions of people in the streets and squares of the country in support of the system".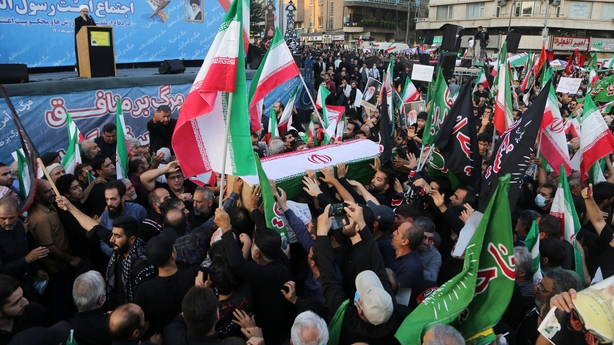 President Ebrahim Raisi has said Iran ensures freedom of expression and that he has ordered an investigation into Ms Amini's death.
Iran has blamed armed Iranian Kurdish dissidents of involvement in ongoing unrest in the country, particularly in the northwest where most of Iran's up to 10 million Kurds live.
There have been protests by Iranian communities across the world into the death of Mahsa Amini, including here in Ireland.
Today, Iraqi women held placards as part of a rally at al-Fardoos square in Baghdad following a call by an Iraqi feminist NGO against imposing wearing a headscarf on women.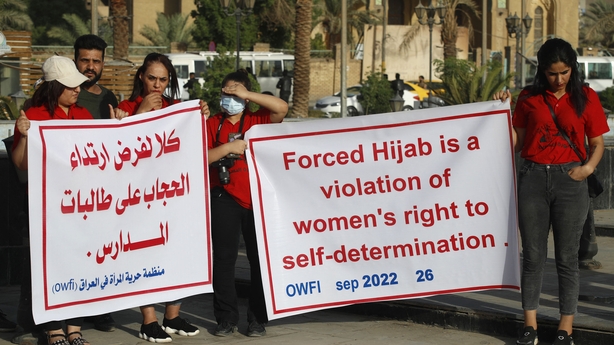 'They see no future'
An Iranian woman living in Dublin has spoken of her feelings as she sees protests continue in her country.
Speaking on RTÉ's Morning Ireland, Zahra – whose last name is not being used to protect her family in Iran – said "this is very heartbreaking for me to watch, all young children.
"They're barely 20 years old, from 16 years old up to 18/20. They're dying every day just to get a basic human right.
"And they're raging because this is not only their right, this right they're fighting for, this is hope they're fighting for.
"This is because they see no future after they graduate, there's no job, a lot of poverty. So, this is the right they're fighting for and my heart is really with them right now."
She said she thinks the women who have been seen taking off their hijabs and cutting their hair are "very brave".
She said she admires them because "this is what we didn't dare to do 12 years ago when we left the country. I left the country 12 years ago exactly in a similar situation after the Green Movement we had in Iran, so I went to the street protesting. But I saw it. I just felt hopeless.
"I thought, we're not going to get anywhere, so I just wanted to save my life and study and do something more important.
"But I see these young people, they're really brave. They don't even think about their future. They want to build their future by their heart, by their soul, by their life and they're fighting and they're really brave."
She said she is not thinking about the outcome of these protests but rather of the killing of people, and how this is the biggest women's movement after the British suffragettes' fight for the women's vote.
"We have to all support this, even if we are not able to overthrow this government. I think to have a great impact in society and politics for the years to come and give us more hope for change.
"I should remind people this is a very important moment that you have to take sides, you have to stand with Iranian women.
"If you're supporting women's rights, human rights, and this is something you have to talk to politicians [about]. We have to keep this story alive. This is my request from everybody that's listening to this."