Reporter Juliette Gash has travelled to Kenya with cameraman Mark Ronaghan. Here, along with Ethiopia and Somalia in the Horn of Africa, there are 22 million people experiencing crisis levels of hunger and 4.6 million children are acutely malnourished. Four failed rainy seasons have resulted in the worst drought in 40 years - attributed to climate change.
On day three of our visit to Kenya, we travel southeast from Turkana County in the north of the country to Marsabit, where the drought has hit even harder.
About 20km by bumpy road from the town of Laisamis, we visit a mobile health clinic. When the NGOs say mobile, they mean it. Two tables are set up under a shady tree, near rudimentary huts. There, the health workers will provide screening for the rural community, which has no static clinic nearby.
Mothers and babies sit on the ground in the searing heat, waiting to be seen.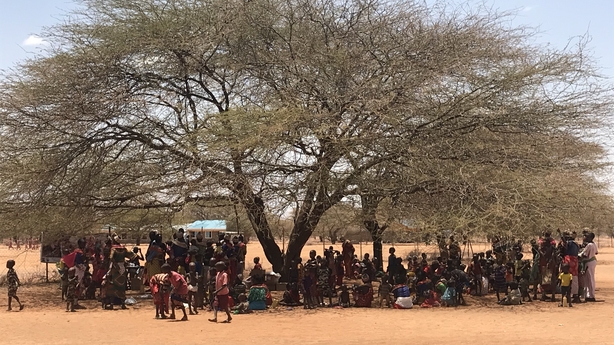 Two-year-old Lacha Leitenya is among the thinnest here, his little legs are bony and covered in dust. His distended belly protrudes from his tattered t-shirt, bearing a faded picture of the Disney character Elsa.
Lacha has been attending the unit since April, but despite getting emergency food rations known as RUTF (Ready-to-Use Therapeutic Food), he's not gaining weight.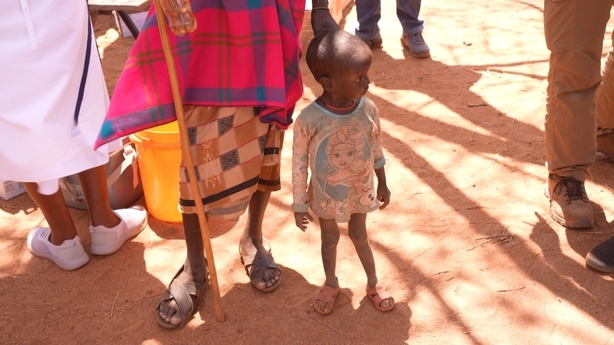 Martin Ndjue is a nutritionist at the Catholic hospital in Laisamis, which is supported by Concern.
He carries out the screening, and says he suspects that the family is sharing the RUTF pouches among their children.
"The problem is food insecurity. This community is living far from the town, around 20km, so it's difficult for them to access good, nutritious food.
"From the (medical) history we got, we questioned why the child isn't adding good weight. We find that they go home, and they share the pouches with the children, the issue of sharing is leading to the child not putting on good weight even after being in the programme for four months."
Some of Lacha's brothers and sisters arrive, and one by one, three more are diagnosed with severe acute malnutrition. That's the most serious level of malnutrition, above acute malnutrition, which 4.6 million children are suffering from across Kenya, Ethiopia and Somalia in the Horn of Africa.
Prolonged malnutrition isn't just an urgent medical concern, it can also have life-long consequences for the children affected.
Eric Muhia, Concern's Health and Nutrition manager in the region, explains: "They are not able to attain their full potential because their brain development is impaired, their physical development is impaired so they cannot attain their full height, we're looking at stunted children, weak children, they cannot concentrate in the classroom. They cannot deliver. They cannot herd their goats.
"So it's a combination of challenges which severely impacts their development and their full potential can't be achieved."
When the animals are affected, next is the human beings
In their hut, Lacha's father, Lkaputan Leitenya, explains that he lost most of his goats to the drought, and the last few he had to have slaughtered to feed his children.
The thought of another failed rainy season weighs heavily on his mind. Through an interpreter, he says he prays to God that they will make it through, and that he is very worried.
Pastoralists are also worried. It's a way of life for many communities across the Horn of Africa. In Marsabit, 70% of people depend on livestock. And pastoralists in this area have lost up to three quarters of their herds.
The pastoralists gather at Soriadi strategic borehole an hour away from Laisamis, where water is pumped from almost 200m underground.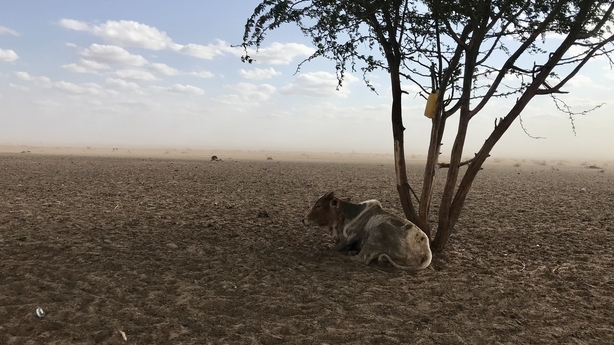 First dug in 2016, Concern has had to repair the borehole repeatedly.
Herders are having to travel ever further between pasture and water points.
Indeed, on our way to the site, we came across a herd of cattle that looked terribly thin. By coincidence, we later learned that the herd had tried to get water the previous night, but as the generator had broken down, there was none.
The herders had to take their cattle a further 32km to the next watering point.
Most pastoralists at Soriadi have come from 20km away, where the nearest pasture is located. A 40km round trip is too much for most cattle. Veterinary surgeon with Concern Tabitha Njeri says not alone is the drought affecting the animals, but the distances are destroying them.
The fear among many is that after the livestock die, the people are next.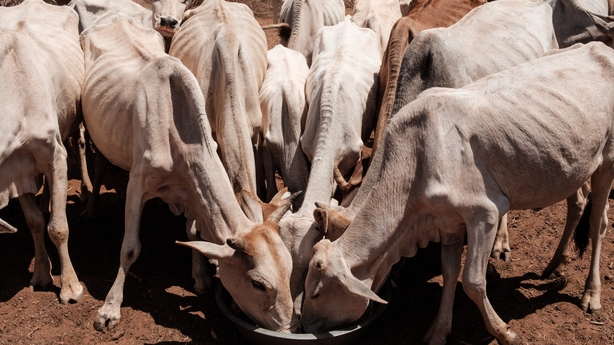 Local chief Andrew Korole said: "When the animals are affected, next is the human beings. Look at the animals, they're almost finished. Next target is now the human beings are being targeted, the way things are now. We don't know if we'll get the next rains in September. It will be even worse."