The head of the World Health Organisation (WHO) has expressed his upset and frustration at not being able to help relatives who he says are starving in Tigray, in northern Ethiopia.
"I don't know even who is dead or who is alive," Tedros Adhanom Ghebreyesus said.
The UN health agency chief, himself from the region, condemned the "unimaginable cruelty" inflicted on its six million inhabitants, who have effectively been cut off from basic services for nearly two years.
"I have many relatives there. I want to send them money. I cannot send them money. They're starving, I know, I cannot help them," Tedros said, speaking from the WHO headquarters in Geneva.
"I cannot help them, I cannot help them. They are completely sealed off," he said.
He denounced the "suffocating siege that has killed people not only with bullets or bombs, but by weaponising banking, fuel, food, electricity and health care."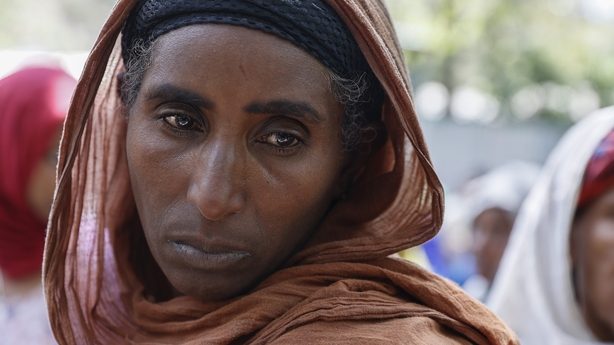 Mr Tedros' remarks came a day after fighting resumed between Ethiopian government forces and Tigray rebels, ending a five-month truce and casting a shadow over hopes for peace.
"It's tragic to see the resumption of active conflict, but in reality, the war had never stopped," he said.
He pointed out that, even during the truce, the region had remained sealed off and there had barely been access to food and medicines, and reiterated his call for "the resumption of essential services, and an end to the blockade."
No conflict of interest
The WHO chief rejected charges that he had abused his platform to make repeated appeals for humanitarian access to his home region.
A former health and foreign minister in Ethiopia, Mr Tedros insisted that it was his job to flag dangers to health.
"I did it for Yemen. I have travelled there. I did it for Syria and am doing it for Ukraine," he said. "I'm doing it because six million people are human beings."
"Asking for unfettered access, for the opening of basic services, and also asking the Ethiopian government and the Eritrean government who are enforcing the siege systematically to end the siege, is part of my job," Mr Tedros said.