Relatives of 10 miners who have been trapped in a Mexican coal mine for nearly two weeks have welcomed a decision by rescue teams to seek help from experts in Germany and the US.
Families have been urging officials to act with more haste in the rescue operation.
Laura Velazquez, head of Mexico's civil protection agency, said today: "We believe a second opinion is very important.
"It's fundamental for us that they [Germany and US] validate that every decision made by the engineering team is correct and that we're on the right path."
Gabriel Cruz, aunt of trapped miner Sergio Gabriel Cruz, told Reuters: "It's a positive hope; it's something that cheers us up a bit to keep trusting because we had little hope.
"Now (with foreign companies participating) let's hope and let's see if they can do something else to get them out. That's the only thing we want, our relatives."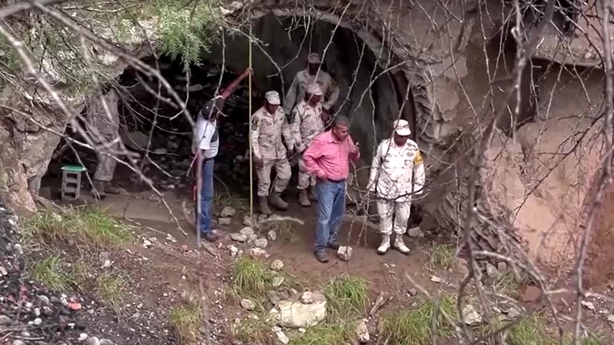 The miners became confined underground at the Pinabete mine in the northern border state of Coahuila on 3 August last when a tunnel wall collapsed, triggering flooding throughout the mine.
Water surged more than halfway up the 60-metre mine shafts, and officials have struggled to extract enough water and debris such as piping and wooden planks to be able to safely send rescue teams into the mine.
Engineers are continuing to pump water out of Pinabete while working on sealing off the nearby Conchas Norte mine - where water that has accumulated for more than 25 years is now rushing into Pinabete due to the underground tunnel collapse.
Earlier this week, relatives of the trapped miners said their frustration has mounted with each delay and blamed the government for not acting faster.
"They haven't been able to solve anything," said Javier Tijerina, whose brother Hugo Tijerina is trapped below.
"It's an embarrassment that this country doesn't have rescue personnel who are trained and prepared for situations like these."
It comes as Colombian emergency today crews rescued nine miners from an illegal coal mine that collapsed the previous day, officials said.
The nine were brought to the surface from the pit in El Bosque in central Cundinamarca department.
"The nine workers were rescued alive," the National Mining Agency said on Twitter. "The miners are in good health, receiving medical attention," it said.
With the miners trapped since yesterday morning, rescuers managed to contact them in the rubble hours later and supply them with air.
Oil and coal are the main exports of Colombia, where mining accidents are frequent.