Minister for Foreign Affairs Simon Coveney has said he is "deeply concerned" about the escalation of violence in and around Gaza in the past 24 hours.
Israel hit the Gaza Strip with air strikes yesterday and a Palestinian militant group retaliated with a barrage of rocket fire, in the territory's worst escalation of violence since a war last year.
In a statement, Mr Coveney said: "I am deeply concerned about the escalation in and around Gaza and the impact of Israeli strikes on civilians.
"I also condemn the indiscriminate firing of rockets from Gaza affecting civilians.
"Ireland calls for de-escalation [of violence] and the protection of civilians, which is an obligation under international humanitarian law.
"I am particularly concerned about the impact on children," the minister added.
"Ireland calls for everybody to act with restraint and reduce tensions."
The European Union has also called for "maximum restraint on all sides".
"The European Union follows with great concern the latest developments in and around Gaza," a spokesman for EU's foreign policy chief Josep Borrell said in a statement.
"The EU calls for maximum restraint on all sides in order to avoid a further escalation and further casualties," he said.
"While Israel has the right to protect its civilian population, everything must be done to prevent a broader conflict, which would, first and foremost, affect the civilian populations on both sides and result in further casualties and more suffering."
Israel has said it was forced to launch a "pre-emptive" operation against Islamic Jihad, insisting the group was planning an imminent attack following days of tensions along the Gaza border.
Health authorities in Gaza, a Palestinian enclave controlled by the Islamist group Hamas, said 10 people have been killed by Israel's bombardment, including a five-year-old girl, with 79 others injured.
Israel's army, the IDF, estimated that its operation has killed 15 militants.
Israeli forces have broadened their offensive against Islamic Jihad, announcing the arrest of 19 of the group's members in the West Bank today, while launching further strikes against what they say are militant targets in Gaza.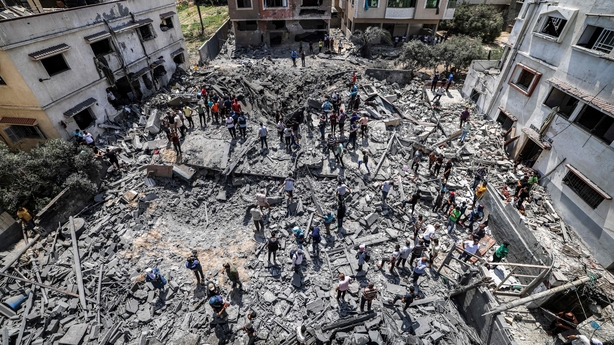 An army statement said soldiers and agents from the Shin Bet internal security agency had operated at several West Bank locations, "in order to apprehend Islamic Jihad terrorist operatives."
Out of 20 people detained in the latest sweep, "19 of them are Islamic Jihad," the army said.
The latest deadly escalation in Gaza was sparked by Israel's arrest earlier this week in the West Bank of Bassem al-Saadi, a key Islamic Jihad member Israel blamed for orchestrating a spate of attacks.
Islamic Jihad, an Iran-backed Islamist group, has a strong presence in Gaza and the West Bank, a Palestinian territory occupied by Israel since 1967.
Israel and Islamic Jihad have both confirmed the killing of Taysir al-Jabari, a key leader of the militants, in yesterday's strike on a building in the west of Gaza city.
Islamic Jihad said that initial Israeli bombardment amounted to a "declaration of war", before it unleashed a barrage of rockets towards Israel.
The commander of Iran's elite Revolutionary Guards said today that Israel would pay a high price for its latest attacks on the Palestinians in Gaza.
"The Israelis will pay yet another heavy price for their recent crime," Iranian state TV quoted Major General Hossein Salami as saying in reference to the Israeli air strikes.
He was meeting with Islamic Jihad leader Ziad al-Nakhala who is currently in Iran.
We need your consent to load this rte-player contentWe use rte-player to manage extra content that can set cookies on your device and collect data about your activity. Please review their details and accept them to load the content.Manage Preferences
The rocket fire and Israeli strikes continued overnight, risking a repeat of an 11-day conflict in May 2021 that devastated Gaza and forced countless Israelis to rush to bomb shelters.
"Israel isn't interested in a wider conflict in Gaza, but will not shy away from one either," Prime Minister Yair Lapid said in a nationally televised address yesterday.
Air raid sirens sounded across southern Israel this morning, but there were no immediate reports of casualties or major damage, with many rockets intercepted by the Iron Dome aerial defence system.
Officials in border areas urged people to stay close to shelters, which have also been opened in the commercial capital of Tel Aviv.
Egypt, a historic broker between Israel and armed groups in Gaza, was seeking to mediate and may host an Islamic Jihad delegation later today, Egyptian officials told AFP in Gaza.
Hamas has fought four wars with Israel since seizing control of Gaza in 2007, including the conflict last May.
Both Hamas and Islamic Jihad are considered terrorist organisations by much of the West.
A flare up with Islamic Jihad came in 2019, following Israel's killing of Baha Abu al-Ata, Jabari's predecessor.
The sides exchanged fire for several days without Hamas joining the fray.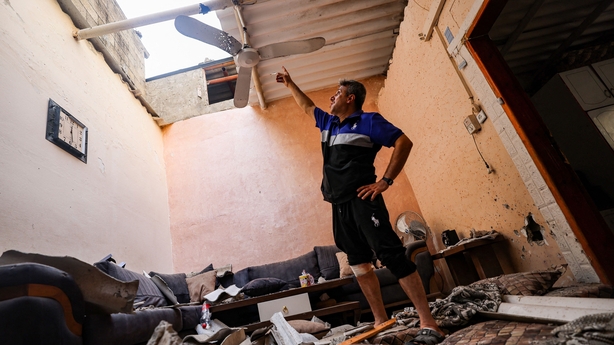 Hamas's moves amid the current violence could prove crucial in determining its severity, with the group facing pressure from some to maintain calm in order to improve economic conditions in the territory.
Fire balls and plumes of smoke have billowed out of targets hit in Gaza, but there were no reports of new casualties in recent hours.
The health ministry reported "a five-year-old girl, targeted by the Israeli occupation" was among those killed yesterday.
Five-year-old Alaa Kaddum had a pink bow in her hair and a wound on her forehead, as her body was carried by her father at her funeral.
Hundreds of mourners gathered in Gaza City for the funerals of Jabari and others killed in the air strikes.
Israeli military spokesman Richard Hecht said "we are assuming about 15 killed in action" in Gaza, referring to Palestinian combatants.