Warnings about extreme heat and wildfires have been issued to holidaymakers travelling to some parts of Europe.
Temperatures in the south of the continent are forecast to go above 40C in the coming days.
The Department of Foreign Affairs is advising travellers to be aware that areas of Europe are being ravaged by wildfires particularly France, Spain and Portugal and to take necessary precautions.
The warnings have been posted as the summer holiday season enters its busiest period.
It says wildfires are being reported throughout Spain, in particular in the autonomous communities of Castile and León, Galicia, Aragón, Extremadura and the Canary Islands.
In France, five areas in the south of the country have been put on an 'orange alert' as temperatures soar again to potentially record-breaking levels.
As people in continental Europe face the prospect of extreme heat into next week, Met Éireann is forecasting more moderate weather for Ireland.
It says high pressure will gradually build over the country for the end of this week and over the weekend.
Temperatures are forecast to climb slightly next week into the high teens or low 20s.
Agricultural Meteorologist with the World Meteorological Organization Robert Stefanski said that "heat is building in central and southern Europe".
Speaking to RTÉ's News at One, Mr Stefanski said there has been a continued pattern of high temperatures.
"This started in June. We had one episode, I think in the middle of, the end of, June. Of course in July we saw a lot of heat.
"Now it's continuing, so that pattern for the last two, two and a half months, is still in place."
He said central Europe, in particular the southern half of France and Switzerland and parts of Germany, will see the highest temperatures.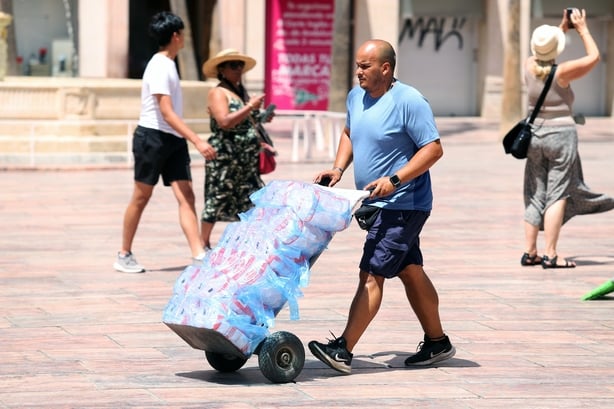 Meanwhile, The Netherlands declared an official water shortage following an unusually dry summer with no rain forecast for the coming two weeks.
The Dutch government said it was eyeing further measures to conserve water amid a drought, and authorities have imposed limits on farming and shipping.
"The Netherlands is a land of water, but here too our water is precious," Infrastructure and Water Management Minister Mark Harbers said in a statement.
The World Health Organization's European office has said the heatwave baking Europe has caused over 1,700 deaths in Spain and Portugal alone, calling for joint action to tackle climate change.
Wildfires that have torched through the continent, including in Spain, Portugal, Greece and France are on course to make 2022 a record year for forest loss in Europe, as scientists warn climate change is already contributing to ever fiercer blazes.
France has endured two severe heatwaves in May and latterly in July - when temperatures soared above 40C.
Experts say more severe hot periods and water shortages will become more common as global warming linked to greenhouse gas emissions takes a toll on the planet.
France is on track to experience its driest July on record, its national weather service has said, with drought-like conditions leading to increasingly severe water restrictions around the country.
EU urges member states to reuse city water in farms
The European Commission has urged EU member states to re-use treated urban waste water as irrigation on the continent's parched farms.
The EU executive warns that climate change could see half of the river basins in the bloc short of water by 2030.
"Freshwater resources are scarce and increasingly under pressure," said Virginijus Sinkevicius, EU commissioner for the environment, fisheries and the oceans.
"We need to stop wasting water and use this resource more efficiently to adapt to the changing climate and ensure the security and sustainability of our agricultural supply."
More that 40 billion cubic metres of waste water are treated every year in the EU, but only 964 million are reused, according to the European Commission.
A new EU water use regulation will come into effect from June 2023, but the commission wants member states to move quickly to redirect treated water to irrigation.