A powerful 7.1magnitude earthquake struck the northern Philippine island of Luzon today, killing at least five people, damaging buildings and sending strong tremors through the capital, Manila.
At least 64 people were injured and 173 buildings damaged, officials said, many in Abra province, just 11km from the epicentre of the quake.
Over 200 aftershocks have been recorded in the area, according to the state seismology agency, and 58 landslides were also reported in the aftermath.
"We felt really strong shaking. We started shouting and rushed outside," said university student Mira Zapata in the San Juan municipality of Abra, which took the full force of the quake.
"Our house is OK but houses down the hill were damaged."
As buildings shook and walls cracked in the municipality of Dolores, people ran outside, Police Major Edwin Sergio told AFP.
"The quake was very strong," Sergio said, adding that windows of the local market were broken.
In Bangued, the provincial capital of Abra, a 23-year-old woman was killed after a wall fell on her, police said. At least 78 were injured in the province.
A video posted on Facebook and verified by AFP showed cracks in the asphalt road and ground in Bangued.
"Some of the buildings here show cracks," police chief Major Nazareno Emia added. "Power was cut off and internet as well."
Two construction workers in the nearby landlocked province of Benguet died in separate incidents, police said.
Another person was killed when boulders smashed into the building site where he was working in Kalinga province, police said. Six other workers were injured.
Police said an elderly woman in Suyo municipality in Ilocos Sur province suffered fatal injuries after she was buried by a landslide while out walking.
In Vigan City, a UNESCO World Heritage site in Ilocos Sur, centuries-old structures built during the Spanish colonial period were damaged, police said.
Abra's vice governor, Joy Bernos, posted photos of the damaged Abra hospital on her Facebook account, which showed a gaping hole in its facade.
Other photos showed hospital beds, including one with a patient, being wheeled across a road and evacuated hospital staff.
Abra, home to nearly 250,000 people, is a landlocked province in the northern Philippines. Its deep valleys and sloping hills are enclosed by rugged mountains.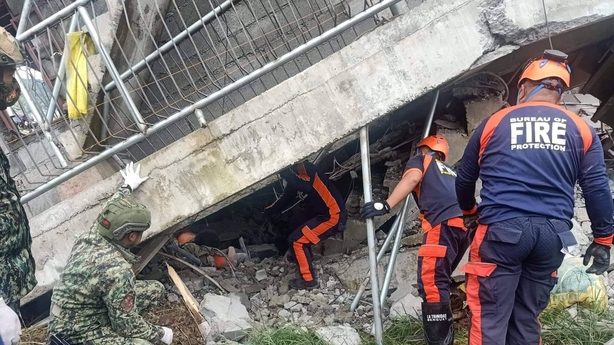 The Philippines is regularly rocked by quakes due to its location on the Pacific "Ring of Fire", an arc of intense seismic activity that stretches from Japan through Southeast Asia and across the Pacific basin.
Today's quake was one of the strongest recorded in the Philippines in years and was felt across swathes of Luzon island, the most populous in the archipelago.
It was followed by nearly 300 aftershocks, the local seismological agency said. Several of the subsequent quakes measured from magnitude 4.7 to 5.2, according to USGS.
Residents and office workers in Manila were evacuated from high-rise buildings.
"I grabbed money and our belongings and then I went out with my parents," said Christina Gonzales, 19, after fleeing a city hotel.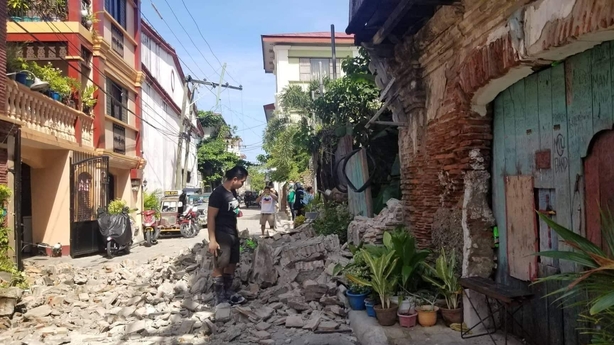 Verified video footage posted on Facebook showed the Bantay Bell Tower in the popular tourist destination of Vigan partially crumbling.
Two visitors suffered minor injuries from falling debris, an official said. Other buildings in the city were also damaged.
"We can't rule out the possibility of another strong earthquake," said Renato Solidum, director of the Philippine Institute of Volcanology and Seismology.
President Ferdinand Marcos Jr, whose family stronghold is in the north, said he would delay visiting the region to avoid causing disruption.
He urged people to remain in emergency shelters until their homes have been checked for damage.