The Minister for Finance has warned of the dangers of inflation becoming embedded in EU economies and urged governments to get the balance right between lowering inflation and helping the worst off.
Speaking as president of the Eurogroup ahead of a meeting of eurozone leaders in Brussels, Paschal Donohoe said that while the EU economy would still grow this year, there were stronger risks in 2023.
"While we still do have new and growing risks regarding economic performance, we can expect for this year to see an economy that still will be growing," he told reporters.
"And for next year, while the risks are there, from an inflation and energy point of view, we have [Covid] recovery funds that will be deployed, we have a financial sector that is strong. And we still have high levels of demand within our economy in the aftermath of the pandemic.
"We do need to acknowledge the risks that we could face, if inflation does become embedded into our economies. So it is in all of our interests, that the inflationary pressures that we're now facing, the measures are put in place to do two things, firstly, to avoid the risk that these pressures become part of our medium-term outlook, and become embedded in our economies.
"But secondly, as actions are being taken to prevent that risk developing, that governments also put in place appropriate measures to support those who were hit the most by the rising cost of living.
"This is a demanding balance to get right," he said.
"History shows us that if inflation becomes a multi-year phenomenon at very high rates, the challenges that we face in the cost of living only grow.
"But it is why governments at the moment are trying to get the balance right between putting in place measures that help those who were really affected with the cost of living, but not add into inflationary pressure. And this is a challenge that ministers all over Europe are now trying to attain," he added.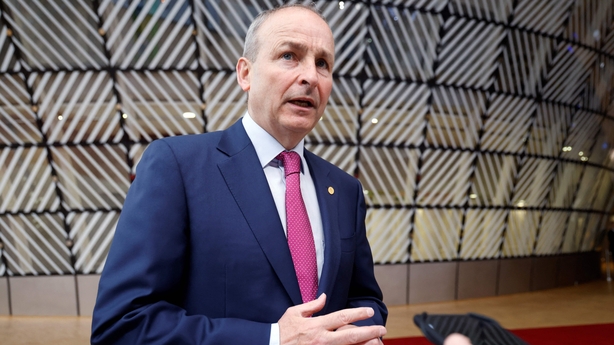 Meanwhile, the Taoiseach Micheál Martin said that while there was a global risk of recession, it was not guaranteed. But he warned that while the Irish economy was still growing this year there were risks next year.
"There's a risk of recession, globally and across Europe. But you can't take that as a given. And that's why this particular period has to be navigated very carefully. Our [foreign direct investment] side is strong, our industrial side, generally, both indigenous and FDI is strong.
"But if global markets start weakening, then that could potentially, in 2023, affect our export performance," Mr Martin said in Brussels.
Day two of the summit is focusing on Europe's worsening economic outlook.
This follows last night's historic decision to grant Ukraine and Moldova candidate status to join the European Union.
At around 7.30pm Irish time EU leaders formally adopted the proposal to give Ukraine candidate status.
The decision had been held up by hours of discussion over how and when to grant similar status to Bosnia.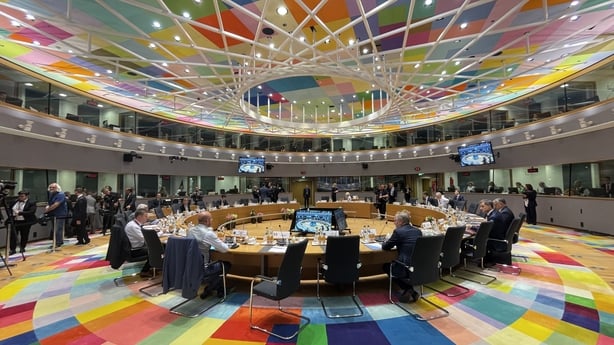 The decision was hailed by Ukrainian president Volodymyr Zelensky who described it as a unique and historical moment.
It marks a dramatic step in Ukraine's long struggle towards a European future and away from Russia's sinister embrace.
Today the sense of euphoria at the decision will be overtaken by a sobering meeting of eurozone leaders at the grim outlook for the economy.
Mr Donohoe will update leaders on the twin problems of soaring inflation and high energy prices and the impact they are having on borrowing costs.
Christine Lagarde, the president of the European Central Bank, will also brief leaders on a possibly prolonged period of very high inflation driven by disruptions in gas and oil supplies due to Russia's attack on Ukraine.
The main concern is how to stop higher interest rates widening bond spreads between highly indebted countries and others.