Russia is in possession of hypersonic missiles that no other country has, according to the country's president Vladimir Putin.
Speaking at the St Petersburg International Economic Forum, Mr Putin said Russia was entering a new global order as a "powerful and modern country".
Concluding his 73-minute address, he said it was "obvious" that the rules of the new global order would be set by "strong and sovereign states".
Earlier, he accused the west of colonial arrogance and trying to crush his country with "stupid" sanctions that amounted to an economic "blitzkrieg".
He also said that "sooner or later, the situation will return to normal".
Mr Putin drew applause from the hall when he reaffirmed his determination to continue what he calls the "special military operation" in Ukraine that has unleashed what he said was an "unprecedented" barrage of Western economic sanctions.
He said the United States considered itself "God's emissary on Earth", and that Western sanctions were founded on a false premise that Russia had no economic sovereignty.
His comments come as Ukraine's armed forces said they struck the Russian navy's Vasiliy Bekh tugboat in the Black Sea with two Harpoon missiles.
Ukraine's Armed Forces Strategic Communications Directorate published the information on the Telegram app, alongside a video purporting to show the strike from the air.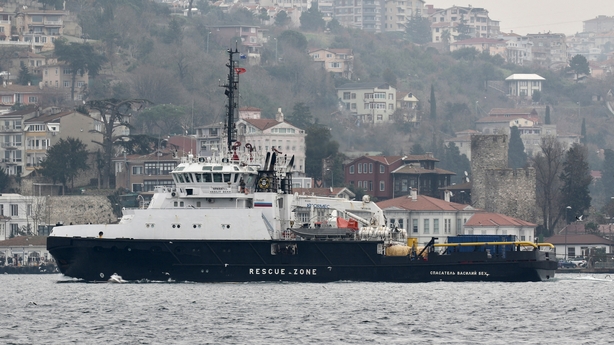 Ukraine claimed the Russian tugboat was bringing soldiers, weapons and ammunition to Russian-occupied Snake Island, a strategic Black Sea outpost.
Reuters could not independently verify the footage.
On 24 February, President Putin sent troops to Ukraine to "de-militarise" and "de-nazify" the country.
The nearly four-month-old war has entered a punishing attritional phase, with Russian forces relying on their massive advantage in artillery firepower to blast their way into Ukrainian cities.
Ukrainian officials said their troops were still holding out in Sievierodonetsk, site of the worst fighting of recent weeks, on the east bank of the Siverskyi Donets river.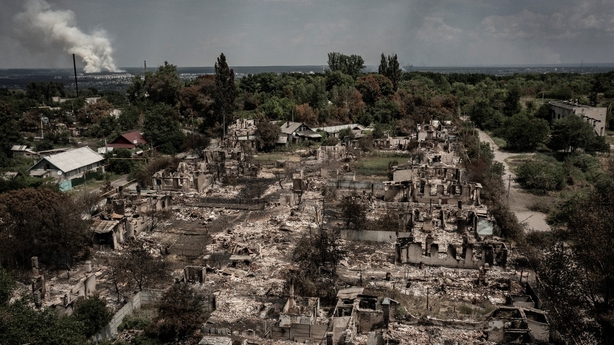 It was impossible to evacuate more than 500 civilians who are trapped inside a chemical plant, the regional governor said.
In the surrounding Donbas region, which Russia claims on behalf of its separatist proxies, Ukrainian forces are mainly defending the river's opposite bank.
In the south, Ukraine has mounted a counter-offensive, claiming to have made inroads into the biggest swath still held by Russia of the territory it seized in the invasion.
There have been few reports from the frontline to confirm the situation in that area.
We need your consent to load this rte-player contentWe use rte-player to manage extra content that can set cookies on your device and collect data about your activity. Please review their details and accept them to load the content.Manage Preferences
British Prime Minister Boris Johnson made his second visit to Kyiv to meet President Volodymyr Zelensky this afternooon.
He said the UK would offer a major training operation he believes could "change the equation" against the Russian invasion.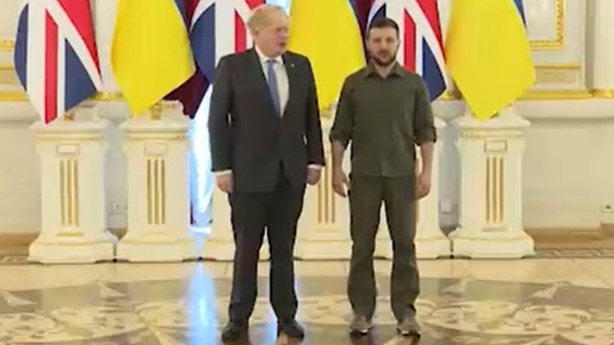 Mr Johnson said a British-led scheme would offer training to up to 10,000 soldiers every 120 days, as he vowed "we will be with you until you ultimately prevail".
Downing Street said the project would train and drill Ukrainian troops to accelerate their deployment, rebuild their forces and increase their resistance.
President Zelensky said he also discussed supplies of heavy weapons and further sanctions against Russia with the British Prime Minister.
It comes as the European Commission recommended EU "candidate status" for Ukraine.
Russia is now a diminished power, says head of UK's armed forces
Meanwhile, the head of the UK's armed forces has said that Russia has already "strategically lost" the war in Ukraine and is now a "more diminished power".
Admiral Tony Radakin said Vladimir Putin had lost 25% of Russia's land power for only "tiny" gains.
While Russia may achieve "tactical successes" in the coming weeks, he said any notion that the war had been a success was "nonsense".
Admiral Radakin, who is the UK's chief of defence staff, said Russia was running out of troops and advanced missiles and would never be able to take over all of Ukraine.
"This is a dreadful mistake by Russia. Russia will never take control of Ukraine," he said.
"Russia has strategically lost already. NATO is stronger, Finland and Sweden are looking to join."
He said Russia had been forced to give up its objectives of taking over most Ukrainian cities and was now engaged in a tactical battle where fighting is "tough".
"The Russian machine is grinding away, and it's gaining a couple of - two, three, five - kilometres every day," Admiral Radakin said.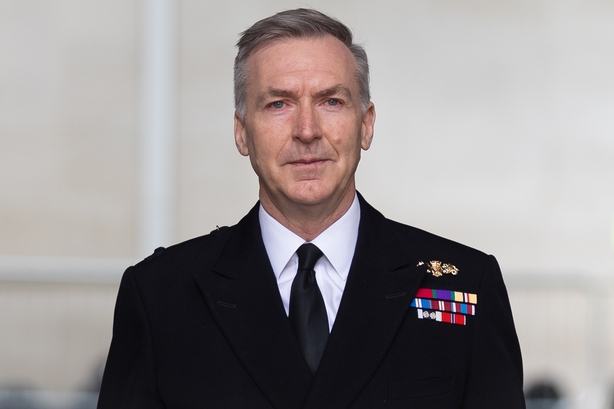 "And that's tough for Ukraine, but this is going to be a long fight. And we're supporting Ukraine, Ukraine has shown how courageous it really is.
"And Russia has vulnerabilities because it's running out of people, it's running out of high-tech missiles.
"President Putin has used about 25% of his army's power to gain a tiny amount of territory and 50,000 people either dead or injured."
Russia is now a "more diminished power" diplomatically and economically than several months ago, he said.
"Any notion that this is a success for Russia is nonsense. Russia is failing.
"It might be getting some tactical successes over the last few weeks. And those might continue for the next few weeks. But Russia is losing strategically," Admiral Radakin said.