Ukrainian President Volodymyr Zelensky has said he is "grateful" for a new American weapons package to Kyiv after speaking to US President Joe Biden.
"The United States announced new strengthening of our defence, a new $1 billion support package," Mr Zelensky said in an evening address.
"I am grateful for this support, it is especially important for our defence in (the eastern region of) Donbas."
"I am also grateful for the (US) leadership in mobilising the help of all partners," the Ukrainian leader said.
He said he also discussed with the US president "the tactical situation on the battlefield and how to accelerate our victory".
Mr Biden earlier announced a fresh infusion of $1 billion in weapons for Ukraine that sources familiar with the package said included anti-ship rocket systems, artillery rockets and rounds for howitzers.
In a previous call with President Zelensky, Mr Biden said he told the leader about the new weaponry.
"I informed President Zelensky that the United States is providing another $1 billion in security assistance for Ukraine, including additional artillery and coastal defence weapons, as well as ammunition for the artillery and advanced rocket systems," MR Biden said in a statement after the 41-minute call.
Russia's UN Ambassador Vassily Nebenzia accused Western countries of "fighting a proxy war with Russia," telling reporters: "I would like to say to the Western countries supplying weaponry to Ukraine – the blood of civilians is on your hands."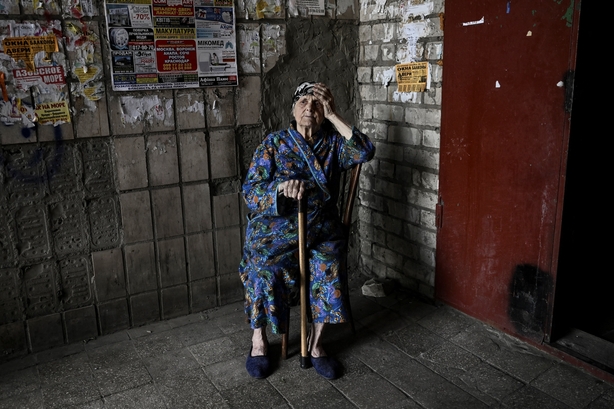 Ukraine is pressing the United States and other Western nations for speedy deliveries of weapons in the face of increased pressure from Russian forces in the eastern Donbas region.
In May, the Biden administration announced a plan to give Ukraine M142 High Mobility Artillery Rocket Systems after receiving assurances from Kyiv that it would not use them to hit targets inside Russian territory. Mr Biden imposed the condition to try to avoid escalating the Ukraine war.
Earlier today, Mr Zelensky recalled the 1968 Soviet invasion of Czechoslovakia as he pressed Europe today for further help in responding to Russia's war.
It comes as Ukraine ignored a Russian ultimatum to surrender the eastern city of Sievierodonetsk as NATO defence ministers gathered in Brussels to discuss sending more heavy weapons to replenish Kyiv's dwindling stocks.
"We're with you, be with us," Mr Zelensky told Czech lawmakers in Prague, quoting an appeal made by a Czechoslovak Radio presenter in 1968 as the occupants tried to cut the radio off.
"Now when the Ukrainian people are fighting for freedom against Russia's cruel invasion, we are using these words to address all nations of Europe and the democratic world," he added.
"Ukraine should get everything necessary to achieve a victory."
The 1968 invasion of Czechoslovakia by five Soviet-led armies crushed the so-called Prague Spring, a democratic movement during the communist spell of 1948-1989.
Czechoslovakia split into the Czech Republic and Slovakia in 1993.
Mr Zelensky said he believed the Russian invasion of Ukraine, which began on 24 February, was only the first step in a Moscow plot to retake its former satellites.
"A tyrant who... wants everything will never stop," said President Zelensky.
"Czech people are very well aware of what happens when you make compromises with tyrants," he added, also recalling the Nazi occupation of Czechoslovakia in 1938.
Meanwhile Russia has told Ukrainian forces holed up in a chemical plant in the shattered city of Sievierodonetsk to stop "senseless resistance and lay down arms" from this morning, pressing its advantage in the battle for control of eastern Ukraine.
Plans announced by Moscow to open a humanitarian corridor for civilians stuck in the plant were disrupted by Ukrainian shelling, Russian-backed separatists were quoted by RIA news agency as saying.
The separatists had planned to take the civilians to territory under their own control.
Ukraine says more than 500 civilians, including 40 children, are trapped alongside soldiers inside the Azot chemical factory, where its forces have resisted weeks of Russian bombardment that has reduced much of Sievierodonetsk to ruins.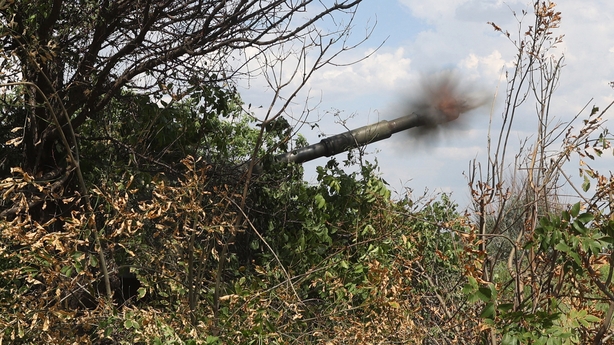 The mayor of Sievierodonetsk, Oleksandr Stryuk, said after the early morning deadline passed that Russian forces were trying to storm the city from several directions but Ukrainian forces continued to defend it and were not completely cut off.
"We are trying to push the enemy towards the city centre," he said on television, without referring to the ultimatum. "This is an ongoing situation with partial successes and tactical retreats."
"The escape routes are dangerous, but there are some," he said.
Serhiy Gaidai, governor of the Luhansk region containing Sievierodonetsk, said the army was defending the city and keeping Russian forces from Lysychansk, the twin city held by Ukraine on the opposite bank of the Siverskyi Donets river.
"Nevertheless, the Russians are close and the population is suffering and homes are being destroyed," he posted online just before Russia's 6am deadline today.
Luhansk is one of two eastern provinces Moscow claims on behalf of separatist proxies. Together they make up the Donbas, an industrial Ukrainian region where Russia has focused its assault after failing to take Ukraine's capital Kyiv in March.
British intelligence said the fighters in the chemical plant could survive underground and Russian forces would likely remain focused on them, keeping them from attacking elsewhere.
The Azot bombardment echoes the earlier siege of the Azovstal steelworks in the southern port of Mariupol, where hundreds of fighters and civilians took shelter from Russian shelling. Those inside surrendered in mid-May and were taken into Russian custody.
Kyiv has said 100 to 200 of its soldiers are killed each day, with hundreds more wounded in some of the bloodiest fighting since Russia's first invaded.
Western countries have promised NATO-standard weapons - including advanced US rockets. But deploying them is taking time and President Zelensky said Ukraine does not have enough anti-missile systems and there was no justification for delays.
His advisor, Mykhailo Podolyak, said the defenders of Sievierodonetsk wanted to know when the weapons would arrive. "Brussels, we are waiting for a decision," he wrote on Twitter.
"We are extremely focused on stepping up support," NATO Secretary General Jens Stoltenberg said before the meeting in Brussels led by US Defence Secretary Lloyd Austin.
Too early to confirm war crimes - UN
The UN's Ukraine commission has confirmed receiving multiple allegations of rights abuses by Russian forces, but said it was too early to say whether they constituted war crimes.
"In Bucha and Irpin, the commission has received information about arbitrary killings of civilians, destruction and looting of property, as well as attacks on civilian infrastructure, including schools," commission chairman Erik Mose told a press conference in Kyiv.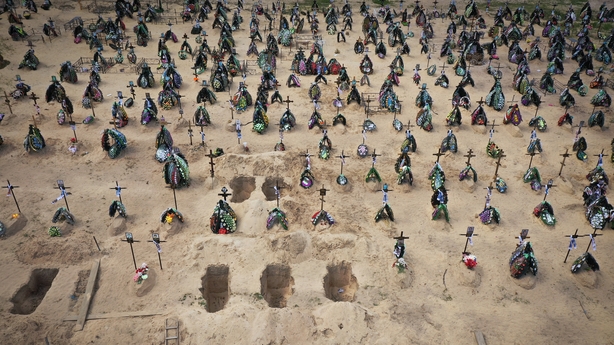 In the Kharkiv and Sumy regions, the commission has observed "the destruction of large urban areas, which is believed to be the result of aerial bombardment, shelling or missile strikes against civilian targets," he added.
But Mr Mose said the UN was "not in a position at this stage" to provide a full legal characterisation of the events that took place near Kyiv in March.
He said the evidence the commission collected could, "if confirmed later", support allegations of human rights violations, "including war crimes and crimes against humanity".
His remarks came as the independent international commission of inquiry on Ukraine, established by the UN Human Rights Council in March, was due to wrap up its first mission.
It began on 7 June and will end tomorrow.