Princess Charlene of Monaco, who had been away from public life for months due to health issues, has tested positive for Covid-19, the palace said in a statement.
The 44-year-old former Olympic champion, who married Prince Albert in 2011, returned to Monaco in March as her health improved, the royal palace said at the time.
She only recently resumed official duties, having attended the Monaco Grand Prix just last month, after and the palace said there were no concerns about her condition and she would isolate where appropriate according to health protocols.
The positive test comes a day after France's Public Health Authority said it had seen a rebound in cases this week for the first time in months with a seven-day average of about 20,000 daily cases.
Guillaume Spaccaferri, epidemiologist at the Public Health Authority said the rise in numbers was likely down to a new Omicron variant and the end of all Covid-19 restrictions in the country.
There was not a notable impact on hospitalisations or intensive care units so far, he said.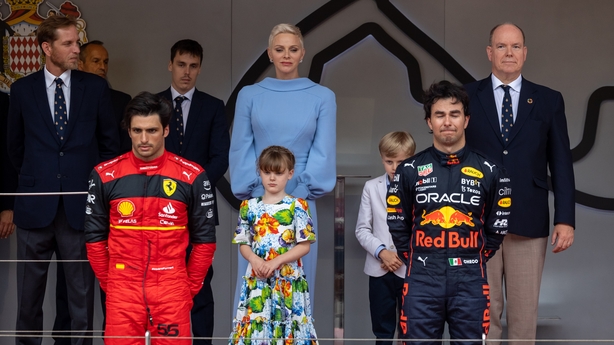 Meanwhile China recorded 171 new coronavirus cases yesterday, of which 46 were symptomatic and 125 were asymptomatic, the National Health Commission said.
That compares with 157 new cases a day earlier.
China's capital Beijing reported five new local symptomatic cases, down from eight a day earlier, and one new local asymptomatic cases, down from seven, according to local government.
Shanghai reported five new local symptomatic cases, down from eight, and nine new local asymptomatic cases versus eight the previous day.
As Shanghai is lifting its Covid-19 restrictions, the mega-city's financial district of Lujiazui is gradually resuming business with employees having returned to offices, and banks having reopened to clients.
Shanghai's strict coronavirus restrictions over the past two months created lots of challenges for businesses, including those in the finance sector.
Many financial institutions have not been fully re-opened and are still making preparations while some others already have ongoing expansion plans.
Bank of Shanghai said it will issue more loans to small and micro businesses, while Standard Chartered says it will expand its recruitment in China.
Lujiazui is home to some 130 global headquarters, with more than 40,000 companies with 500,000 employees working to ensure the stable operation of China's financial sector.
With plans for a phased reopening, Lujiazui is expected to soon be back to business as normal.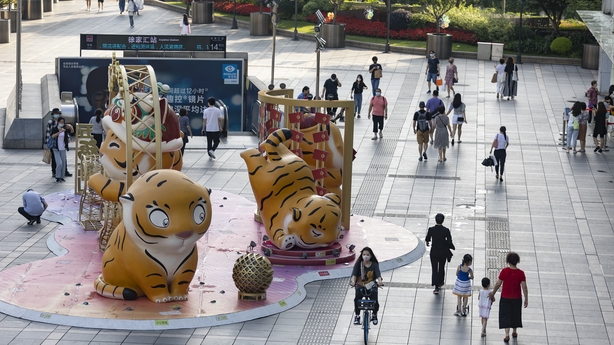 In Beijing, shopping malls across are reopening one after another on the track to restore the usual guest volume.
Consumption in the city, which were largely dampened by the latest resurgence of Covid-19 cases in the city since April, are expected to gradually recover amid abatement of the viral resurgence.
In Chaoyang District, the most populous district in east Beijing, multiple major shopping malls were closed in May as a further move to tighten coronavirus restrictions.
Considering that there had been no confirmed case reported at the community level in the district for seven days, the municipal authorities have permitted the shopping malls in the district to reopen with the launch of an array of promotional activities to attract customers.
"This is my first time here since the mall reopened. I'm looking to buy clothes and shoes for summer and get some food," said a local resident.
---
---
Shopping malls have not been as busy as usual during the three-day Dragon Boat Festival holiday which began on Friday, partly due to the suspension of eat-in services.
"Amid suspension of eat-in service, the guest volume has recovered to around 60% of the same period last year. In light of the business operation after the reopening, the offline business transactions have showed a relatively fast recovery," said Xu Zhen, a manager of Chaoyang Joy City.
At present, apart from certain business formats that are still closed, the opening rate of stores has exceeded 90%, including some cultural venues, such as cinemas and art galleries running at 50% of the capacity.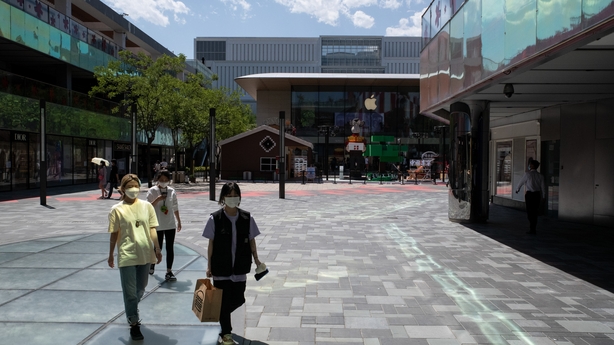 To lessen the impact of Covid-19 on offline businesses, the city has rolled out a series of inventive measures involving rental reduction and expanding online sales channels.
A new round of green and energy-saving coupons will be issued to consumers in Beijing and consumers can get a coupon package worth 1,500 yuan (€210) each month available for the purchase of 21 types of goods such as mobile phones, refrigerators and air conditioners.
"The social retail sales are expected to be boosted 30 times by our policy-related funding support. In this case, we estimate that the funding support can boost retails by billions of yuan," said Guo Wenjie, deputy director of Beijing Municipal Commerce Bureau.
In North Korea's first-ever Covid-19 outbreak, the country reported some 79,100 more people with fever symptoms and one additional death, South Korea's Yonhap news agency said citing the North's state media KCNA.