Parents in the US have grown increasingly desperate for baby formula amid a perfect storm of supply chain issues and a massive recall, but experts are warning them not to try to make their own formula substitutes.
As a major shortage continues to plague the country, many parents are experiencing purchasing restrictions and price gouging against a backdrop of social media posts urging them to make homemade formula for infants who are not breastfed.
But the American Academy of Pediatrics (AAP) cautions against using homemade formula, warning it may lack vitamins and nutrients key to helping infants grow and thrive.
Tanya Altmann, author of several parenting books and founder of Calabasas Pediatrics in California, agreed.
"I advise my patients not to make homemade infant formula," she told AFP.
"It won't meet your baby's essential nutritional needs, can be very dangerous to their growth and development and can even make your baby sick."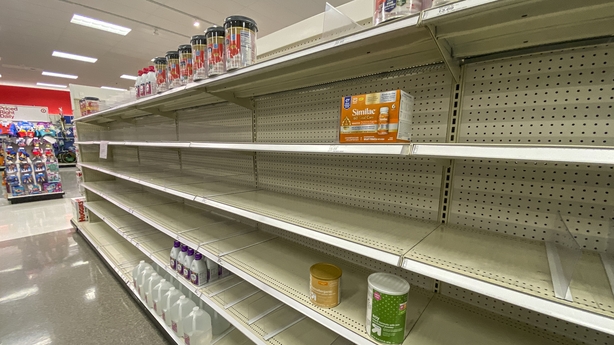 Looking at a recipe circulating online, said to be from 1960, urging parents to mix evaporated milk, water and Karo corn syrup, Ms Altmann said the added sugar would not be safe or healthy for infants.
"Karo syrup was once used to help ease constipation, but it is not advised as it's not effective and can even contain harmful bacteria," she said.
Azza Ahmed, an associate professor of nursing at Purdue University, said homemade formula can put a baby at risk of "contamination and infection".
Although parents are feeling stressed by shortages, formula should never be watered down, as this can quickly lead to an imbalance of nutrition, she added.
Formula shortages have been compounded by supply chain snags and historic inflation, leaving about 40% of baby formula products out of stock nationwide.
Social media posts prompted by shortages also claim orange juice mixed with water can be introduced at three weeks of age.
But the Academy of Breastfeeding Medicine warned against juice and other formula substitutes.
"Do not give your baby under six months of age any water, tea, or juice," it said.
Other social media posts are recommending that parents substitute goat's milk for formula.
However, goat milk lacks nutrients necessary for human babies, according to Gabrina Dixon from Children's National Hospital in Washington, DC.
She pointed to its lack of folate and vitamin B12, which is necessary to stave off anemia, or a low red blood cell count.
Experts told AFP that concerned parents should consult their paediatricians about feeding options, but urged more open attitudes about switching formula brands or using generic products, especially for children who have not shown signs of sensitivity to ingredients.
'Operation Fly Formula'
In an effort dubbed "Operation Fly Formula" the US government is due to fly in baby formula on commercial planes contracted by the military in an airlift aimed at easing the major shortage, the White House said yesterday.
The Department of Defense "will use its contracts with commercial air cargo lines, as it did to move materials during the early months of the Covid pandemic, to transport products from manufacturing facilities abroad that have met Food and Drug Administration (FDA) safety standards," the White House said.
US President Joe Biden said he expects increased imports of baby formula to relieve the US shortage in a matter of weeks or less, as pressure mounts from parents and politicians to address the problem.
"Bypassing regular air freighting routes will speed up the importation and distribution of formula and serve as an immediate support as manufacturers continue to ramp up production," it said, dubbing the effort "Operation Fly Formula".
Mr Biden has also invoked the Defense Production Act to give baby formula manufacturers first priority in supplies.
"Directing firms to prioritise and allocate the production of key infant formula inputs will help increase production and speed up in supply chains," the White House said.