The military situation in the "completely destroyed" Donbas region is like hell, according to Ukrainian President Volodymyr Zelensky.
He cited what he called "senseless Russian bombardment" in the area.
In a late night video address, he warned: "In the Donbas, the occupiers are trying to exert even more pressure. It is hell there - and that is not an exaggeration."
Mr Zelensky also accused Russian forces of attempting to kill as many Ukrainians and do as much damage as possible, repeating his charge that Russia was carrying out a genocide.
He said that while Ukrainian forces were continuing to liberate the Kharkiv region to the east of Kyiv, Russia was trying to exert even more pressure in the Donbas, which lies in southeastern Ukraine.
He added that 12 people had been killed in the "brutal and absolutely senseless bombardment" of Severodonetsk today.
"(There are) constant strikes on the Odesa region, on the cities of central Ukraine. The Donbas is completely destroyed," he said in his address.
Mr Zelensky was speaking after the United Nations urged Russia and Ukraine to "build on" contacts - that enabled the evacuation operations from Mariupol - in order to resume stalled peace talks.
The successful operations to evacuate civilians and later fighters from the sprawling Azovstal steelworks in the devastated Ukrainian port points the way back towards broader negotiations to end the brutal conflict, UN aid chief Martin Griffiths said.
"Those operations could not have happened had it not been for cooperation between the Russian Federation and the Ukraine authorities," he told reporters in Geneva.
"I would like to think that the fact that this cooperation has worked relatively well, certainly better than in previous weeks of this war, suggests there is something to build on."
Mr Griffiths called for the resumption of the stalled talks hosted by Turkey, insisting: "We've got to get back to the table."
Russia said today that 1,730 Ukrainian soldiers had surrendered this week at the Azovstal steel plant in Mariupol, showing some emerging on crutches after a desperate battle that has become emblematic of the nearly three-month-old war.
The number included 80 who were wounded and taken to a hospital in Russia-controlled territory in eastern Ukraine, the defence ministry in Moscow said.
The ministry released a video appearing to show exhausted Ukrainian soldiers trudging out of the sprawling steelworks, after a weeks-long siege forced the defenders and civilians to huddle in tunnels with dire shortages of food, water and medicine.
We need your consent to load this rte-player contentWe use rte-player to manage extra content that can set cookies on your device and collect data about your activity. Please review their details and accept them to load the content.Manage Preferences
Russian troops patted down those surrendering and inspected their bags as they exited, signalling the effective end of what Ukraine's government had called a "heroic" resistance.
The International Committee of the Red Cross said it had registered "hundreds of Ukrainian prisoners of war" from the plant in Mariupol, a port city obliterated by Russian shelling.
Ukraine is hoping to exchange the Azovstal soldiers for Russian prisoners. But pro-Kremlin authorities in Ukraine's eastern Donetsk region said some of them could be put on trial.
---
---
Ukrainian prosecutors have so far listed 12,595 alleged war crimes by the invaders, including the bombing of a maternity ward in Mariupol, and on Wednesday opened the first trial of a Russian soldier.
While Mariupol has fallen, Ukraine's President Volodymyr Zelensky said the wider invasion was an "absolute failure" as he marked "Vyshyvanka Day", an annual celebration of Ukrainian folk traditions.
Wearing an embroidered shirt instead of his usual military khaki top, Mr Zelensky said on the Telegram social media platform that his people remained "strong, unbreakable, brave and free".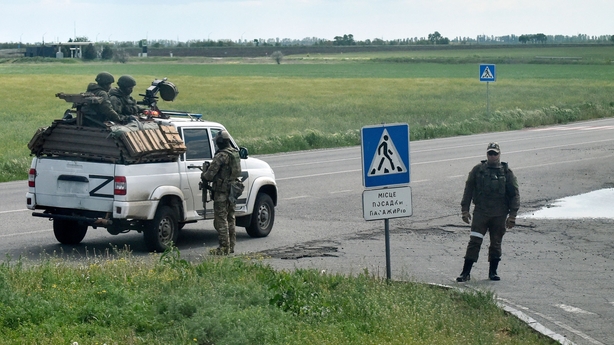 Also today, US President Joe Biden hosted the leaders of Finland and Sweden to discuss their bids to join NATO and said they had his country's full backing.
It comes as the US Congress approved a $40 billion (€37bn) aid package for Ukraine. The vote was an unusually bipartisan move for harshly divided Washington.
"Aid for Ukraine goes far beyond charity," Republican Senate Minority Leader Mitch McConnell said.
It comes as G7 finance ministers were meeting in Germany to thrash out more cash support.
But German Chancellor Olaf Scholz said there could be "no shortcuts" to membership of the European Union for Ukraine.
Ukraine's Foreign Minister Dmytro Kuleba condemned the "second-class treatment" of his country.
Despite their last-ditch resistance in places such as Mariupol, and the successful defence of Kyiv, Ukrainian forces are retreating in the east.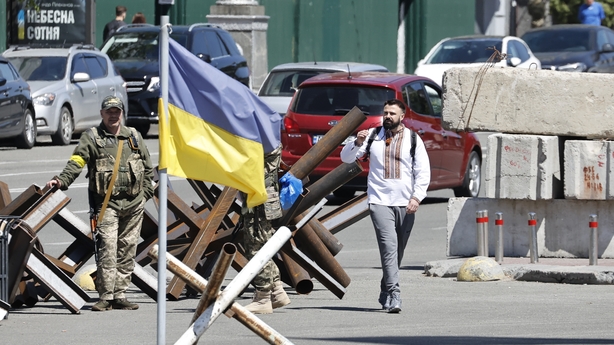 Meanwhile Russia's Chief of General Staff Valery Gerasimov and US Joint Chiefs of Staff Chairman General Mark Milley held a phone call, RIA news agency reported today, citing the Russian defence ministry.
They discussed issues of "mutual interest", including Ukraine, RIA said.
The call took place six days after a phone conversation between the defence ministers of the two countries, their first since Russia launched what it calls its "special military operation" in Ukraine.
With Ukrainian ports blocked, the UN has warned the war is exacerbating a global food crisis that could lead to years of mass hunger.
Martin Griffiths also stressed the urgent need to release Ukrainian grain.
Before Russia's invasion of its neighbour in February, Ukraine was seen as the world's bread basket, exporting 4.5 million tonnes of agricultural produce per month through its ports.
That amounts to 12% of the planet's wheat, 15% of its corn and half of its sunflower oil.