The Group of Seven industrialised nations say they will never recognise the borders Russia is trying to shift by force in its war against Ukraine and pledged enduring support for Kyiv.
Russia invaded Ukraine on February 24 but Kyiv's forces managed to push Moscow's troops back from the capital.
The conflict is now well into its third month.
"We will never recognise borders Russia has attempted to change by military aggression, and will uphold our engagement in the support of the sovereignty and territorial integrity of Ukraine, including Crimea, and all states," the G7 foreign ministers said in a statement after three days of talks in northern Germany.
The ministers were joined in the resort of Wangels by their counterparts from Ukraine and Moldova, as well as EU foreign policy chief Josep Borrell.
In their joint statement, they vowed to expand sanctions to include sectors on which Russia is dependent and keep supplying Ukraine with weapons to help it repel Russia's invasion.
"We reaffirm our determination to further increase economic and political pressure on Russia, continuing to act in unity," they said.
When asked if allies want to see Russia pushed out of Crimea - annexed in 2014 - as well, German Foreign Minister Annalena Baerbock said it should be up to Ukraine to "decide by themselves about their country".
"It's their territory and we support every measure and every step they are taking to ensure that people in Ukraine... can live as everybody else in Europe again - in peace but also in security and freedom in their own country," said Ms Baerbock, whose country currently holds the presidency of the G7.
'Coordinated response'
Western countries have supplied Ukraine with artillery, anti-aircraft missiles and anti-tank weapons, among others.
Mr Borrell has also pledged an extra half a billion euros in EU military aid to help Kyiv repel the Russian invasion, but Kyiv has been pushing allies for more support.
Ukrainian Foreign Minister Dmytro Kuleba said he has asked the G7 to seize Russian assets and hand them over to Ukraine.
Ms Baerbock noted that Canada has already taken the lead in taking such a measure but she said Europe is bound by different legal imperatives that would have to be navigated.
"If we were to take this path... it would have to be done in such a way that it stands up to our law," said Ms Baerbock.
As the war drags on, the G7 foreign ministers also highlighted the growing impact of the war on poorer countries, especially in the area of food security.
"We are determined to accelerate a coordinated multilateral response to preserve global food security and stand by our most vulnerable partners in this respect," they said.
In another nod to the growing global impact of the conflict, the ministers also warned China against undermining punitive action against Moscow for its invasion.
They also slammed Belarus over its stance on the war.
"We... call on Belarus to stop enabling Russia's aggression and to abide by its international obligations," they said.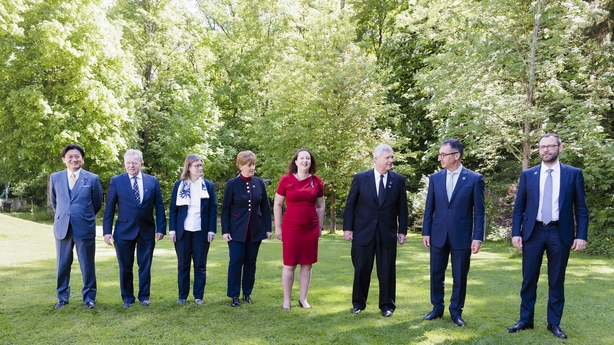 Tackling 'wheat war'
G7 foreign ministers also vowed to tackle what Ms Baerbock described as a "wheat war" being waged by Moscow.
They would also address what they called Russian misinformation aimed at blaming the West for food supply issues around the world due to economic sanctions on Moscow and urged China to not assist Moscow or justify Russia's war, according to a joint statement.
The meeting in northern Germany, which the foreign ministers of Ukraine and Moldova attended, also spotlighted food security concerns and fears that the war in Ukraine could spill over into its smaller neighbour Moldova.
"People will be dying in Africa and the Middle East and we are faced with an urgent question: how can people be fed around the world? People are asking themselves what will happen if we don't have the grain we need that we used to get from Russia and Ukraine," Ms Baerbock said.
She added that the G7 would work on finding logistical solutions to get vital commodities out of Ukraine storage before the next harvests.
India bans wheat exports
India banned wheat exports today, just days after saying it was targeting record shipments this year, as a scorching heatwave curtailed output and domestic prices soared to an all-time high.
The government said it would still allow exports backed by already issued letters of credit and to countries that request supplies "to meet their food security needs."
Indian government officials, speaking just hours after the ban, said there was no dramatic fall in wheat output this year but unregulated exports had led to a rise in local prices.
"We don't want wheat trade to happen in an unregulated manner or hoarding to happen," a senior government official told reporters in New Delhi.
G7 Agriculture ministers today condemned India's ban.
"If everyone starts to impose export restrictions or to close markets, that would worsen the crisis," German agriculture minister Cem Ozdemir said.
Global buyers were banking on supplies from the world's second-biggest wheat producer after exports from the Black Sea region plunged following Russia's invasion of Ukraine.
Before the ban, India had aimed to ship a record 10 million tonnes this year.