Russian strikes slammed into central Kyiv today as UN Secretary-General Antonio Guterres was visiting, wounding three in the first such attack on the capital since mid-April, the mayor said.
AFP correspondents saw a building in flames and black smoke pouring into the air with a heavy presence of police and rescuers in the area, a residential neighbourhood on the western side of the city.
Kyiv mayor Vitali Klitschko said there had been "two hits in the Shevchenkovsky district", with one hitting "the lower floors of a residential building".
He said three people had been taken to hospital but the extent of their injuries was not immediately clear.
A close aide to the UN chief sent a message to journalists confirming they were safe.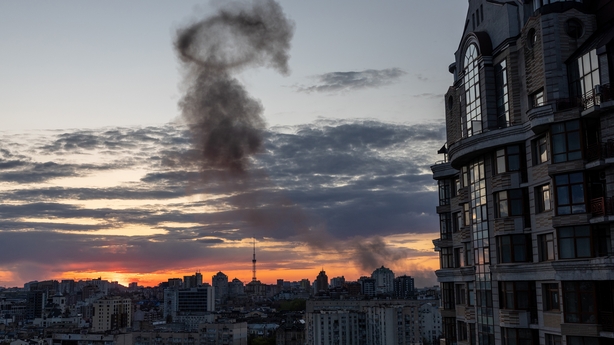 The move prompted a furious response from Ukraine's government, with foreign minister Dmytro Kuleba denouncing it as a "heinous act of barbarism" which demonstrated Russia's "attitude towards Ukraine, Europe and the world".
Defence Minister Oleksiy Reznikov also lashed out, writing on Twitter: "This is an attack on the security of the Secretary General and on world security!"
The strikes came just two days after Mr Guterres held talks in Moscow with Vladimir Putin, with the Russian leader telling him he remained hopeful that negotiations could end the conflict.
The irony of the timing was not lost on Mykhaylo Podolyak, a senior Zelensky aide.
"Missile strikes in the downtown of Kyiv during the official visit of @antonioguterres. The day before he was sitting at a long table in the Kremlin, and today explosions are above his head," he tweeted.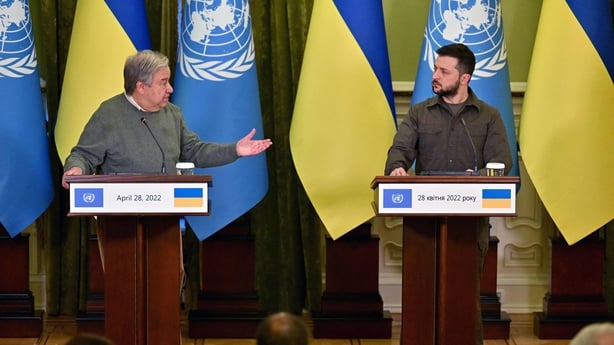 Earlier, on his first visit to Ukraine since Russia launched a full-scale invasion on 24 February, Mr Guterres toured several towns and villages near Kyiv where Russian forces are accused of killing civilians.
"War is an absurdity in the 21st century. The war is evil," he said after visiting places including Bucha where dozens of bodies in civilian clothes were found, some with their hands bound and others buried in shallow graves.
Later at a joint press conference in Kyiv with Mr Zelensky, Mr Guterres admitted the Security Council had failed to go far enough in its efforts to "prevent and end" Russia's war in Ukraine.
"Let me be very clear: the Security Council failed to do everything in its power to prevent and end this war. And this is the source of great disappointment, frustration and anger," he said.
Moscow warns West not to test patience
Moscow warned the West today that there would be a tough military response to any further attack on Russian territory, accusing the US and its key allies of undermining European security by openly inciting Ukraine to assault Russia.
Russia's invasion of Ukraine has killed thousands of people, displaced millions more and raised fears of the most serious confrontation between Russia and the US since the 1962 Cuban Missile Crisis.
Two months since Russia invaded Ukraine, Russia has in recent days reported what it says are a series of attacks by Ukrainian forces on Russian regions which border Ukraine, and has warned that such attacks risk a significant escalation.
Ukraine has not directly accepted responsibility, but says the incidents are payback, while Russia has taken umbrage at statements from NATO-member Britain that it is legitimate for Ukraine to target Russian logistics.
"In the West, they are openly calling on Kyiv to attack Russia including with the use of weapons received from NATO countries," Russian foreign ministry spokeswoman Maria Zakharova told reporters in Moscow.
"I don't advise you to test our patience further."
The Kremlin said Western - and in particular British - attempts to supply heavy weapons to Ukraine threatened the security of Europe.
"In itself, the tendency to pump weapons, including heavy weapons, to Ukraine and other countries are actions that threaten the security of the continent and provoke instability," Kremlin spokesman Dmitry Peskov told reporters.
Sergei Naryshkin, the chief of Russia's Foreign Intelligence Service (SVR), accused the United States and Poland of plotting to gain a sphere of influence in Ukraine, the strongest signal from Moscow that the war could end with forced partition of Ukraine between the West and Russia.
Russia's defence ministry said earlier this week that if such attacks continued then Moscow would target decision-making centres in Ukraine, including those where it said Western advisers were helping Kyiv.
"Kyiv and West capitals should take the statement from the Ministry of Defence seriously that further inciting of Ukraine to strike Russian territory will definitely lead to a tough response from Russia," Ms Zakharova said.
Ms Zakharova cast Ukrainian President Volodymyr Zelensky as a puppet of the West, who was being used by the United States to threaten Russia.
"You are being used," Ms Zakharova said.
The US has ruled out sending its own or NATO forces to Ukraine, but Washington and its European allies have supplied weapons to Kyiv such as drones, Howitzer heavy artillery, anti-aircraft Stinger and anti-tank Javelin missiles.
---
Read more:
Zelensky plea to Europe as Russia gains in east Ukraine
What happens in Ireland if Russia turns off the gas supply?
---
Total US security assistance since the invasion amounts to about $3.7 billion, a US official said.
Russian President Vladimir Putin casts such large arms shipments as part of a broader plan by the US and its allies to destroy Russia - and has added that it will not succeed.
Putin says the "special military operation" in Ukraine is necessary, because the US was using Ukraine to threaten Russia and Moscow had to defend against the persecution of Russian-speaking people.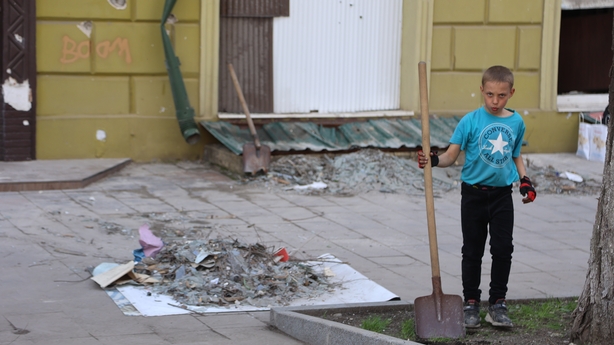 He casts the conflict as an inevitable confrontation with the United States, which he accuses of threatening Russia by meddling in its backyard and enlarging the NATO military alliance.
Ukraine says it is fighting an imperial-style land grab and that Putin's claims of genocide are nonsense. Mr Zelensky has been pleading with US and European leaders to supply Kyiv with heavier arms and equipment.
Russia steps up assault on east
Russia is stepping up its assaults on eastern and southern Ukraine.
"The enemy is increasing the pace of the offensive operation. The Russian occupiers are exerting intense fire in almost all directions," Ukraine's military command said of the situation on the main front in the east.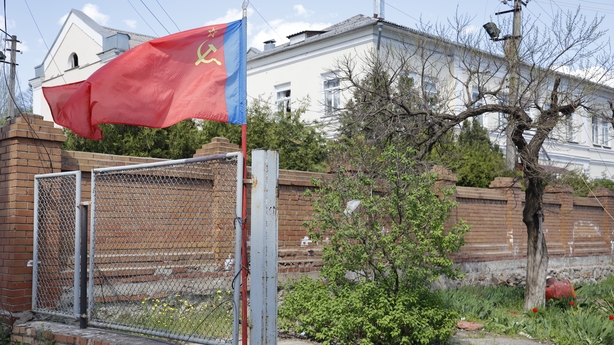 It said Russia's main attack was near the towns of Slobozhanske and Donetsk, along a strategic frontline highway linking Ukraine's second-largest city Kharkiv with the Russian-occupied city of Izyum.
The Kharkiv regional governor said Russian forces were intensifying attacks from Izyum, but Ukrainian troops were holding their ground.
Although Russian forces were pushed out of northern Ukraine last month, they are heavily entrenched in the east and also still hold a swathe of the south that they seized in March.
Ukraine said there were strong explosions overnight in the southern city of Kherson, the only regional capital Russia has captured since the invasion.
Russian troops there used tear gas and stun grenades yesterday to suppress pro-Ukrainian demonstrations, and were now shelling the entire surrounding region and attacking towards Mykolaiv and Kryvyi Rih, Mr Zelensky's southern home city, Ukraine said.
Ukraine accuses Russia of planning to stage a fake independence referendum in the occupied south.
Russian state media quoted an official from a self-styled pro-Russian "military-civilian commission" in Kherson as saying the area would start using Russia's rouble currency from 1 May.