EU countries are not doing enough to help Ukraine, according to the President of the European Parliament who is calling for more military help and a ban on Russian oil and gas imports.
Roberta Metsola became the first leader of an EU institution to visit Kyiv last week, where she addressed the Ukrainian parliament and met President Volodymyr Zelensky.
In her first television interview since returning from the Ukrainian capital, she told RTÉ's European Parliament Report that what she heard was one message: we need more help - it's urgent.
"We need more military help, and we need more financial help. If we don't get this help in the most urgent of ways, then it is going to be too difficult."
Ms Metsola, an MEP from Malta which is constitutionally neutral, said EU member states must go further than the €1 billion in military aid already committed.
"It is not enough," she said.
"It is not enough when combatting or fighting a war. The atrocities that we have seen, in the raising to the ground of Mariupol but also with the senseless and indiscriminate killing of children, women and men in cities like Bucha.
"These are jewels in Ukraine, historical places, that have long been places of resistance of courage that are being razed to the ground.
"The European Union and the world is not doing enough, and we need to do more. And it's not possible to wait any longer," she said.
The European Parliament has sought to exert pressure on member states, Germany in particular, by passing a motion on Thursday calling for a full and immediate ban on Russian oil and gas imports.
"The longer we continue to fund this war by paying or relying on Russia, for our own energy consumption .. it is the biggest problem that we have, I cannot put it more clearly than that," Ms Metsola said.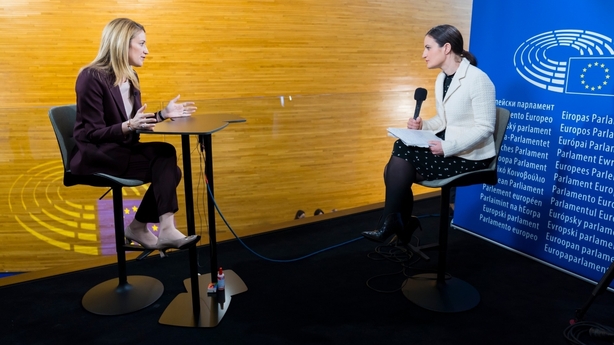 While accepting that there are "different realities for different member states," she said more urgency is needed.
"The real issue on the ground today is that Ukraine is fighting our war, Ms Metsola said.
"If Ukraine falls, we all could fall. Are we ready to do everything in our power in the next crucial weeks in order to make sure that our message, our sanctions, our actions to combat this war are as strong as they can be to say we have really done everything we could have done?"
Ms Metsola said there will be a "renewed focus" in the next couple of weeks on what can be done to "cushion the impact" of rising costs for consumers.
"How that will be done economically is a big challenge," she said.
"But we need to look at our budget, we need to look at unspent funds and we need to see whether those funds can be redistributed in order to help the people on the ground who are suffering."
Asked about a minority in the European Parliament who did not support resolutions condemning Russia or calling for tighter sanctions, including Irish MEPs Clare Daly and Mick Wallace, Ms Metsola said she welcomes "healthy discussion and debate."
But she said all members have to be accountable to the electorate for the decisions they take.
"There is almost unanimous acceptance of the position of this Parliament in sending the strongest message of solidarity with Ukraine and against Putin and Russia," she said.
"Those who choose to deviate are responsible for their decision, and it is up to them if they want to, to defend it."
See the full interview with Roberta Metsola on RTÉ One today at 11.20am.