European and Chinese leaders are to meet at a virtual summit this morning against the backdrop of the war in Ukraine.
The event has been postponed a number of times amid deteriorating relations between China and the EU.
Europe wants clarification on China's relationship with Russia and, in particular, the EU does not want China to supply Russia with weapons for its invasion of Ukraine or help it to subvert sanctions.
Last week, the Italian Prime Minister Mario Draghi urged China not to support Russia after its invasion of Ukraine and rather to join efforts to bring peace to Ukraine.
"The diplomatic effort must also involve other countries. In particular, China plays a highly influential role in global geopolitical and security dynamics," Mr Draghi said.
"It is essential that the European Union be united in keeping open spaces for dialogue with Beijing, so that it can contribute constructively to the international mediation effort.
"The EU-China Summit on 1 April will be an opportunity to underline our position. We must reiterate our expectation that Beijing will refrain from actions in support of Moscow and participate actively and authoritatively in the peace effort."
The Finnish Prime Minister, Sanna Marin, was at idem a day later, when she said that the sanctions imposed by the European Union on Russia for invading Russia won't be as efficient as designed if China helps Moscow.
"If China helps Russia, then the sanctions won't work as we want them to work, so of course China is a major player, and we have to make sure that China is on the right side of history."
But on Wednesday, a spokesperson for the Chinese Foreign Ministry appeared to pour cold water on that hope, at least in terms of its solidarity with Russia, saying: "There is no limit to China-Russia cooperation, no limit to our efforts to achieve peace, safeguard security and oppose hegemony.
"China-Russia relations are non-aligned, non-confrontational and not targeted at any third party."
Moreover, following a meeting with his Russian counterpart, Sergei Lavrov, in China, Foreign Minister Wang Yi doubled down on the sentiment saying: "Both sides are more determined to develop bilateral ties, and are more confident in promoting cooperation in various fields.
"China is willing to work with Russia to take China-Russian ties to a higher level in a new era under the guidance of the consensus reached by the heads of state," he said.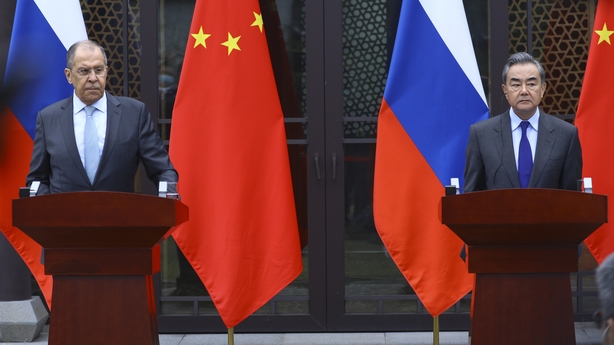 China has refused to condemn Russia's actions in Ukraine or even to call it an invasion. It reiterated support on Wednesday for peace talks between Russia and Ukraine.
Russia's foreign ministry said Mr Lavrov had informed Mr Wang about the progress of military operations in Ukraine and the state of Moscow's negotiations with Kyiv.
"The sides noted the counterproductive nature of the illegal unilateral sanctions imposed on Russia by the United States and its satellites," the ministry said in a statement.
European Commission President Ursula von der Leyen and Council President Charles Michel, accompanied by High Representative Josep Borrell, representing the EU, will meet Chinese Prime Minister Li Keqiang this morning and Chinese President Xi Jinping in the afternoon.
While the European leaders will want to get the message across that Europe stands with Ukraine, it is unlikely they will push China to criticise the invasion.
China is the EU's biggest trading partner - with imports and exports worth almost €600 billion annually. Neither side will want to jeopardise this relationship.
But there's a delicate balancing act to be played.
As US-China relations sour, the latter is likely to want to maintain a positive relationship with Europe.
MEP for Dublin, Barry Andrews, says the EU-China relationship has essentially stalled. In 2019 there was an agreement on geographical indication of products from the EU and then there was an investment agreement in 2020, but he believes there's been little progress since then.
Mr Andrews believes the entire trading relationship "could be imperilled if China more overtly backed Russia with financial or military aid," at which point he thinks the EU appetite for "indulging" China would run out.
Damage limitation exercise
The summit in general is a damage limitation exercise, says the MEP.
If any progress is to be made, it will be on the humanitarian side, "China won't mediate in terms of security, but they may in terms of humanitarian corridors."
However, Mr Andrews does not hold out much hope, saying China has only donated €2m to Ukraine since Russia's invasion last month.
He says the European Union will want to come away with something positive, he says that could be assistance in terms of negotiating humanitarian corridors for safe passage for Ukrainians out of besieged areas, or for aid to be brought into the same areas, eg Mariupol.
Mr Andrews says China has previously provided humanitarian support for the Ebola response in west Africa in 2014, so it is not impossible, but it will be limited to that, in his opinion.
Asked if China will criticise Russia at the Summit, Mr Andrews says he does not believe so.
He says the EU is going to push it as far as it can, and will likely call on China to publicly distance itself from providing military support to Russia, but he says he very much doubts that will happen. Essentially, he believes both sides will declare their positions, agree to differ and walk away.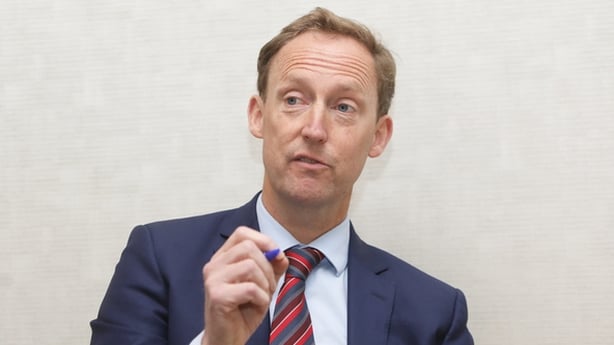 Have MEPs been clear in their message to Ursula Von der Leyen and Charles Michel ahead of the Summit? Barry Andrews says absolutely.
He says there is enormous sympathy among MEPs for Lithuania, which not only borders Russia, but was "subject to coercion" by Russia when it moved to diplomatically recognise Taiwan.
He says that the decision by China to sanction five MEPs did not go down well, adding that the MEPs in question are nervous about travel to some parts of the world, considering China's allies.
Mr Andrews says that there is a need for Ursula Von der Leyen and Charles Michel to be vocal with China.
"This is an existential issue," he says.
Mr Andrews believes that the message will be brought to China, and that the Chinese government understands Europe's position, but is unlikely to be sympathetic.
Asked if other MEPs were as downbeat about the Summit as he seems, Mr Andrews says yes.
"We have low expectations," he added.
"China has been talking about pushing relations (with Russia) to a higher level, that it has no limits."
He added that China praised Russia for "preventing large scale humanitarian crises" in Ukraine. "There's no sense of gross breaches of humanitarian law (in China)," he says.
Mr Andrews says he hopes to hear a request for assistance in terms of humanitarian corridors from China by EU leaders.