Germany will sharply increase its spending on defence to more than 2% of its economic output in response to Russia's invasion of Ukraine, German Chancellor Olaf Scholz told an extraordinary session of the Bundestag lower house of parliament.
"We will have to invest more in the security of our country to protect out freedom and democracy," he said, adding the government had decided to supply €100 billion for military investments from its 2022 budget.
Germany has long resisted pressure from the United States and others to raise its defence spending to 2% of economic output.
But it has made a turnabout on various longstanding policies in recent days, including its refusal to deliver weapons to conflict zones, agreeing to send Ukraine defensive anti-tank weapons, surface-to-air missiles and ammunition.
"There could be no other answer to Putin's aggression," Mr Scholz told MPs.
He also said that heavy sanctions against Russia are already showing effect, and warned that further embargoes could come if Moscow failed to change course.
"Already in the last week, the Russian stock markets sank by more than 30%. That shows our sanctions are working," said Mr Scholz.
"And we reserve the right to impose further sanctions," he warned.
---
Read More:
EU could ban Russian flights from its airspace, official says
Government to shut Irish airspace to Russian carriers
---
Mr Sholz said Germany will make good on plans to build two liquefied natural gas (LNG) terminals and up its natural gas reserves to cut its dependence on Russian gas.
"We will do more to ensure secure energy supply for our country.
"We must change course to overcome our dependence on imports from individual energy suppliers."
Germany has been under pressure from other Western nations to become less dependent on Russian gas, but its plans to phase out coal-fired power plants by 2030 and to shut its nuclear power plants have left it with few options.
Earlier this week Germany halted the $11 billion Nord Stream2 Baltic Sea gas pipeline project, Europe's most divisive energy project, in response to Russia's actions toward Ukraine.
"The events of the past few days have shown us that responsible, forward-looking energy policy is decisive not only for our economy and the environment. It is also decisive for our security," Mr Scholz said this morning.
The quicker Germany can expand renewable energy generation, the better, he said.
In addition, Germany will increase the volume of natural gas in its storage facilities by 2 billion cubic metres (bcm) via long-term options and will buy additional natural gas on world markets in coordination with the European Union, he said.
Germany has 24 bcm of underground caverns of gas storage, which are currently around 30% full, according to industry group Gas Infrastructure Europe data.
Mr Scholz also said that Germany would quickly build two LNG terminals, in Brunsbuettel and Wilhelmshaven.
He had signalled his support for the construction of LNG terminals when he was finance minister and deputy chancellor in the previous government, but little progress was made.
It comes as more than 100,000 people marched in Berlin in solidarity with Ukraine, according to police estimates.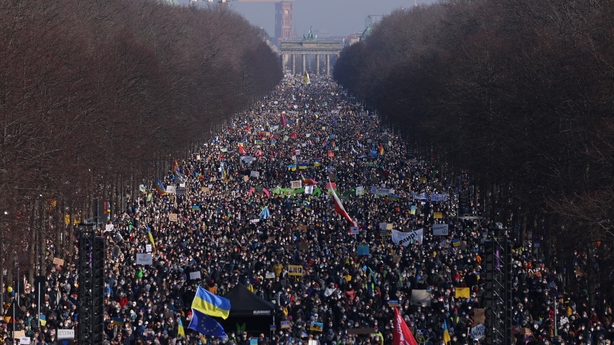 German's Foreign Minister said Germany and its Western allies must not run out of steam in sanctioning Russia as President Vladimir Putin has a long-term plan in mind.
"Putin's perfidious game is for long run, so our sanctions should be too. We must ensure that we don't run out of steam in three months," Annalena Baerbock told MPs.
She said Germany and its Western allies tried to solve the conflict with Russia with diplomacy until the very end but the Kremlin "lied to us and refused all efforts."
Meanwhile, Germany will impose a three-month ban on all Russian flights from its airspace from this afternoon, the Transport Ministry said.
"In a Notice to Air Missions, the transport ministry has imposed a flight ban for Russian aircraft and aircraft operators in and over German airspace," said the ministry, adding that order was valid for three months.
Only humanitarian flights will be exempt.