German Chancellor Olaf Scholz has said the certification of the Nord Stream 2 project cannot go ahead given Russia's latest actions.
Russian President Vladimir Putin last night ordered the deployment of troops to two breakaway regions in eastern Ukraine after recognising them as independent.
Mr Scholz said he had asked to halt the review process by the German regulator for the pipeline.
"That sounds technical, but it is the necessary administrative step so there can be no certification of the pipeline and without this certification, Nord Stream 2 cannot begin operating," he said.
Europe's most divisive energy project, Nord Stream 2 is designed to double the amount of gas flowing from Russia straight to Germany, bypassing traditional transit nation Ukraine, on the bed of the Baltic Sea.
It has faced resistance within the European Union, from the United States as well as Ukraine, on the grounds it increases Europe's energy dependence on Russia, denies Ukraine transit fees and makes it more vulnerable to Russian invasion.
The German government had long said Nord Stream 2 was primarily a commercial project that diversifies energy supplies for Europe.
Europe's largest economy depends on Russia for around half its energy needs.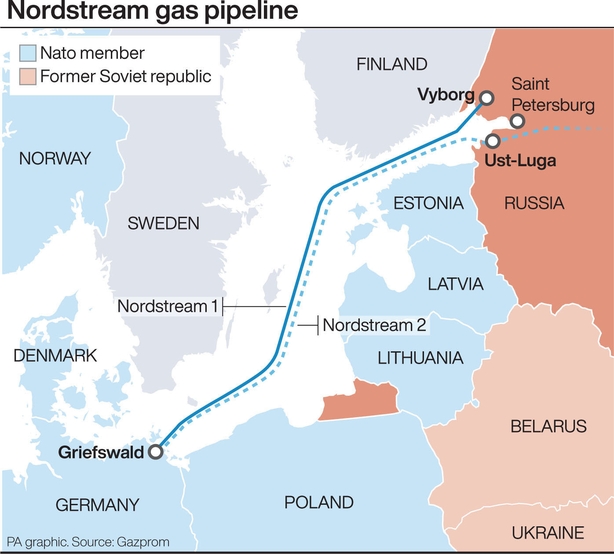 Earlier today, Ukrainian leader Volodymyr Zelensky had demanded an immediate halt to Nord Stream 2.
He told Mr Scholz while he visited Kyiv last week that Russia was wielding the pipeline as a "geopolitical weapon".
Mr Scholz warned Russia that a decision to halt the Nord Stream 2 pipeline project was only one "concrete" step and that further sanctions could follow.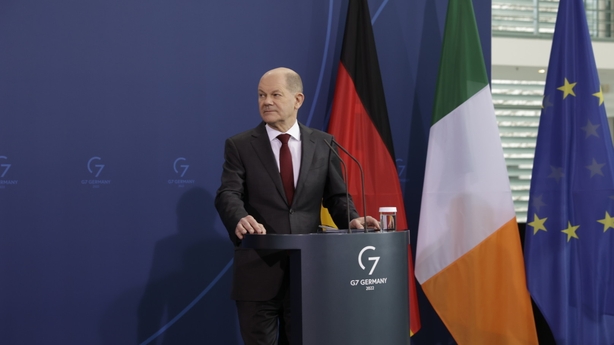 "There are also other sanctions that we can introduce if further measures are taken, but for now, it's a matter of doing something very concrete," he said at a joint press conference with Taoiseach Micheál Martin.
Mr Martin is in Berlin for talks with the Chancellor on a range of topics, including Ukraine, EU matters and Irish-German relations.
Mr Scholz also pleaded for Russia and the West to keep talking and said as well as initial sanctions, continued diplomacy is "important to prevent a further escalation and thus a catastrophe" in the region.
"This is the objective of all our diplomatic efforts," he said.
He voiced confidence that the European Union would agree a "robust and massive" sanctions package targeting Russia.
"I am confident that we will succeed," he said in response to a question on whether the 27-nation bloc would agree unanimously to the embargo.
The Taoiseach said EU sanctions on Russia will have negative impacts on the cost of living across Europe, including Ireland.
He described the German decision to stall the Nord Stream 2 gas pipeline as "very significant" in the context of the EU's intention to respond to Russia's actions against Ukraine.
However, he accepted that actions such as the one announced today will be impactful.
Asked if he believed war was coming to Europe, the Taoiseach replied: "I hope not" adding such a conflagration would be "catastrophic".
Mr Martin also defended the EU's approach to introducing sanctions against Russia on a phased basis as it left open the possibility of diplomacy and calming tensions.
Minister of State for European Affairs Thomas Byrne welcomed Germany's decision to put the Nord Stream 2 project on hold.
Speaking to RTÉ's Drivetime, Mr Byrne said: "Germany has made this decision. I mean, there is already gas flowing from Russia, and I think what this whole thing teaches us is we need to reduce our dependence on gas, not just for climate reasons, which are obviously of huge concern, but also for security reasons as well."
He said that the focus must be on a shift to renewable energy.
"I think Germany has taken a stance today that is probably necessary.
"They're under pressure from a lot of member states and I do welcome it, but we really have got to redouble our efforts to secure alternative supply, whether it's gas in the short term, but clearly that move to renewables becomes even more urgent than before because this particular crisis situation is not going to ease anytime soon."
Additional reporting Paul Cunningham