Two European royals have tested positive for Covid-19.
Spain's King Felipe VI has tested positive for Covid-19 but is experiencing only mild symptoms, the Royal House said.
The 54-year-old monarch tested positive this morning "after experiencing mild symptoms the night before", it said in a statement.
He will quarantine for seven days and will "carry out his institutional activities" during this period from his residence, it added.
The king had been due to meet with Zeljko Komsic, the Croatian member of the Bosnian presidency, in Madrid later today.
Queen Letizia and the couple's younger daughter Sofia are not showing symptoms and will continue their activities normally.
Their elder daughter, Leonor, attends a boarding school in Wales.
Spain will tomorrow scrap a mandate to wear face masks outdoors as Covid-19 infection rates drop and hospitals report lower admissions.
The measure reverses a step taken last December amid an surge of infections fuelled by the highly contagious Omicron variant.
Masks remain mandatory in indoor public spaces, including public transportation.
So far, Spain has registered some 10.4 million cases of the virus, and 95,000 deaths.

It comes as Denmark earlier reported that Queen Margrethe had tested positive for coronavirus but is only showing mild symptoms.
The 81-year old Queen, who has sat on the throne for half a century, had cancelled her planned winter holiday in Norway, which should have started today and was isolating in a wing of the Amalienborg Palace in the heart of Copenhagen, the court said.
---
---
Slovenia's conservative Prime Minister Janez Jansa also said he had tested positive for Covid-19, just as the EU country of two million sees a decline in new infections.
"For two years we have been successfully avoiding the coronavirus. Yesterday, during a self-test both of my children were positive, I was negative. Today, unfortunately, mine is also + (positive)," Mr Jansa wrote on his Twitter account, posting a photo of his antigen self-test.
Mr Jansa said his symptoms were mild for now and did not specify whether he would undergo a PCR test, which the government no longer requires to confirm an infection under recently changed rules.
Slovenia has one of the lowest vaccination rates in the European Union with 57% of the population fully vaccinated.
Over the last week, health authorities have said that the fifth wave of the coronavirus is abating - the number of new cases dropped to some 5,000 today compared to more than 20,000 a week ago.
Turkey's daily Covid death toll at highest in nearly five months
The Covid-19 related death toll in Turkey rose to 266 in the last 24 hours, the highest daily level in nearly five months, health ministry data showed today, with new cases over that period dipping to 108,563.
In late December, daily cases stood at about 20,000 but have since surged due to the highly transmissible Omicron variant of the coronavirus.
The number of new daily cases touched a record level of 111,157 infections last Friday.
The death toll reported today was the highest since 276 on 14 September.
England could end Covid isolation requirement by March: Johnson

England will scrap the legal requirement to self-isolate after testing positive for Covid-19 later this month if infection levels remain stable, Prime Minister Boris Johnson has announced.
Mr Johnson, dogged by revelations of apparent breaches of the Covid rules at Downing Street that have led to calls for him to quit, had earlier said he aimed to end the self-isolation rules on 24 March.
But addressing MPs before parliament goes into recess tomorrow until 21 February, he said he would bring the change forward by a month.
"It is my intention to return on the first day after the half-term recess to present our strategy for living with Covid," Mr Johnson told said.
"Provided the current encouraging trends in the data continue, it is my expectation that we will be able to end the last domestic restrictions - including the legal requirement to self-isolate if you test positive - a full month early."
England lifted almost all coronavirus restrictions in late January that had been reimposed in early December to tackle the Omicron variant, with masks no longer required in enclosed places and vaccine passports shelved.
The need for fully vaccinated travellers to test for Covid-19 before or after arriving in the UK will end later this week.
The number of positive Covid-19 cases has fallen sharply since the new year. Although still at high levels, the figures have kept falling in the weeks following the easing of the measures.
The government announced 66,183 new infections yesterday, as well as 314 new deaths from the virus, taking the country's total toll to nearly 159,000 - one of the highest in Europe.
New Zealand protesters vow to stay 'as long as it takes'
New Zealand anti-vaccine mandate protesters faced off with police outside parliament today, as demonstrators camped inside the Wellington legislature's grounds vowed to stay "as long as it takes".
The protest, which began yesterday as a copycat of a "Freedom Convoy" action by Canadian truckers, turned tense as about 100 police stood guard on the steps of parliament.
Many of the vehicles that jammed central Wellington's streets the previous day had left by today, but a hardcore of several hundred protesters pitched tents and refused to leave.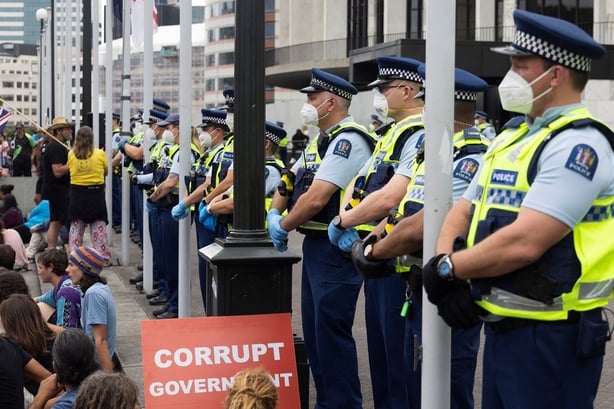 Three were arrested after trying to breach the police line as supporters chanted "let them through" but officials said the event remained largely peaceful."Police will ... continue to monitor activity recognising that people have a right to peaceful protest," they said.
Aucklander Sel Currie said he had no plans to leave the capital.
"We're here as long as it takes," he said. "It feels very intimidatory here today, it feels like the police are trying to incite violence but it won't come from us."
A "Freedom Convoy" of truckers has gridlocked the Canadian capital Ottawa since late last month, prompting city authorities to declare a state of emergency.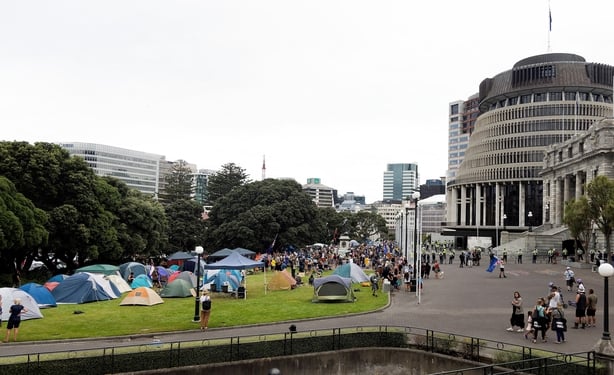 New Zealand requires mandatory Covid vaccinations for people working in sectors such as health, law enforcement, education and defence, with those who refuse the jab facing the sack.
Proof of vaccination must also be shown to enter restaurants, sports events and religious services.
South Korea drops vaunted 'test and trace' strategy as Omicron surges

South Korea has said it was dropping its vaunted "trace, test and treat" programme as a surge in Omicron cases threatens to overwhelm the country's healthcare system.
At the start of the pandemic in 2020, South Korea was hit by one of the worst early outbreaks of the disease outside China but brought it under control with mass testing and aggressive contact tracing.
The strategy earned the country widespread praise, but the government has now decided to drop the system after surpassing one million infections over the weekend due to the rapid spread of Omicron.
The "trace, test and treat" approach is "difficult to operate due to limited resources" and has "excessively high social and economic costs", said a senior health official.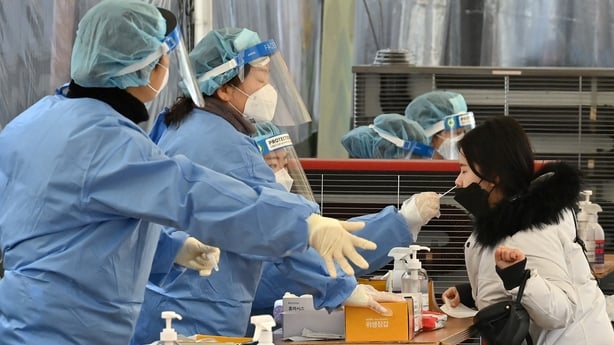 South Korea's daily caseload hit a record high of 49,567 yesterday, with health authorities saying the number could hit 170,000 later this month.
The figure has more than doubled in less than a week.
A new set of measures to manage the virus is taking effect in stages starting this month, and will refocus resources on the most vulnerable, health officials said.
The aim is to diagnose and treat high-risk groups to "prevent the collapse of the medical system and the deterioration of social and economic functions", the health official said.
Authorities will be prioritising tests for people aged 60 or older.
Previously, anyone testing positive was sent to a government centre for treatment and quarantine, but now asymptomatic patients are being told to stay at home.
Around 85% of the country's 52 million population have been double vaccinated, according to the Korea Disease Control and Prevention Agency.