The Pentagon has said it had evidence of a plan by Moscow to film a fake Ukrainian attack on Russians to justify a real assault on its pro-West neighbour.
"We do have information that the Russians are likely to want to fabricate a pretext for an invasion," said Pentagon spokesperson John Kirby.
He told reporters that Washington believed the Russian government plans to stage an attack by the Ukraine military or intelligence forces "against Russian sovereign territory, or against Russian speaking people."
The latter could refer to the sizeable Russian-speaking population inside Ukraine.
"As part of this fake attack, we believe that Russia would produce a very graphic propaganda video, which would include corpses and actors that would be depicting mourners and images of destroyed locations," he said.
That could allow Moscow, which has amassed more than 100,000 troops and heavy offensive arms on Ukraine's border, with an excuse for invading.
Part of the plan would be to make the Ukrainian military equipment used in it appear to be supplied by the West, he said, further justifying Russian reprisals against Ukraine.
"We've seen these kinds of activity by the Russians in the past and we believe it's important when we see it like this that we can call it out," Mr Kirby said.
In a statement, the UK's Foreign Secretary Liz Truss said such conduct was "completely unacceptable" and called on Russia to desist and return to the path of diplomacy.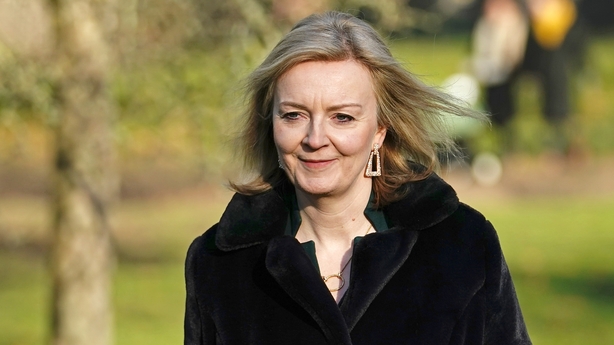 "This is clear and shocking evidence of Russia's unprovoked aggression and underhand activity to destabilise Ukraine," she said.
"This bellicose intent towards a sovereign, democratic country is completely unacceptable and we condemn it in the strongest possible terms.
Ukraine says number of ceasefire violations decreasing
The number of ceasefire violations in the conflict in eastern Ukraine has decreased and there have been no combat losses for the past three weeks, according to Ukraine's Defence Minister.
Oleksii Reznikov has said Russia has currently massed 115,000 troops near Ukraine's borders.
It comes as Turkish President Recep Tayyip Erdogan is set to visit his Ukranian counterpart Volodymyr Zelensky after pitching Turkey as a mediator to ease tensions with Russia, and an official said he was not picking any sides in the crisis.
The Turkish official said that Ankara expects tensions to ease after the meeting in Kyiv.
Yesterday, Turkey and Ukraine said said they would sign a free trade agreement and other deals.
Russia has denied any plans of invading Ukraine amid concern by many Western nations over its build up of troops near the border, but has demanded sweeping security guarantees from the West.
Mr Erdogan's trip comes after visits by leaders of NATO members Britain, Poland, and the Netherlands to Kyiv amid the stand off.
Turkey has good ties with Ukraine and Russia but has said it would do what is necessary as a NATO member if Russia invades.
It offered in November to help ease building tensions, and last month Turkish diplomatic sources said both Russia and Ukraine were open to the idea.
---
Read More:
Putin says hopes for solution to Ukraine crisis, but 'not simple'
US sending nearly 3,000 troops to eastern Europe
No reason for Russia to invade Ukraine, says Russian Ambassador
---
A separate Turkish official, speaking on condition of anonymity, said Mr Erdogan will call on both sides to exercise restraint, and added that Turkey wanted to continue its cooperation with both of the "very important" countries.
Turkey's "approach is not picking one side or standing against one country in the tensions," the official said. "With Erdogan's initiative and with some of the messages he will convey, we expect tensions to ease."
Turkey shares the Black Sea with Ukraine and Russia. Mr Erdogan has said conflict would be unacceptable in the region and warned Russia that an invasion would be unwise.
While forging cooperation with Russia on defence and energy, Turkey has opposed Moscow's policies in Syria and Libya, as well as its annexation of the Crimean peninsula in 2014. It has also sold sophisticated drones to Ukraine and inked a deal to produce more near Kyiv, angering Russia.
Ukraine's prime minister said yesterday that Ukraine and Turkey would sign a dozen agreements including a free trade deal during the talks in Kyiv.
EU preparing 'beyond' diplomacy - McGuinness
European Commissioner Mairead McGuinness has said that while the European Union approach is that diplomacy should be enough to resolve the Ukraine crisis, they are also preparing "beyond" this.
Speaking on RTÉ's Morning Ireland, she said they have warned their Russian counterparts that the EU is preparing "if things go to a place beyond diplomacy" the EU reaction would be impactful and costly for Russia.
"Our approach here is that diplomacy should work, but there is an issue, we are working with our allies to make sure that the integrity and sovereignty of Ukraine is not interfered with," says EU Commissioner Mairead McGuinness | Read more: https://t.co/laPf4TjE2K pic.twitter.com/6Y4z5qacDp

— RTÉ News (@rtenews) February 3, 2022
She said they have to be able to say things straight in order to avoid "possible military action" on the territory in Ukraine.
The Fine Gael MEP said the EU is working with their international allies to make sure the integrity and soverignty of Ukraine is not interfered with.
Ukraine faces 'massive displacement' if conflict escalates: NGO

Meanwhile, the Norwegian Refugee Council has warned that up to 2 million people living along the front line in eastern Ukraine risk displacement if the conflict spirals.
"The lives and safety of millions of people in eastern Ukraine hang in the balance as we wait for a political breakthrough to the current impasse," Jan Egeland, Secretary General of the Norwegian Refugee Council (NRC), said in a statement after visiting the region.
"We must not underestimate the human suffering of renewed conflict - it would result in increased civilian casualties, massive displacement and soaring humanitarian needs."
Russia seized the Crimean peninsula from Kyiv in 2014 and has fuelled a simmering separatist conflict in the east of the country that has claimed more than 13,000 lives since then.
As tensions spike, the NRC warned that "up to two million people living in a 20-kilometre zone on both sides of the contact line in eastern Ukraine would be under increased threat of violence and displacement if the conflict escalates".
The organisation said that over 850,000 people are already internally displaced and three million rely on humanitarian assistance.
"Active hostilities would dramatically worsen the existing humanitarian situation, where needs are already high from years of violence," it said.
The NRC said that any surge in the conflict could "reverse significant improvements" in recent years that have seen the number of people requiring assistance fall from five million in 2015.