Today marks the one-year anniversary of the Myanmar military overthrowing the elected government of Aung San Suu Kyi.
The country has been in turmoil since the coup against Suu Kyi's democratically-elected government, when the military refused to accept the result of the vote.
It resulted in a dramatic shift in power and signalled the end of 10 years of tentative political reforms and a brief period of democracy.
Suu Kyi has been sentenced to six years in jail in legal proceedings that rights group have criticised as a farce. She is on trial in nearly a dozen cases that carry combined maximum sentences of more than 100 years in prison. She denies all charges.
The Assistance Association for Political Prisoners, a human rights group, says more than 1,400 people have been killed in violence since the coup and more than 10,000 arrested.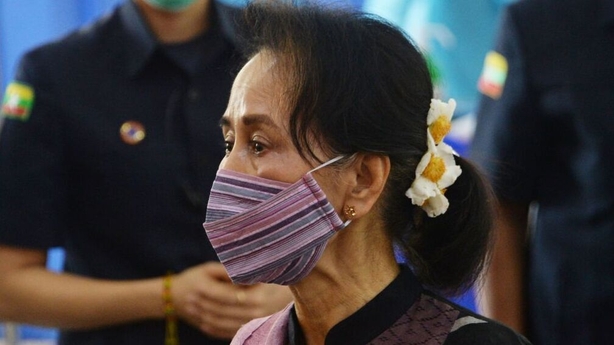 The junta, the country's ruling military group, disputes the reported number of casualties.
Initial peaceful protests opposing full military rule turned deadly after two unarmed demonstrators were killed by security forces.
Civil disobedience grew and people began training with firearms in the country's jungles to counter the Tatmadaw - as the Myanmar military is known - after its strikes became more forceful and brutal.
Since the military's deadly crackdown against protesters in major cities, it has been moving to eliminate resistance along the country's border and targeting areas that are home to armed civilians, known as the People's Defence Force.
It has been firing rocket launchers and burning down homes with recent junta airstrikes, forcing hundreds of people to flee Myanmar into neighbouring Thailand.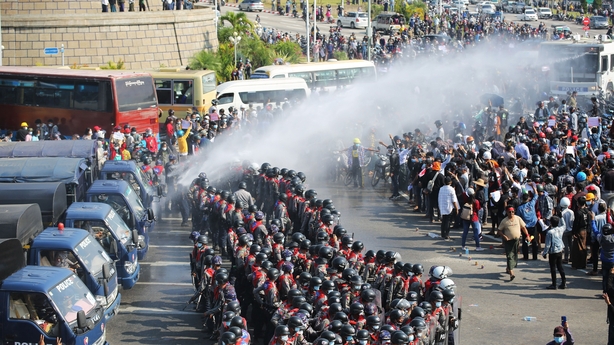 Thousands of people have been displaced due to fighting between the military and anti-government forces, while journalists, artists and musicians are among those in exile.
Some fled in haste over immediate threat to life, others made the decision to leave when safety and uncertainty became a genuine cause for concern.
'Life looks normal, but it's not'
An Irish teacher currently living in Yangon said the situation is less intense now than it was back in February and March last year.
"There was shooting on my street, blockades, the whole city was on fire. Compared to then, it looks somewhat normal now, but it's not," said the teacher, who wishes not to be identified.
"You can still go out, go shopping, meet friends, restaurants and bars are open, but under the surface level of that, everybody is very, very angry about what has happened.
"Also, there's a 10pm curfew. People are shot for being out after 10pm. So, it looks normal-ish at the moment on a surface level, but it's not."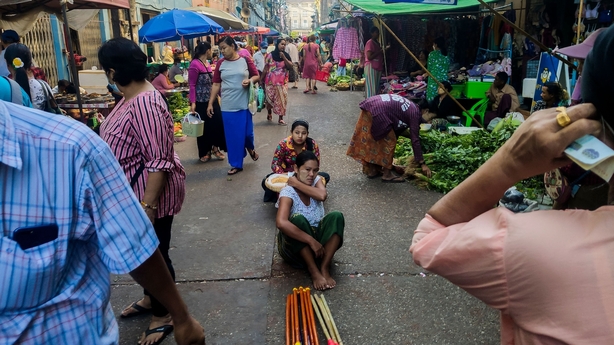 Despite some semblance of normality in Yangon, she said there are times when she feels fearful.
"The military drive past with guns pointed out at the street. Their fingers are on the trigger, so if they hit a bump, they're going to shoot someone. So when I walk by them, I feel scared.
"Every single person I know, knows somebody who has been arrested. Every person I know, knows someone who's been killed. Everybody knows someone who's gone to the jungle to train with armed groups.
"It's very real. and I think that's the hard bit to get across to people outside Myanmar."
Rising costs and growing unemployment
On a day-to-day basis she has not noticed any issues with food supplies, as a lot of produce is grown locally. However, the local currency, the Kyat, has plummeted, especially against the dollar.
"Imported goods have become a lot more expensive. For a lot of people here, that has been a huge issue, as anything that is imported is going to cost a lot more money that people can't afford," she said.
Another issue is the rise in unemployment levels. She said a lot of young people are leaving for safety reasons and work opportunities.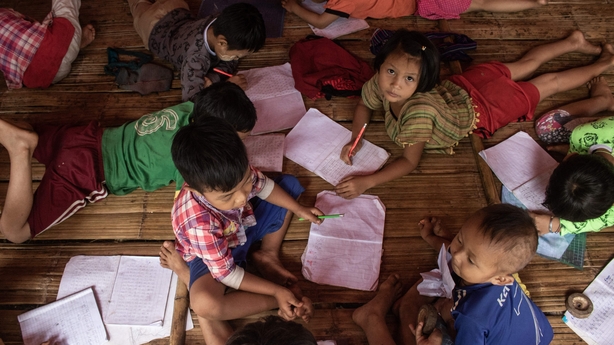 "It's really a brain drain of the brightest and best. Before the coup, I think Myanmar - Yangon especially - was changing really rapidly and it really felt like you were watching more and more developments," she said.
"So, to see it then suddenly just go backwards, I think a lot of people have lost hope in the country and what's going to happen, so they've gone to take opportunities elsewhere."
It's her understanding that 1 February will be a "silent protest day", two of these have been held already since the coup.
"On these days all businesses shut down and nobody goes outside. It is kind of like a day of mourning. The last silent protest day, the army tried to prosecute businesses that didn't open. A lot of people in Yangon survive on daily wages. So, it really shows how much they hate the Junta," she said.
The teacher added that since the coup, seeing people's futures being taken from them has been heart-breaking.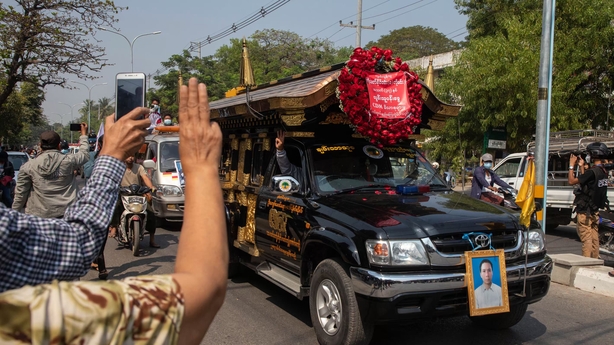 "I've been here since 2015. I originally saw this as the place where I was going to stay forever. Now I'm not sure," she said.
"It really depends on how the situation goes and what happens."
She came home to Ireland in July and went back to Myanmar in November. The return journey was an incredibly difficult and long process and she had to prove she was essential to the country with her teaching work.
Opening borders up
Myanmar has been closed to tourists to prevent the spread of Covid-19 since March 2020, but it is now also dealing with the after effects of the coup.
It has been attending international tourism conferences about opening up the country this year.
But who is going to go?
Myanmar's government plans are currently focused almost exclusively on the Asian market.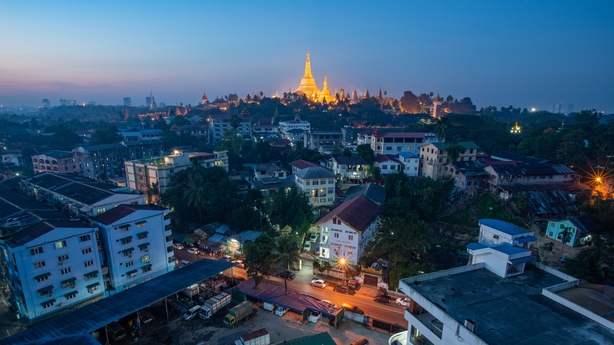 Initially, it will target travellers from other Asian countries, including neighbouring Thailand and Laos and hopes that tourism from China in particular will greatly increase.
The government has not yet announced much about the possibilities for Western tourists to travel to the country. While most Western countries have 'do not travel' alerts for Myanmar based on the threat to safety.
Ireland does not have an embassy or consulate in Myanmar, meaning it is limited in the help it can offer in an emergency.
Tour operators are also holding back on offering Myanmar as a destination.
Discover Travel specialises in Southeast Asia, mainly for small group tours, family holidays, and Honeymoons, in particular.
Brendan Barry, Managing Director of Discover Travel said the resurgence they are seeing in the market is for honeymoons, most of which are booked for Thailand.
"Thailand is a forerunner really for opening up. They've set up a thing called the sandbox. So, when you go, you must stay seven days, full time in Phuket in a hotel and then you can travel around the country freely. This is because of Covid," said Mr Barry.
He said Vietnam is completely closed with no indication of opening up, while Cambodia and Laos are not open yet either.
"Myanmar is the one that was the jewel in the crown," Mr Barry said.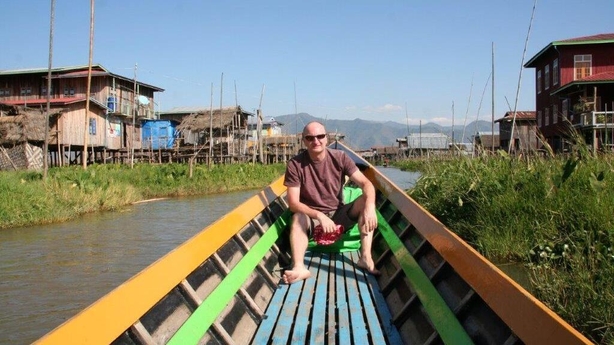 After 2010, when Aung San Suu Kyi was released from house arrest, there was increased demand in the number of people who wanted to tour Myanmar.
"I have to say of all the places in Southeast Asia, it was one of the most fascinating ones I've ever been to," he said.
"It's gone completely now, we don't sell it, there's a travel warning. It's not safe. So, it's really disappointing to see that happen to such a beautiful country.
"You could see the difference that tourism was making to people, especially in the rural areas there. They hadn't experienced tourism, and outside money coming in and it was really helping the economy, helping their lifestyle, it was helping to put kids through school.
"It was just giving them that little bit of extra that they never got before. To take that away, is quite sad."
Mr Barry also has ethical reasons for not selling the country as a destination while it remains in crisis.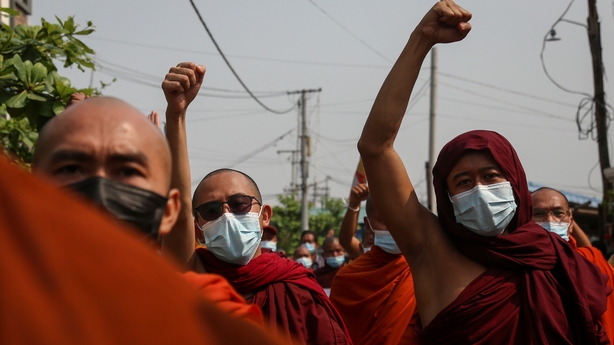 "Even though people ask you, and there may be a bit of a demand, we try and avoid things. We try and make it ethical. We try and make it that the local people get what money is being spent and we're uneasy in selling products where there's a human rights issue," he said.
"I think it's a long way down the road before we return to Myanmar, unless we see some change."
No return to status quo for Myanmar's youth
In terms of change, young people in Myanmar are unlikely to be willing to recognise the military as a valid government.
The International Institute for Democracy and Electoral Assistance, which is based in Stockholm, had their single largest country office in the world in Myanmar. They had to shut it down.
The organisation's Secretary General, Kevin Casas Zamora, said young people in Myanmar are not willing to peacefully accept a return to the status quo and to a situation in which the military runs the country as they see fit.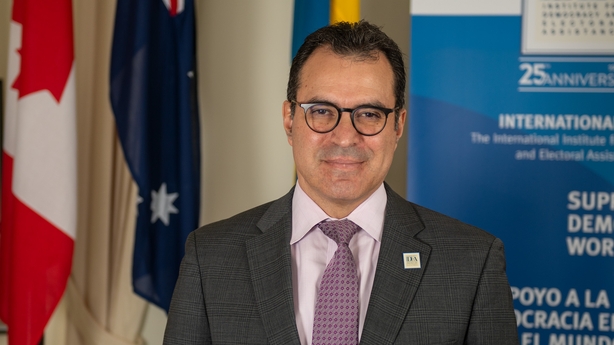 "There's an extraordinarily strong resistance to that and that's not going to change any anytime soon. There's an entire generation in Myanmar, that came of age, when there was some hope that democracy would take root in the country," Mr Casas Zamora said.
"So, they have a certain expectation as to how the country should be run and there's no going back."
He said the main concern now is there does not seem to be an obvious way out from the current impacts.
"The military takeover has not made Myanmar particularly governable. I think this is a country that appears to be ripe, unfortunately, for humanitarian disaster," he said.
Myanmar was a fledgling democracy before the coup, but it is not just young democracies that are experiencing challenges.
"The headwinds that democracy is facing are arguably the strongest since the 1930s. Those headwinds were there before the pandemic," said Mr Casas Zamora.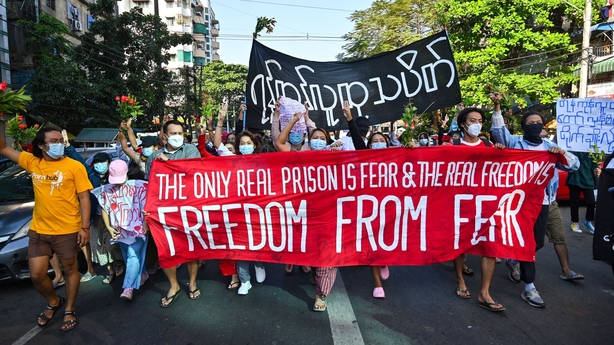 "The pandemic has turbocharged the challenges and you see it in a number of ways.
"Up until recently, there was this notion that the problems of democracy were to be found in young democracies or poor democracies. Well, that's no longer the case.
"We're talking about what's happening in the United States.
"You can see that there are very proud members of the European Union, where democracy is backsliding in a very visible way in countries like Hungary or Poland or Slovenia."
Part of a global fall in democracy
International IDEA publishes its flagship Global State of Democracy Report every two years, the most recent was in November 2021.
"According to our own measurement the number of democracies is going down. In the course of the pandemic, we've lost four or five democracies across the world, including Myanmar," said Mr Casas Zamora.
"But, more importantly, and this is really where the heart of this discussion is, the quality of democracy seems to be going down across the board."
International IDEA's report unpacks the concept of democracy into 28 attributes. If at least one of the attributes undergoes a severe decline in a period of five years in a given country, it is identified as 'democratic erosion'.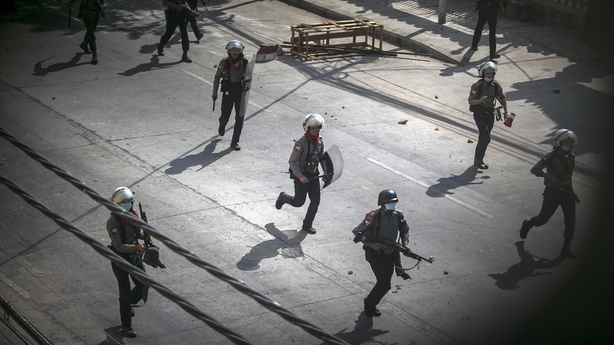 "A decade ago, only 12% of democracies were experiencing democratic erosion so defined. That figure in 2020, went up to 43%.
"43% of democracies were experiencing democratic erosion defined like that, not to speak of the fact that there's a particularly severe type of democratic corrosion, which is what we call backsliding, which speaks to the deliberate long-term process, whereby basic democratic tenets are subverted, usually by governments that are elected by the ballot box, like what we have seen in Turkey or Hungary, and a number of places around the world," said Mr Casas Zamora.
"This kind of a revolution, backsliding, is becoming a pandemic, of a different kind, because it started to affect really large important democracies, the likes of India, Brazil, and most important of all the United States."
In Washington, 6 January marked the one-year anniversary of the riot at the Capitol, when Donald Trump supporters stormed the building to protest President Joe Biden's win in the 2020 election.
Mr Casas Zamora believes this backsliding of democracy in the US has been surprising, but at the same time, he says: "this has been going on in broad daylight for quite a while" and that "the process is intensifying."
"One of the truly alarming things is that, by now, it's become very clear that the 2020 election did not solve much in terms of the state of democracy in the US."
He believes the political polarisation and increasing tendency to throw into question the credibility of the electoral results, without any evidence to back up claims that fraud was perpetrated, have become worse since the election.
The problems of democracy are global in nature and therefore call for a global response. And it's a response that needs to be infused with a sense of humility," Mr Casas Zamora said.
Despite these challenges and the extraordinary challenges created by the pandemic, Mr Casas Zamora said there are glimmers of hope.
He said countries all over the world have been able to hold credible, robust elections, which was not a given before the pandemic, adding that the proportion of elections being cancelled or postponed is actually quite low.
Another cause for hope is the robustness of civic activism, according to Mr Casas Zamora.
Pandemic's impact on democracy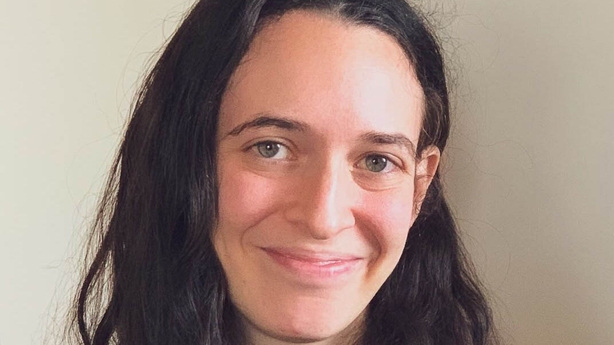 The Freedom in the World 2021 report, published by Freedom House, found that fewer than a fifth of the world's people now live in fully free countries.
New York-based Research Manager for Freedom House's annual report, Amy Slipowitz, said these declines have spill over effects and can affect the stability across the whole global system.
The report found democracy declined again in 2020 for the 15th consecutive year.
"I think the nature of the 15 years of decline has changed over time. Now we're not just seeing the most brutal of dictatorships declining, we're also seeing a lot of democracies, many already established democracies, starting to backslide," Ms Slipowitz said.
Originally, Freedom House was concerned about the impact of the Covid-19 pandemic and whether restrictions would be implemented within a framework that respects international human rights principles.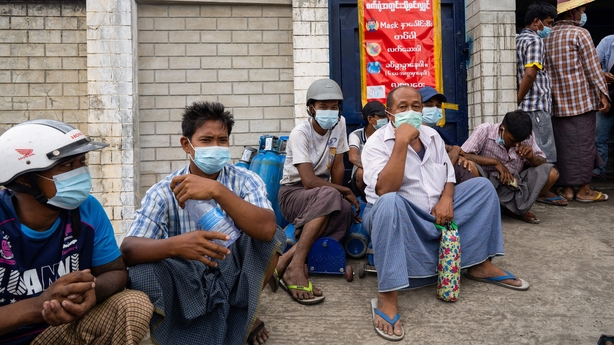 The bigger issue it is seeing emerging is that the pandemic has given authoritarian regimes another opportunity to consolidate their power to crackdown on dissent.
"It's very clear that the pandemic response is going far beyond justifiable restrictions and movement or assembly. It's going to be a lot harder to roll back, I think, than it was to put in place," said Ms Slipowitz.
"Many of these restrictions don't have sunset clauses or anything like that, which is concerning.
For example, in Myanmar, Aung San Suu Kyi and the elected president, they were recently sentenced to prison for breaking Covid-19 rules, among many other charges.
"So, you can see that Covid restrictions have just become another tool that authoritarian actors can use as a consolidate power."
Despite the collapse of the rights of people living in Myanmar and the enormous, brutal crackdown, civilians are continuing to strive for democracy.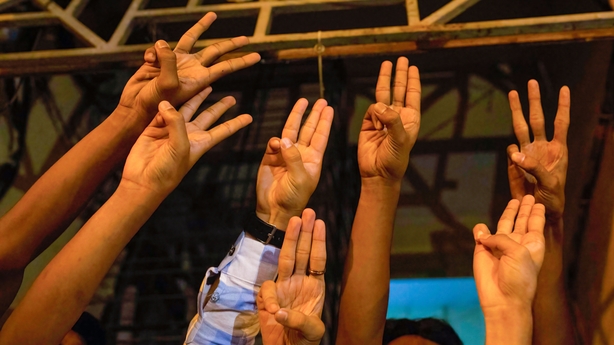 "We're seeing the civil disobedience movement. It's very wide-ranging and includes a general strike by so many different workers, from civil servants to educators, health workers, and so many more," Ms Slipowitz said.
"Civilians are boycotting products and services that are linked to the military including a range of things from beer to telecommunication services. This is continuing to deny the military full legitimacy.
"It demonstrates the risks that many in Myanmar are willing to take in support of democracy. Those risks are extremely high."