Irish woman Marie Starr moved to Yangon, the largest city in Myanmar, in 2013.
Originally from Nenagh in Co Tipperary, Ms Starr had been working in Thailand previously, but thought Myanmar looked like it might be a difficult place to live but also an interesting time to live there.
She said when she moved there first, it was a really positive place, even with a military government, there were more freedoms than there are today. Exiled media were allowed to publish and sell in the country, whereas before they had been working largely from Thailand. The censorship board was also closed, meaning articles no longer had to be approved.
Ms Starr said there was foreign investment, development and a general opening to the outside world, which continued after the National League of Democracy won the election in 2015.
Last year, a couple of days before 1 February, there were rumours of a coup. Ms Starr had met a friend and they joked about whether they should go to an ATM in case the banks closed down, but like many other people, they did not really think anything would happen.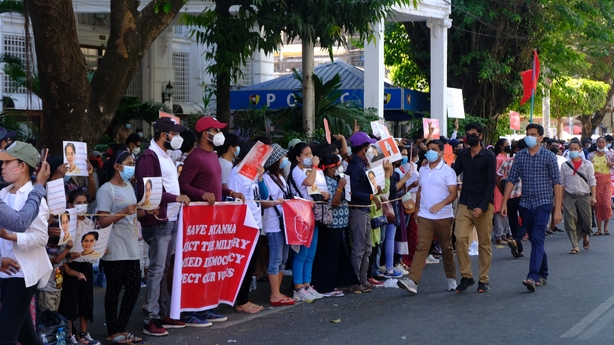 On Monday morning, 1 February 2021, Ms Starr woke up to no internet connection and the phone lines were down. She had messages on her phone from her family, that had been sent while she was sleeping, that there had been a military coup.
"It's very hard to try and help people understand how it feels to have that communication line cut off," she said.
"You don't know if your friends and family are ok, or if there's something happening down the street. If there's a place where you should go, or if there's something that you should be doing, like getting all of your money out of your bank account or stocking up on food.
"It was terrible and very alarming. I didn't know what to expect."
When the protests started, Ms Starr said she did not know what would happen. She was fearful because of how the regime had responded during the 1988 uprising, but optimistic that progress had been made.
"This is 2021. Everyone has a camera. They won't get away with anything like what they've done in the past. But, because there were no internet connections, we didn't know what was going on," she said.
Small gatherings and protests began at first. Ms Starr said she observed one with friends and family.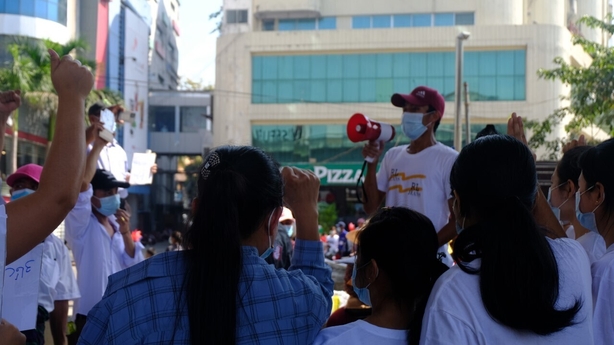 "The atmosphere was unbelievable, and it was really, really tense. I think everyone knew in the back of their mind that they were doing something that the regime didn't want them to do and has been known to kill people in the past for," said Ms Starr.
The protests began with chanting and posters, she said, and there was a tremendous amount of bravery and determination.
There were protests in her neighbourhood and she could hear the chanting from her home.
Soon, the military started lining up water cannons and forming lines of armed soldiers. Ms Starr said they became fearful that people they knew were out protesting in these conditions.
"After it got violent, I didn't go to any protests anymore. I still had friends and family going to them and it was really, really worrying because it became, gradually more dangerous," she said.
"People were leaving urban areas, dropping out of contact. They were going for training with the ethnic armed groups, rebel groups and to jungles to build up a number of resistance groups, in several different parts of the country."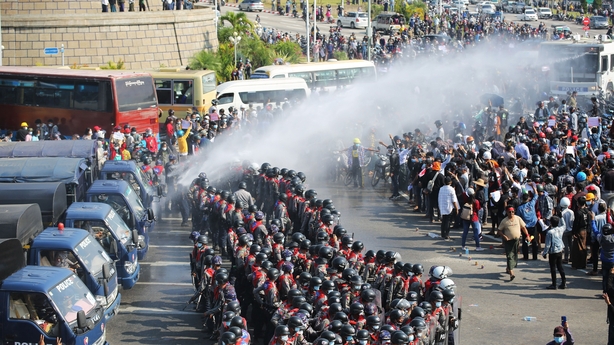 Ms Starr said it became normal to hear explosions, as the People's Defence Forces started targeted assassinations in Yangon.
"It went from hearing an explosion and panicking, texting around to see if everyone's okay or if there were any injuries or deaths, to hearing two explosions while you're in a video meeting, and all you would do is wonder what direction it came from," she said.
'Covid spread like wildfire'
Myanmar had not been hit too badly with Covid-19 in the early stage of the pandemic, but Ms Starr said when the third wave hit with the Delta variant, it spread like wildfire.
"Suddenly it was through every community that I knew of in Yangon. There were some deaths on every street, and it was mayhem," Ms Starr said.
"It's difficult to explain to people who have only lived in Ireland or Western countries. The hospitals filled very quickly. Civil servants had left their jobs in droves so there were very few doctors and nurses in the public hospitals, and private healthcare is very expensive.
"So if you or your family members can't breathe, you can't imagine how it feels, to not have a hospital or a doctor to turn to."
She said everyone needed oxygen, but the military was controlling who it should be given to and the oxygen plants were overwhelmed very quickly.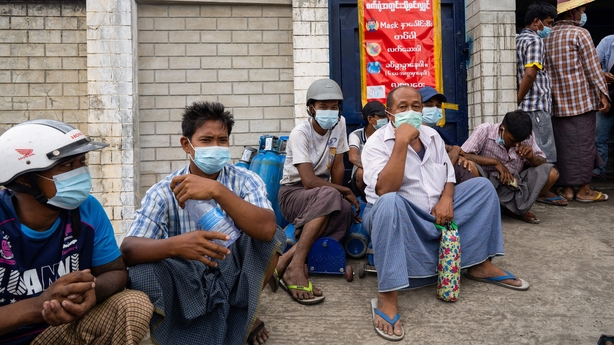 "People were going out at night. There was a curfew and military checkpoints, but people were desperate to get oxygen for very sick family members. They were taking big risks to spend hours queuing to get illegally-sourced oxygen, and the deaths were unbelievable," she said.
"Crematories were going 24 hours a day. I saw hundreds of dead bodies outside them. There was so much misinformation about medication that can help to cure Covid, with this medication being sold for hundreds of euro online. It was total chaos and it lasted for basically all of July."
Ms Starr decided to leave Myanmar in early July when she realised the crisis was deteriorating. It was not an easy decision, nor was it straightforward, but it was necessary for general safety reasons.
When she got her PCR test to get on a flight to leave the country, she tested positive for Covid.
"We couldn't fly. Our departure was delayed, and we spent some difficult days in the government quarantine centre."
Ms Starr eventually flew home late July and has since relocated in Tralee.
"Leaving has been one of the most difficult decisions of my life because it wasn't a choice. it wasn't something that I wanted to do in the first place," Ms Starr said.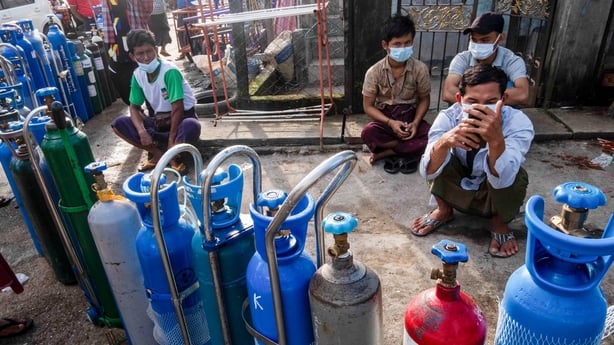 "There's always a feeling of guilt for leaving your Myanmar friends. They're always - whether they say it to you or they keep quiet - going to be like 'you're leaving us here in our time of need'.
"The NGO's have pulled out, media have pulled out, and international investors have pulled out. So, there's a huge guilt on that level."
'Not getting any better'
She said it is difficult to read about the everyday struggles in Myanmar now. Many of her friends from media, music and artistic fields are now in exile.
"It's just not getting any better. Even last week, there's people who I know in the more rural areas where they're fleeing or digging bunkers in their gardens," she said.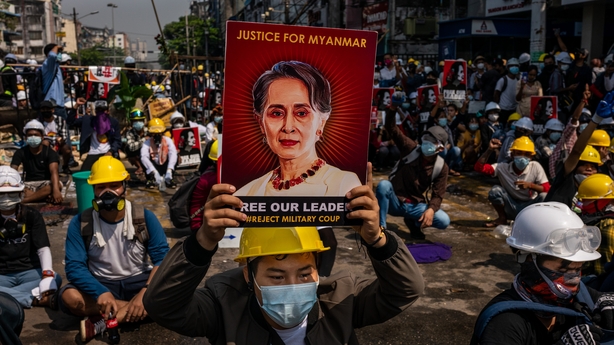 "They're good, smart, intelligent people who have no choice but to put their things in a bag and go to the jungle with their parents and stuff."
Ms Starr believes the country has lost everything that was gained over the last decade when there was a relative democracy and that it has already been thrown into a deeper poverty.
---
Read more: Aung Suu Kyi sentenced to four years in prison
---
However, she said the resistance this time is not student-led like in 1988, it is people from all walks of life who believe in democracy.
"It is students, it is doctors, teachers, it is business owners from urban areas, it is rich people who have businesses in different areas, it is former sales managers, people have dropped everything to take up the cause in whatever way they're doing it, because they know what's to come. And they've seen it happen before," she said,
"I think the resistance forces are varied, and varied levels of sophistication, access to weapons, access to funds, intelligence. It's very hard to predict what way it's going to go."
Ms Starr is very keen return to Myanmar to visit family and friends, although she does not know when that might be for numerous reasons.