It is just twelve pages long, but packs more punch than many expected.
When it was finally released this afternoon, the author of the report into alleged Covid rule breaches in Downing Street during the pandemic acknowledged it was not possible to compile a comprehensive analysis of events, given that a police investigation is underway into numerous events in Number 10.
But even within those limitations, the language used is stark and will be problematic for British Prime Minister Boris Johnson.
"The behaviour around these gatherings is difficult to justify", "…failures of leadership and judgement", "a serious failure", "not appropriate".
For a short publication, it is not the bland analysis, which some had anticipated, but gives enough information to make sure that this is a crisis which will continue for Boris Johnson as he awaits the completion of the Metropolitan Police inquiry.
It also includes clues to elements which could become even more problematic in the future. It confirms that one event, which Ms Gray was investigating, was an event in the Downing Street flat on 13 November, 2020.
The headlines that day showed the Prime Minister's former special advisor carrying his office files out of the building in a box, having been dismissed from his role. There has long been speculation in Westminster that the departure of Dominic Cummings precipitated a celebration in Number 10, which, if proven to be true, could constitute a breach of the rules within the Prime Minister's home, rather than in the office environment of the Number 10 building.
And it confirms that 12 events are now under police investigation – a larger number than many in the Conservative Party had expected.
Ms Gray's assertion that she will keep secure the information she has been asked by police not to publish suggests that she does not feel this process is yet over, and perhaps a further more comprehensive report will yet be written.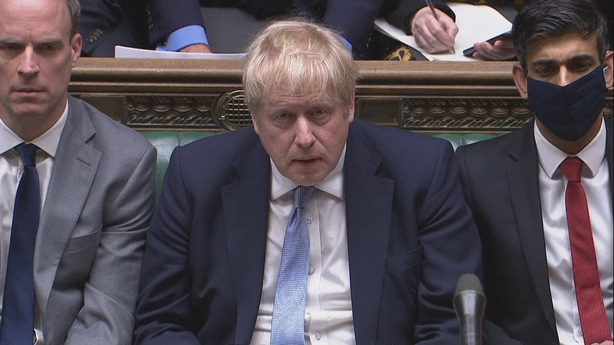 There had been an increasing belief in recent days that Boris Johnson would be able to weather the release of Sue Gray's report.
If it had to be significantly watered down, because of ongoing police investigations, it might give Mr Johnson enough time to convince his own MPs and the public that it was time to move on to the significant issues facing the UK – from the cost-of-living crisis to possible war in Ukraine.
But the update issued by Ms Gray makes moving on considerably harder, not just because of the strong language used, but because it suggests there could yet be more to come and leaves open too many unanswered questions.
In what has become a well-worn route in recent weeks, the British Prime Minister left Number 10 Downing Street to make the short journey down the road to the House of Commons to make another statement on this issue to the House of Commons. And another apology.
He was not trying to appease the opposition in his remarks. He knows there is no point in that. The decision was taken long ago by those on the opposing benches – and by some on his own benches – that he breached the rules and should resign.
Instead, he was talking to his own MPs in the hope that he can convince enough of them not to move against him. Seeking forgiveness, he has promised change.
He vowed to "look in the mirror and learn" and he has promised reviews and improvements of Downing Street operations.
"I get it and I will fix it," he said. The question now is whether his party believes that, or if enough are prepared to give him the benefit of the doubt.