Greek Prime Minister Kyriakos Mitsotakis has apologised for the state's unpreparedness to deal with the impact of a severe snowstorm that brought transport in Athens to a halt and left thousands of drivers stranded on a main city motorway this week.
Heavy snow is rare in the Greek capital but the country has now been hit by extreme weather for a second consecutive winter.
After Monday's snowstorm, thousands were evacuated from the Attiki motorway, the capital's main ring-road, some abandoning their cars on foot or finding shelter at the city's airport, others trapped in freezing temperatures for hours.
Scores of cars left behind by their drivers and covered in snow remain stuck on Attiki Odos, and about 3,000 households remain without power in the wider Athens area for a third day.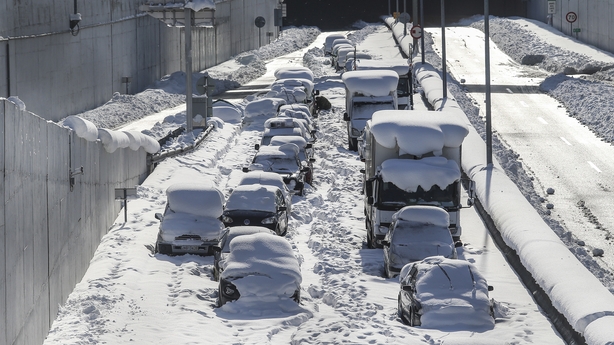 "I would like to start with a personal and sincere apology to our fellow citizens who suffered for many hours, trapped on Attiki Odos," Mr Mitsotakis said at the beginning of a cabinet meeting.
"There were mistakes and shortcomings which have to be fixed," he added.
The government declared yesterday and today a public holiday in the wider Athens region and other areas hit by the storm, with schools and public services closed. Authorities said schools will remain shut until Friday as snow was still blocking access to the facilities.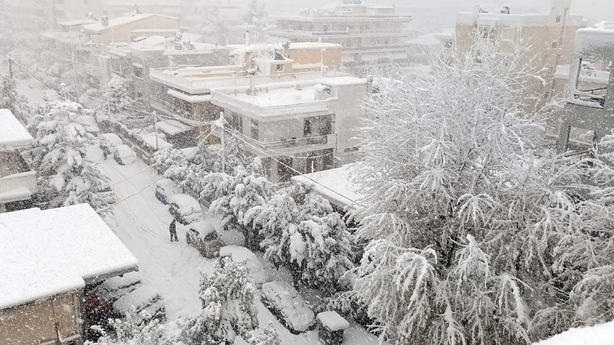 Mr Mitsotakis said responsibility lay with the operator of the Attiki motorway but also pledged to improve coordination among state authorities and boost climate crisis defences. Devastating forest fires destroyed houses and livestock last summer.
"It's true that a Mediterranean country's infrastructure is not always adapted to conditions of heavy snowfall," he said.
"It is equally true, however, that the state mechanism is not yet at the point of readiness that phenomena of such great intensity require."
Outrage against the Greek government and the country's transport operators has grown after a major snowstorm, with the Chief Executive Officer of the private company running the Attiki Odos ring road having resigned.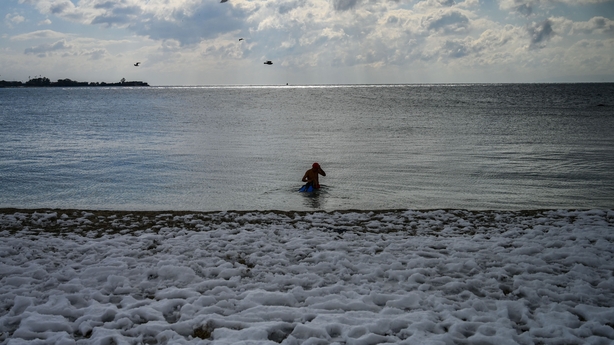 Several Greek daily newspapers have branded the situation a "fiasco".
"A government buried in snow," said the leftist Efsyn daily, while even the pro-government Eleftheros Typos daily spoke of "mistakes that brought chaos".
The government said a compensation fee of €2,000 would be available to motorists, while another €1,000 is being offered to train passengers stranded in a station north of Athens.
A homeless man died of heart failure yesterday in the northern city of Thessaloniki in an incident attributed to the cold.
The snowstorm that hit the capital on Monday also disrupted flights out of Athens International Airport, with over 30 mainly domestic flights to be cancelled today.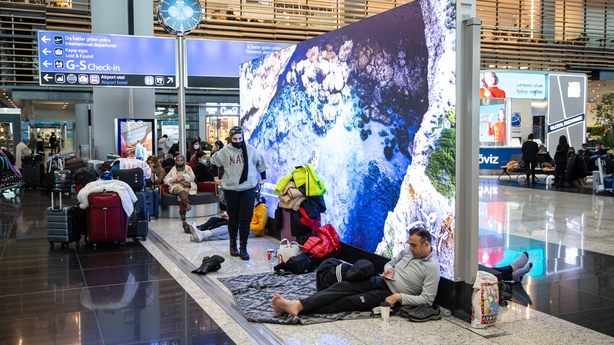 Istanbul's snowed-in airport stirs back to life
Meanwhile, Europe's busiest airport in Istanbul was "gradually" resuming normal operations after a blizzard shut it down for a day.
The airport closed on Monday for the first time since it took over from the old Ataturk Airport as the global hub of Turkish Airlines in 2019.
Fuming passengers complained about a lack of regular updates from Turkish travel officials and poor customer service, with some joining a chant demanding "we need a hotel".
A blizzard that reached Istanbul last weekend paralysed traffic and shut down basic services in the city of 16 million, some parts of which were covered by nearly 3ft of snow.
Officials urged citizens not to use private cars unless essential. Universities were closed until Monday and buses were banned from entering or leaving the city until this morning.
But most of the attention focused on Istanbul Airport, which President Recep Tayyip Erdogan once hailed as the "pride of our country and example to the world".
One of the mega-projects built under Erdogan's two-decade rule, the gleaming glass-and-steel structure handled 37 million passengers last year, becoming Europe's busiest for the second year running.