The Omicron variant has moved the Covid-19 pandemic into a new phase and could bring it to an end in Europe, the World Health Oranization's Europe director has said.
"It's plausible that the region is moving towards a kind of pandemic endgame," Hans Kluge said in an interview, adding that Omicron could infect 60% of Europeans by March.
Once the current surge of Omicron currently sweeping across Europe subsides, "there will be for quite some weeks and months a global immunity, either thanks to the vaccine or because people have immunity due to the infection, and also lowering seasonality."
"So we anticipate that there will be a period of quiet before Covid-19 may come back towards the end of the year, but not necessarily the pandemic coming back," Mr Kluge said.
The Omicron variant, which studies have shown generally leads to less severe infection among vaccinated people than Delta, has raised long-awaited hopes that Covid-19 is starting to shift from a pandemic to a more manageable endemic illness like seasonal flu.
"There is a lot of talk about endemic but endemic means ... that it is possible to predict what's going to happen. This virus has surprised (us) more than once so we have to be very careful," Mr Kluge said.
In the WHO Europe region, which comprises 53 countries including several in Central Asia, Omicron represented 15% of new cases as of 18 January, compared to 6.3% a week earlier, the health body said.
---
Read more: Latest coroanvirus stories
---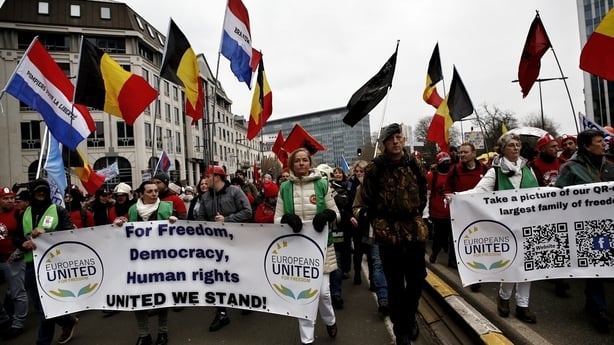 Thousands protest in Belgium against Covid rules
Thousands of demonstrators have marched through Brussels in Belgium to protest anti-coronavirus rules as the Omicron wave causes infections to reach record highs.
AFP reporters said the sprawling crowd appeared far larger than previous demonstrations that have paraded through the Belgian capital to the seat of the European Union and seen clashes with the police.
Protesters carried signs slamming Belgium Prime Minister Alexander De Croo and the Covid Safe pass proving you are vaccinated or have tested negative that is required for entry into numerous venues.
Organisers including the World Wide Demonstration for Freedom and Europeans United for Freedom had called for people to come from other EU states.
Flags from Poland, the Netherland and Romania could be seen in the crowd.
The protest comes as some governments seek to ease restrictions despite the fast-spreading Omicron variant causing a surge in infections.
The EU's health agency said on Friday that Omicron had now become the dominant variant circulating in the bloc and some neighbouring countries.
Belgium has seen daily infections surge to over 60,000 in the past week in what authorities have called a "tsunami".
However the milder variant and high rate of vaccination - including people getting a third booster jab - means that health systems have not come under the same strain as during earlier waves.
On Friday Mr De Croo announced that restaurants and bars could extend their opening hours - although nightclubs still remain closed.
Neighbouring France has said it will begin a gradual lifting of Covid restrictions from 2 February after authorities said there were "encouraging signs" that the wave of infections due to the Omicron variant is ebbing.