As far back as last March, China was warning Lithuania about its relations with Taiwan, the disputed territory off mainland China.
Fast forward to this week when both nations announced a €1 billion investment fund that Taiwan has set up to help support joint projects between Lithuanian and Taiwanese companies in six business categories.
This comes hot on the heels of a $200m investment fund to invest in Lithuanian industries, announced last week.
So how did this seemingly unlikely relationship develop, and why is China now putting pressure on Lithuania?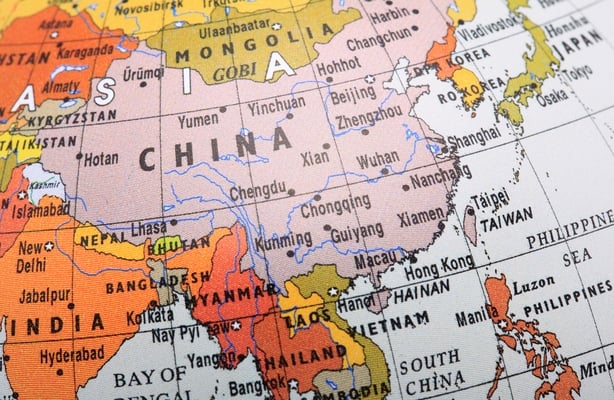 China considers Taiwan part of Chinese territory, but the province has been self-governed since the 1940s.
For its part, Taiwan has a democratically elected government which claims it is an independent country, officially called the 'Republic of China', in contrast to 'The People's Republic of China', the official name for mainland China.
Any country that wants to maintain official diplomatic relations with China must cut ties with Taiwan.
Back to March 2021, when China rebuked Lithuania for its decision to open a trade representation in Taiwan.
Only 14 countries have formal diplomatic ties with Taiwan - mostly smaller nations in the Pacific, Caribbean, Latin America and southern Africa who are dependent on aid.
However, many other countries have de facto embassies, often termed 'trade offices', as is the case for the EU.
Last March, China said it firmly opposed the practice of countries opening official institutions in Taiwan, and urged Lithuania to stick to the 'One China' principle. However, more than a dozen European Union member states have representative offices in Taipei, so why was China singling Lithuania out?
'One China' principle
First, a brief explanation on why Taiwan is considered disputed territory.
The One China principle forms the cornerstone of Beijing's position on Taiwan, namely that there is only one sovereign state under the name China and Taiwan is part of China, as opposed to the idea that there are two states.
To confuse matters somewhat, America maintains a One China 'policy' whereby the US has official and formal ties with China, rather than Taiwan, while not endorsing the One China principle.
In addition, the US maintains what it calls a "robust unofficial relationship with Taiwan". This means that it does not support Taiwanese independence, however it maintains a policy whereby it assists Taiwan in maintaining its defensive capability, i.e. it sells arms to Taiwan.
The US, like many other countries, essentially operates a fudge to maintain relations with China, while not fully severing ties with Taiwan, a modern democracy.
According to Marcin Jerzewski, research fellow with the think tank, Taiwan NextGen Foundation, the origins of the spat between China and Lithuania are two-fold. Firstly, it dates back to Lithuania's election in 2020, when the newly formed coalition promised to "expand Lithuania's cooperation with countries in the Asia Pacific region, and also to pursue what the government calls a value-based foreign policy".
The response of the European Union to 'economic coercion' of Lithuania by China has been 'quite lukewarm' to date, according to Marcin Jerzewski, research fellow with the Taiwan NextGen Foundation think tank | Read more: https://t.co/9CtDrAOZvL pic.twitter.com/IOZYvcWInC

— RTÉ News (@rtenews) January 13, 2022
"So, a part of the value based foreign policy is standing up against authoritarianism and expanding cooperation with democracies around the world. And what it means beyond these nicely sounding words is that the government sought to expand its ties with Taiwan, while also assuming a more assertive stance vis-a-vis Beijing," he said.
Secondly, at the outbreak of the pandemic, Taiwan launched its #TaiwanCanHelp campaign, offering countries PPE. Lithuania was one of the first countries to take advantage of the offer, receiving a large donation of face masks.
Marcin Jerzewski said these two elements meant Lithuania, a country with a population of just 2.8 million people, was already on China's radar when it started forging closer links with Taiwan.
He added that China's behaviour begs the question, who is the intended audience of China's attitude towards Lithuania? He believes that the intended audience is the domestic one, i.e. mainland Chinese people.
"Xi Jinping, who has now been named the leader for life following the recent changes to the Chinese constitution, has been ruling China with a very heavy fist and a part of his administration's agenda is the so-called great rejuvenation of the Chinese nation, and this very much relies on fuelling nationalistic sentiment and fuelling very nationalistic pride in being Chinese among the domestic public.
"So that Xi heavily relies on the ability to convey a message to his people, that China matters in the world and that China can be an assertive and a leading participant in the international system...of course Lithuania is currently experiencing very pronounced coercion."
To make matters worse, last July, when Taiwan announced it planned to open a de facto embassy in Lithuania, the reaction from China was swift, again urging Lithuania to stick to the One China principle.
At the time of the announcement, Taiwan Foreign Minister Joseph Wu said the new mission in Vilnius would be called the Taiwanese Representative Office in Lithuania, the first time the island's name has been used for one of its offices in Europe, as normally only "Taipei" is used as part of the aforementioned fudge.
The Taiwanese Representative Office in #Lithuania🇱🇹 is open & ready to expand exchanges between #Taiwan🇹🇼 & the #EU🇪🇺 member state. We're deeply grateful for the support of @LithuanianGovt & friends worldwide who backed our countries in making this great day possible. Thank you! pic.twitter.com/O2bUxWHTwb

— 外交部 Ministry of Foreign Affairs, ROC (Taiwan) 🇹🇼 (@MOFA_Taiwan) November 18, 2021
In August, China recalled its ambassador in Vilnius and demanded that Lithuania withdraw its ambassador to Beijing, a decision that the Lithuanian Foreign Minister called hardly surprising. When asked about the diplomatic rift, the US State Department said it supported its NATO ally Lithuania, and condemned the actions of China.
In November, the Taiwanese Representative Office officially opened for business in the Lithuanian capital, Vilnius. As the name suggests, it is simply a representative office, rather than an embassy or consulate, meaning that the relationship between Lithuania and Taiwan signifies a growing friendship, rather than being official. However, the use of the name Taiwan rather than Taipei, the capital, is what really irks China. Beijing said that the move "challenged China's sovereignty" and downgraded its diplomatic ties with Lithuania three days later.
At the time, the Lithuanian Prime Minister said the decision to foster closer relations with Taiwan had been in the programme for government, and so should not have come as a surprise to Beijing. Ingrida Simonyte went on to say: "I want to emphasise that this step does not mean any conflict or disagreement with the One China policy."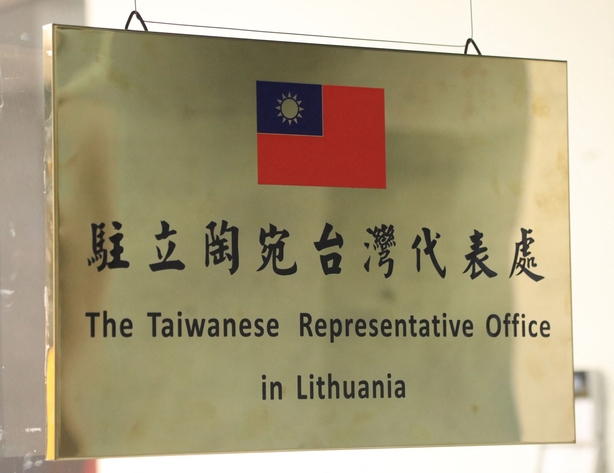 Nevertheless, in the following month, Lithuanian diplomats left Beijing, reportedly hastily. Lithuanian authorities said they had summoned their top diplomat back from China for "consultations" and that the embassy would operate remotely for the time being.
To complicate matters, earlier this month, the Lithuanian President, Gitanas Nauseda went as far as saying the naming of the representative office was a "mistake", while clarifying that the opening of the office was acceptable.
20,000 bottles of rum
So where does this leave relations between China and Lithuania? Well, before this debacle started, China bought less than 1% of Lithuania's exports. But it's still not welcome news that China apparently started to halt the arrival of goods from Lithuania late last year.
Lithuania said China had de-listed it as a country of origin, meaning goods could not clear customs. The Foreign Minister Gabrielius Landsbergis criticised the unannounced move, saying it would seek support from the EU.
Taiwan quickly stepped in, saying it would buy as much cargo as possible from Lithuania, after an estimated 120 containers were blocked. China later renewed customs clearance of Lithuanian imports, but not before Taiwan bought 20,000 bottles of Lithuanian rum. Days later, the first ($200m) deal between Taiwan and Lithuania was announced, followed by the $1bn credit programme.
Asked if Taiwan can become a substitute market for Lithuania in the event of a continuing rift with China, Marcin Jerzewski said that misses the point somewhat. China previously bought mostly low value-added products such as wheat, wood and furniture. These sectors, while important, are not consistent with Lithuania's stated policy of expanding its science and technology sectors. He said it's not just about volume, but about increasing the contents of trade, and thereby its value.
"What also matters is that Taiwan is bringing to the table a promise of both short- and long-term engagement in strategic sectors, so the fact that Taiwan is making those symbolic gestures like taking the 20,000 bottles of rum that were rejected by China, this is important. This sends a message to the public that is currently on the fence about pursuing closer ties with Taiwan."
Asked about how the relations with Lithuania are seen in Taiwan, which has a population of over 23 million people, the researcher said there is positive sentiment towards Lithuania.
"There is a lot of excitement among the general public in Taiwan, and there is a lot of curiosity about Lithuanian products, even beyond beer, which, has been very popular recently. There's also chocolate. Ruta chocolate, which previously used to be distributed by one small boutique in central Taipei, suddenly hit shelves of major supermarkets and department stores and a lot of major retail enterprises are trying to capitalise on this on this newfound openness. What the Taiwanese people have really embraced as a form of showing gratitude for a medical diplomacy was retail diplomacy."
While China has technically not introduced trade sanctions against Lithuania, deals have been held up, and China has even reportedly urged Continental, the German car tyre and parts maker, to stop using parts made in Lithuania.
So how is this dispute likely to end?
To finish, Marcin Jerzewski makes an interesting point, drawing a comparison between Taiwan's relationship with China and former Soviet countries' relationship with Russia.
"Taiwan and Central and Eastern European countries all belong to so-called third wave democracies, so there are certain similarities in historical trajectories of these countries and particularly for the Baltic States, those nations still very vividly remember the oppression that they experienced as republics of the Soviet Union and understand the authoritarian threat that they face today from Russia and from Belarus.
"Then more pragmatically, the level of economic engagement, both in terms of trade and investment between China and Central Eastern European countries, is lower than that between China and Western Europe."
While of course there are differences, the Polish researcher said one can generalise to a degree about Central and Eastern European countries, adding that it will be interesting to see the reaction of Lithuania's neighbours and whether there will be a snowball effect, citing Estonia and Czechia as ones to watch.