The head of the World Food Programme has said the UN agency is facing a perfect storm where conflict, climate and Covid are coming together to create unprecedented suffering in poorer and war-torn countries.
Speaking on RTÉ's Morning Ireland, David Beasley welcomed Ireland's contribution of €75m over the next three years and said world leaders had "stepped up" this year and famine around the world was averted.
However, he said the next six to nine months will see shortfalls in countries such as Afghanistan, Yemen, South Sudan and Syria, where millions of people are at risk.
Mr Beasley said mothers in countries, including Afghanistan and Syria, are faced with having to choose between buying food for their children so they will not starve or heating for their home so they do not freeze.
He said he has spoken to mothers who are being forced to sell their children in the hopes that they will have a better life and so they can feed their other children.
The UN is warning that nearly 23m people in Afghanistan – about 55% of the population – are facing extreme levels of hunger.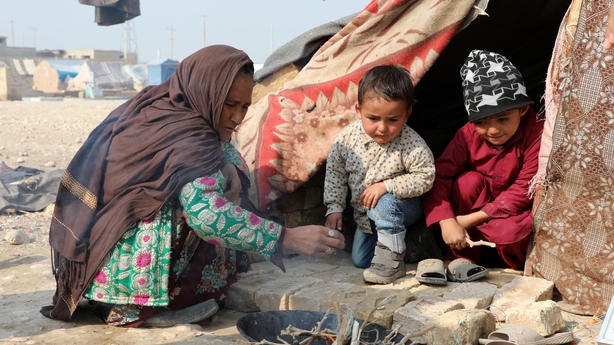 It said nearly 9m are at risk of famine as winter takes hold in the impoverished, landlocked country following the Taliban takeover.
Elsewhere, fighting in the Tigray region of Ethiopia has displaced more than two million and driven hundreds of thousands into famine-like conditions, according to UN estimates.
Mr Beasley suggested US billionaires could help contribute extra profits made during the pandemic.
He pointed out that the world's biggest billionaires made 1.8 trillion dollars in additional monies.
"45 million people in 43 different countries will be knocking on famines door," Mr Beasley said.
"All we need is one day's worth of their net worth increase to avert famine in 43 countries to reach the 45 million people were talking about. I don't think that's too much to ask."
He warned the next six to nine months is going to be "unprecedented" and there will be shortfalls in many countries around the world.
We need your consent to load this rte-player contentWe use rte-player to manage extra content that can set cookies on your device and collect data about your activity. Please review their details and accept them to load the content.Manage Preferences
Speaking on RTÉ's News at One, the Afghanistan country director for the WFP said the food security and hunger situation there is "horrifying and terrifying".
Mary Ellen McGroarty said temperatures are dropping rapidly in the country while an economic implosion has resulted in a price increase of 20% for food stuffs, making simple foods such as bread "really unaffordable for most people".
People that were managing to get by because they had reduced their food intake and the quality of the food they were eating are now really being pushed into crisis, she said.
Ms McGroarty described how she has met women who have not eaten for days and men rummaging through bins in efforts to try to feed their children.
She said the number of emaciated children coming into nutrit ion centres and hospitals are "doubling and trebling".
Ms McGroarty said she hoped the Taliban appreciated the scale of the crisis facing the country.
She added that the Taliban is standing back and allowing the WFP deliver humanitarian assistance, but said it would still be a tough road ahead for the people of Afghanistan.