Russian President Vladimir Putin has said the conflict in eastern Ukraine between Kiev's army and pro-Russian separatists "looks like genocide", at a time of heightened tensions with the West.
Mr Putin's comments came as US President Joe Biden held talks with Ukraine President Volodymyr Zelensky and the heads of other countries on Russia's borders concerned over Kremlin military aggression.
The remarks came in response to a question during a meeting of the presidential rights council, during which Mr Putin fielded a query on discrimination against Russian speakers beyond Russia's borders.
"I have to say that Russophobia is a first step towards genocide," the Russian leader said.
"You and I know what is happening in Donbass," referring to the conflict zone in the east of the country, adding that: "It certainly looks like genocide."
Mr Putin has previously made similar comparisons about the war in eastern Ukraine including in 2015 and 2019.
Most people in Ukraine speak both Ukrainian and Russian, though regions in the south and east - and some in the centre - are predominantly Russian-speaking and have traditionally been more Russia friendly.
A popular uprising in Ukraine forced a Moscow-backed regime out of office in 2014.
Since then Moscow has annexed Crimea and Kiev's forces are locked in conflict with separatists supported by Russia in the east of Ukraine. The fighting there has cost some 13,000 lives.
The United States and its allies have for weeks accused Russia of planning an invasion of Ukraine and massing troops along Kiev's borders.
President Biden earlier this week spoke with Mr Putin via video link and warned Russia of crippling sanctions if it took military action against Ukraine.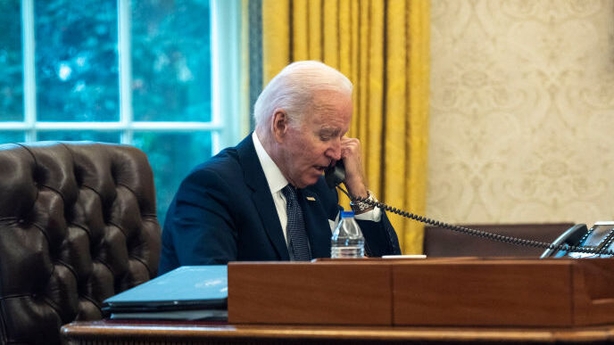 Mr Biden called Mr Zelensky this evening to convey support for Ukraine's sovereignty and territorial integrity.
Mr Zelensky said they discussed possible formats for resolving the conflict in Donbass during an exchange that lasted 90 minutes.
"The President of the United States informed me of the content of his negotiations with Putin," he said on Twitter.
"We also discussed possible formats for resolving the conflict in Donbas and touched upon the course of internal reforms in Ukraine," Mr Zelensky added.
Mr Zelensky thanked Mr Biden for his "strong support" in the face of Russian threats.
In a statement, the Ukrainian presidency said that the US President was thanked for his "consistent, firm and strong support for the sovereignty and territorial integrity" of Ukraine and "reaffirmed his unwavering commitment to finding ways to peace".
The White House said the question of US troops on the ground in Ukraine "is not part of our discussion".
Finished a 1.5-hour conversation with @POTUS. The President of the United States informed me of the content of his negotiations with Putin. We also discussed possible formats for resolving the conflict in Donbas and touched upon the course of internal reforms in Ukraine. pic.twitter.com/boKzAdiyeU

— Володимир Зеленський (@ZelenskyyUa) December 9, 2021
Mr Biden also phoned the leaders of nine eastern European NATO allies, promising support if Russia attacks Ukraine, as well as severe economic sanctions against Moscow.
The White House said that after his call with Mr Zelensky, Mr Biden spent 40 minutes talking to the leaders of Bulgaria, the Czech Republic, Estonia, Hungary, Latvia, Lithuania, Poland, Romania and Slovakia - all of which, unlike Ukraine, have joined NATO in the wake of the 1991 Soviet collapse.
The calls came as the US and European partners are pressuring Mr Putin to step back from Ukraine, where nearly 100,000 Russian troops have massed on the border.
Mr Putin says Russia has no intention of invading but is adopting a defensive posture out of alarm that Ukraine is getting too close to the Western NATO military alliance.
But Mr Biden warned Mr Putin in their two-hour video summit this week that Russia would face economic sanctions "like none he's ever seen" if the troops do attack.
Mr Biden is closely coordinating with major European powers, reaching out to the leaders of Britain, France, Germany and Italy both before and after the Putin video summit.
Today's calls switched focus to countries right on the frontline of the power struggle between the West and Russia over territory once entirely under Soviet control.
"I made it very clear if in fact he invades Ukraine there will be severe consequences, severe consequences - economic consequences like none he's ever seen or ever have been seen," Mr Biden told reporters at the White House following his call with Mr Putin.
But sending US troops to confront Russia was "not on the table".
Mr Zelensky said it is "positive" the US and Russian leaders spoke directly.
"Ukraine's victory lies in the fact that the United States has always supported Ukraine, our sovereignty and independence," the Ukrainian leader said after the Putin-Biden call.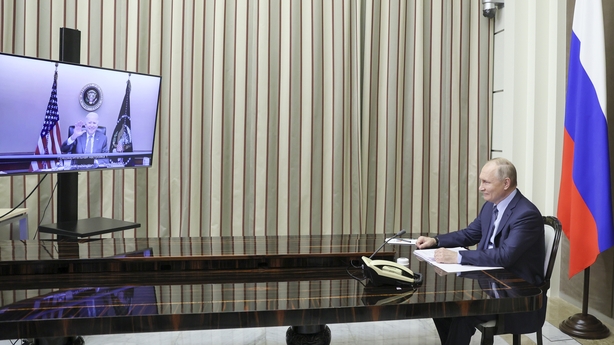 Western European countries added to the diplomatic pressure on the Kremlin following the Biden-Putin talks.
Among them, new German Chancellor Olaf Scholz warned of "consequences" for the Nord Stream 2 pipeline, a controversial Russian project to deliver natural gas to Germany.
Mr Putin justified Russia's movement of up to 100,000 troops to the border of Ukraine over the past few weeks as a defensive measure, with the Kremlin expressing fears that NATO is pulling ex-Soviet Ukraine into its sphere.
He refused to say yesterday if he planned to invade Ukraine, insisting that Moscow had "the right to defend its security" in the face of perceived NATO expansion.
The United States works closely with the Ukrainian military and has committed more than $2.5 billion in security assistance to the country since 2014.