The Netherlands will tighten its partial Covid lockdown with the early closure of bars, restaurants and shops to curb a spike in cases, Prime Minister Mark Rutte has said.
It comes as Dutch health authorities said that, based on initial test results, there were likely dozens of people infected with Covid-19 among some 600 passengers that arrived at Amsterdam's Schiphol airport today on two flights from South Africa.
The passengers have been kept isolated from other travellers at the airport after their arrival due to concerns about the newly detected Omicron coronavirus strain.
Dozens of protesters demonstrated in The Hague as Mark Rutte unveiled tough new measures, which come as Dutch hospitals warn they are being overwhelmed.
"From Sunday, the whole of the Netherlands is effectively closed between 5pm and 5am," Mr Rutte told a press conference.
"We have to be realistic, the daily figures are still too high," he said, referring to infection figures which are running at more than 20,000 a day.
Non-essential shops had previously been allowed to stay open until 6pm and restaurants and bars until 8pm.
Patrons must now wear masks and maintain social distancing of 1.5 metres, meaning that cafes, cinemas, theatres and other venues will have reduced capacity, Mr Rutte said.
The new measures also include wearing masks in secondary schools but schools will remain open, despite the fact that the largest rise in infections is among children.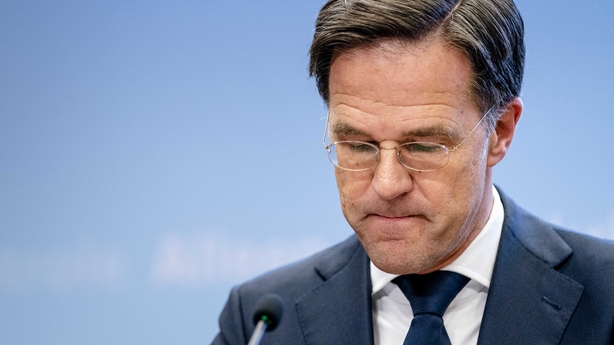 Mr Rutte acknowledged that his government had failed to get across the message that people with symptoms need to get tested, since it last tightened the measures two weeks ago.
"I blame myself for that," he said. "We have to do better."
In the protest near government ministries, people rang bells, blew whistles and sirens while many held signs saying "It is not right".
Police vans and riot officers stood guard near the protest, amid tensions after four days of riots last weekend over the government's coronavirus measures.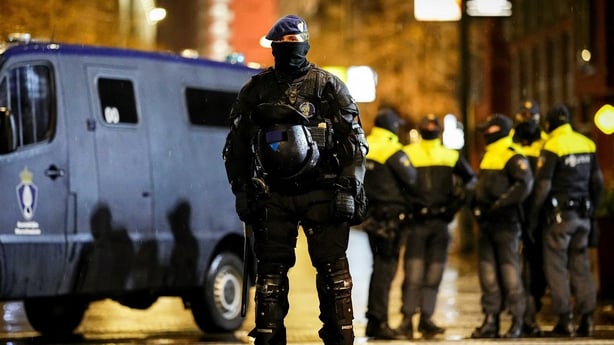 Dutch hospitals were instructed today to postpone all non-emergency operations to free up beds in intensive care units. Some patients have been transferred to neighbouring Germany.
The surge in the Netherlands, the worst in Western Europe, came even though 85% of the adult population have been vaccinated.
The new measures go into effect from this Sunday, 28 November.