Italy has tightened Covid-19 restrictions for people still unwilling to take a vaccine, sharply limiting access to an array of services and making jabs mandatory for a wider group of public sector workers.
Under the measures, which will come into force from 6 December, unvaccinated people will not be able to enter venues such as cinemas, restaurants and sports events, Prime Minister Mario Draghi's government said in a statement.
Italy's move comes as much of Europe is increasing restrictions to try to grapple with a new wave of the epidemic.
The new rules, announced after a cabinet meeting, also extend mandatory vaccination, already in force for healthcare workers, to all school staff, police and the military, from 15 December.
The measures tighten the requirements for a Green Pass, a certificate that allowed the vaccinated access to various leisure activities and services, to exclude people who have received a negative test in the past 48 hours but have not had a Covid-19 shot.
Most of these steps were widely expected following comments by ministers in recent days, but in a surprise move the government also decided to make the Green Pass mandatory for use on urban public transport.
This will be challenging to enforce, given the crowded rush-hour conditions of Italy's buses and metros.
For access to public transport the Green Pass will be available to those with a negative test, not just the vaccinated, the government said.
The duration of the Green Pass will be cut from one year to nine months, the government statement said.
The number of daily infections in Italy is running at around 10,000 at present, with around 80 deaths per day.
That compares with around 20,000 cases in the same period last year, when hundreds of deaths were reported every day.
Slovakia to enter two-week lockdown amid virus surge
We need your consent to load this rte-player contentWe use rte-player to manage extra content that can set cookies on your device and collect data about your activity. Please review their details and accept them to load the content.Manage Preferences
Slovakia's government has followed the example of neighbouring Austria and ordered a two-week lockdown to quell the world's fastest rise in Covid-19 cases, as the number of people sick in hospital reached a critical level and vaccination levels remain low.
Restaurants and non-essential shops will close as part of the measures and movement will be limited to trips for essential shopping, work, school or medical visits, along with walks in nature, government officials said.
---
---
Slovakia yesterday registered more than 10,000 new daily infections for the first time since the pandemic started, while hospitalisations hit what the Health Ministry called a "critical point" that meant limiting other care and possibly asking for foreign assistance.
"The situation is serious," Prime Minister Eduard Heger said.
"We got here because the (existing) measures were not observed."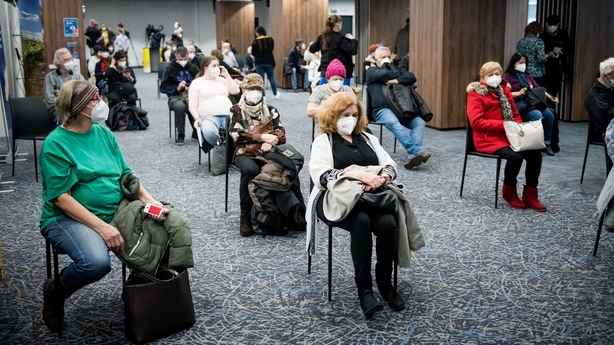 Adjusted for population size, Slovakia is experiencing the world's fastest rise in infections, according to Our World in Data, topping a list currently led by other European countries.
The neighbouring Czech Republic and Hungary both registered a record daily rise in cases yesterday, while Austria also implemented a total lockdown this week, shutting non-essential shops, bars and cafes for at least 10 days.
Slovakia's decision to return to a lockdown comes after the government already slapped new restrictions on unvaccinated people this week in a bid to push up inoculations.
Before that, the country had been gradually tightening restrictions in regions hard-hit as cases have jumped over the past month.
EU health agency calls for 'urgent' Covid measures
The European Union health agency has called on member states to "urgently" introduce measures to reduce the potentially "very high burden" from Covid-19 in December and January.
The director of the European Centre for Disease Prevention and Control (ECDC), Andrea Ammon, recommended Covid booster shots for all adults over the age of 18, "with a priority for people above 40 years old".
The agency also urged countries to increase their overall vaccination rates, especially those with low uptake.
Under 70% of the overall population in the EU and the European Economic Area (Norway, Lichtenstein and Iceland) have been fully vaccinated.
"This leaves a large vaccination gap that cannot be bridged rapidly and gives ample room for the virus to spread," the ECDC said.
"We need to urgently focus on closing this immunity gap, offer booster doses to all adults, and reintroduce non-pharmaceutical measures," Ms Ammon said.
Her warning came just one day after the European branch of the World Health Organization said that up to 700,000 more people could die from Covid-19 by March 2022 in Europe and Central Asia, in addition to the 1.5 million who have already succumbed to the virus.
Germany reports 66,884 new cases and 335 more deaths
A leader of Germany's Greens, set to be part of a new government, has expressed support for mandatory vaccinations as the number of infections jumped again.
Germany registered 66,884 new coronavirus infections and 335 more deaths due to the virus, bringing the total number of deaths close to 100,000, according to figures by the Robert Koch Institute of infectious diseases today.
Initially, mandatory vaccinations were needed in care facilities to protect particularly sensitive groups, she told Deutschlandfunk radio.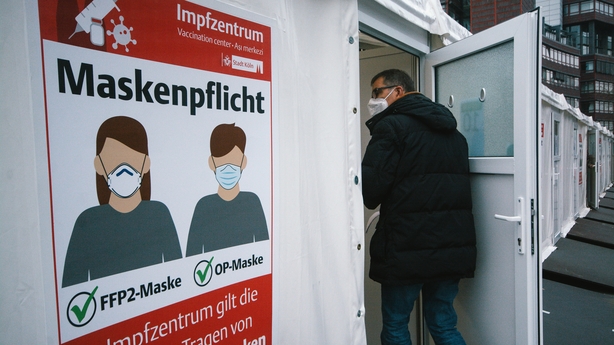 The health ministry has put together a proposal to make it compulsory for workers in nursing homes and clinics to be vaccinated from 1 January, 2022, Spiegel magazine reported.
Germans have been waiting in line for hours to get vaccinated in recent days, with about 68% of the population fully vaccinated, below the average in western Europe.
Sweden to extend Covid-19 boosters to all adults
Sweden will begin gradually rolling out Covid-19 vaccine booster shots to all adult Swedes following the surge in cases elsewhere in Europe, according to government and health officials.
Booster shots of mRNA vaccine have been offered to people aged 65 or above in Sweden, with an eye to eventually extending the shots to other groups and trying to persuade a still sizable group of uninoculated people to get the vaccine.
"We are faced with an uncertain winter," Health Minister Lena Hallengren told a news conference.
"You can contribute by staying home if you're sick or by getting vaccinated if you haven't already, and taking your booster when you're offered it."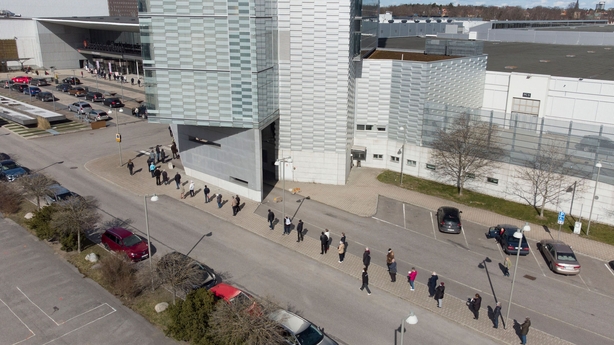 An exact timetable was not presented. Sweden's health agency said booster shots should be offered six months after the second shot, with a further rollout to risk groups and people aged 50 or above the priority before a gradual extension to all Swedes aged 18 or older.
Ms Hallengren said the health agency had also been tasked with preparing for potential additional measures to curb the spread of the virus after Sweden introduces vaccine passes for indoor events with more than 100 people as of next month.
Czech Republic reports record daily rise in Covid-19 cases
The Czech Republic has reported its highest daily rise in new Covid-19 infections today, with cases surpassing 25,000 for the first time and putting further strain on hospitals.
The country of 10.7 million has the world's fourth-highest infection rate per capita, according to Our World in Data, as Europe is again an epicentre for the pandemic.
The Czech government, due to hand over power in the coming weeks after losing an October election, has put in place measures barring unvaccinated people from visiting restaurants, cinemas and other services such as hairdressers, aiming to boost vaccination figures that lag many in the European Union.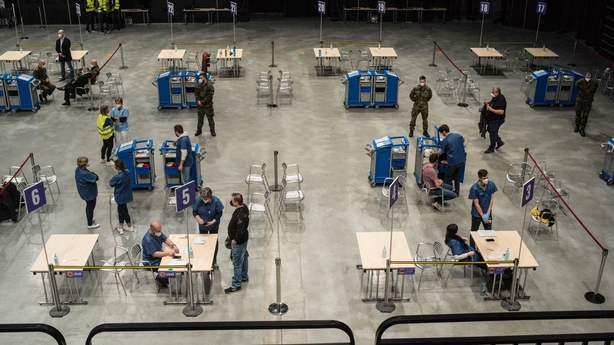 The outgoing government is also looking to institute mandatory vaccines for people over 60 and some professions, like healthcare workers.
But while medical groups have called for tougher lockdown measures, politicians have been cool to taking such a step, unlike in neighbouring Austria, which locked down its population for at least 10 days this week.