A 27-year-old Irish man is due to go on trial next week in Greece facing charges of people smuggling, membership of a criminal organisation and espionage.
Seán Binder from Castlegregory in Co Kerry is one of 24 people charged in connection with their humanitarian work. He denies all charges.
He was arrested in Lesbos in 2018 while volunteering for the NGO, Emergency Response Centre International.
Amnesty International has said the Greek authorities are making an example of humanitarian workers, who it said were simply trying to help refugees.
Mr Binder was born in Germany and moved to Ireland at the age of five. He spent his whole childhood in Kerry with his mother, who is German.
He studied at Trinity College in Dublin before taking on a Masters in International Relations at the London School of Economics.
Mr Binder said he, like many people around the world, was moved by the images of three-year-old Alan Kurdi, whose body washed up on a Turkish beach while he and his family were trying to reach Greece.
In 2017, Seán travelled to Lesbos to volunteer with a non-governmental organisation.
"I specialised in defence and security policy in university. I also have a background as a rescue diver off the coast of Kerry. There's a diving school where I trained as a teenager and so I felt I had a policy understanding and I had the relevant skills and that's why I went.
"Ironically, I decided to go with the most transparent organisation I could find, a Greek search and rescue NGO that had a very good relationship with the authorities.
"Ironically, I say of course, because despite having worked transparently with the coast guard and standing shoulder to shoulder with the police officers, we were in fact eventually arrested by them."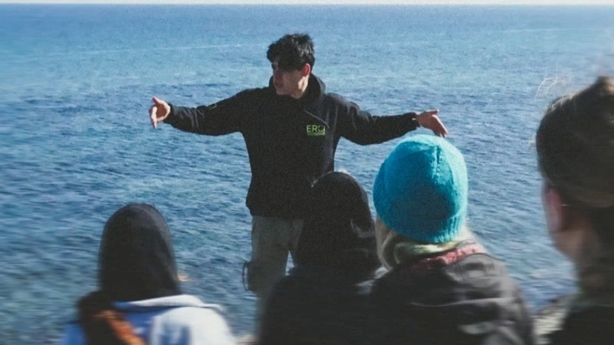 Mr Binder said at first, he and his co-workers at ERCI had a good relationship with the Greek authorities, who were regularly in touch with them.
He cited one example of lending them blankets at one point when they had run out.
But then in February 2017, having been in Lesbos for around four months, they were arrested by Greek police and spent two nights in jail. However, in August, they were arrested again.
"This time we were charged formally with really heinous crimes, including smuggling, being part of a criminal organisation, fraud, money laundering, and even espionage, or spying, and we spent three-and-a-half months in pretrial detention waiting for trial.
"We were held in pretrial, because what we're accused of is so heinous that … we were (seen as) a flight risk that we'd try to escape."
Mr Binder said the conditions were tough, and it was an anxious time for his friends and family, particularly his mother. He said the gravity of the charges meant he was in prison with violent criminals.
"I recall being handcuffed to someone who had murdered two people. I was in prison with folks who were convicted felons. There was absolutely no difference in treatment between myself and the others, including men charged with murder," he said.
Mr Binder and his supporters were all thrilled when he was eventually released, just before Christmas in 2018. It has taken almost three years for the matter to come to trial.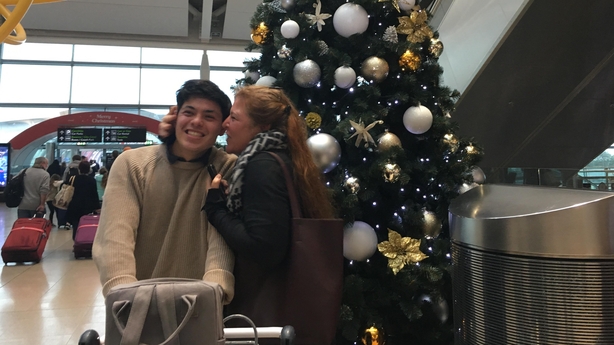 Mr Binder said up until 2015, EU member states had a policy of search and rescue, but that changed.
He said: "Operation Mara Nostrum was an Italian naval operation which had primarily its aim with search and rescue. The following year it was replaced by the European Border Control institutions operations.
"So Frontex is that institution and it was called Triton, and then Sofia and these (operations) primarily viewed this crisis through the prism of illegality.
"They view this issue, not as one of loss of life, even though north of 20,000 individuals have drowned in the Mediterranean, but they viewed it instead as an issue of smuggling, and therefore they view anybody that tries to provide assistance as being part of smuggling, not as search and rescue ... and therefore we are naturally cast, unfortunately, as being complicit in this problem, despite there being absolutely no evidence that search and rescue in any way enables smuggling," he said.
---
We need your consent to load this rte-player contentWe use rte-player to manage extra content that can set cookies on your device and collect data about your activity. Please review their details and accept them to load the content.Manage Preferences
---
Mr Binder said that currently no search and rescue organisations on the island of Lesbos are operating.
"They have been completely frightened away from there," he said. "I am happy to defend myself, I know I did nothing wrong, and we can prove that.
"What we expect is that this trial might even be adjourned because they are not prepared for this. We are prepared for it.
"I'm being charged with crimes that I am supposed to have committed a year before I was ever on the island."
Mr Binder and 23 other defendants go on trial next Thursday, at which point the Greek authorities will outline the charges against them.
Meanwhile, more than 60 MEPs have written an open letter in support of Mr Binder and his co-defendants.
The letter was drafted by Green Party MEP for Ireland South Grace O'Sullivan and supported by Green Party, Fianna Fáil, Sinn Féin, and Independent MEPs among others.
It expressed serious concern over charges levelled against some 24 humanitarian workers by Greek prosecutors for their role in search and rescue missions on the island of Lesbos in 2018.