The UN Security Council will hold an emergency meeting tomorrow on the migrant crisis at the border between Poland and Belarus, diplomats said.
It comes as the European Union said it will widen sanctions against Belarus next week.
The announcement followed a meeting between European Commission President Ursula von der Leyen and US President Joe Biden in Washington DC that also touched on Covid-19, climate and foreign affairs.
"Very rapidly at the beginning of next week there will be a widening of the sanctions against Belarus," Ms vond der Leyen told reporters after the meeting, noting that sanctions would apply to individuals as well as entities.
The US has prepared sanctions to come into effect at the beginning of December, she added.
Today the European Union accused Belarus of mounting a "hybrid attack" by pushing migrants across the border into Poland, paving the way for widened sanctions against Minsk in a crisis that threatens to draw in Russia and NATO.
Russia took the rare step of dispatching two nuclear-capable strategic bombers to patrol Belarusian airspace in a show of support for its close ally.
Poland briefed fellow NATO allies at a closed-door meeting and they pledged their support, an alliance official said.
An influx of migrants on the border between Poland and Belarus - the EU's eastern frontier - has led to an escalating crisis.
Ms von der Leyen said it was a challenge for the whole of the EU.
"This is not a migration crisis, this is an attempt by an authoritarian regime to try to destabilise its democratic neighbours," she said.
"We have to protect our democracies from these kinds of cynical geopolitical power-play," she added.
The EC President said her officials are also looking into the possibility of sanctioning airlines who facilitate human trafficking towards Minsk.
Several thousand migrants who want to access the European Union are stuck along the forested border between Poland and Belarus, which is allied with Russia.
With Poland accusing Belarus of "state terrorism," the 15-member UN council will meet tomorrow behind closed doors for a session called by Estonia, France and Ireland, diplomats said today.
Concern was growing for more than 2,000 migrants - mainly Kurds from the Middle East - who are trapped at the border, with the UN calling their plight "intolerable" and demanding action.
Western governments accuse Belarusian strongman Alexander Lukashenko of luring them to his country and sending them to cross into Poland in retaliation for sanctions.
"Such situations should not be used for political purposes and become a cause of tension between states," UN spokesman Stephane Dujarric said.
"The secretary general is following with concern the situation in the Belarus Poland border. He reiterates the importance of ensuring that migration and refugee issues are dealt with according to humanitarian principles and international law."
Earlier today, Warsaw said migrants trapped in Belarus made multiple attempts to force their way into Poland overnight and it had thus reinforced the border.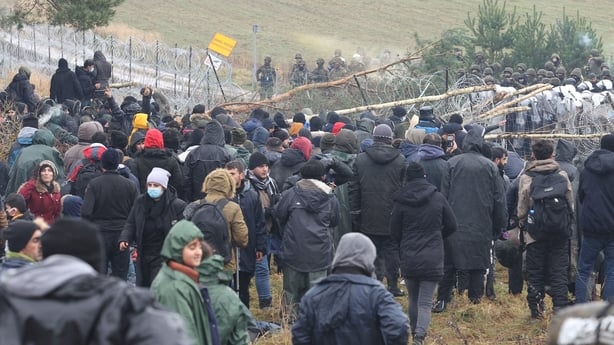 The EU accuses Belarus of encouraging the migrants - from the Middle East, Afghanistan and Africa - to try to illegally cross the frontier in revenge for earlier sanctions imposed on Minsk over human rights abuses.
Mr Lukashenko has denied using the migrants as weapons. His close ally, Russia, suggested yesterday that the EU should pay him to keep the migrants from attempting to cross.
Thousands of people have converged on the border this week, where razor wire fences and Polish soldiers have repeatedly blocked their entry.
Some of the migrants, who are stuck in freezing conditions with little food or shelter, have used logs, spades and other implements to try to break through.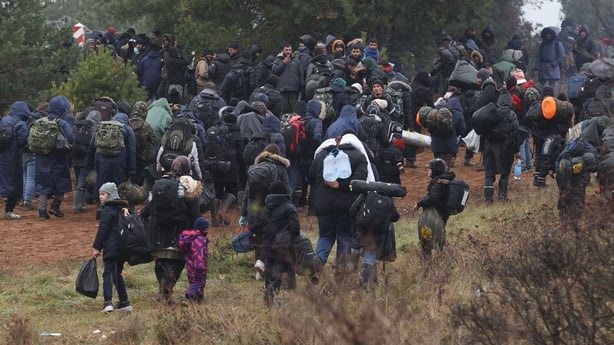 "It was not a calm night. Indeed, there were many attempts to breach the Polish border," Polish Defence Minister Mariusz Blaszczak told broadcaster PR1.
---
Read More:
Poland repels migrants at Belarus border
Polish PM accuses Putin of masterminding Belarus migrant 'attack'
Polish politicians approve Belarus border wall
---
Video from the border obtained by Reuters showed young children and babies among the people stuck there.
"There are lots of families here with babies between two or four months old. They have not eaten anything for the past three days," the person who provided the video told Reuters, saying they were a migrant themselves and declining to be named.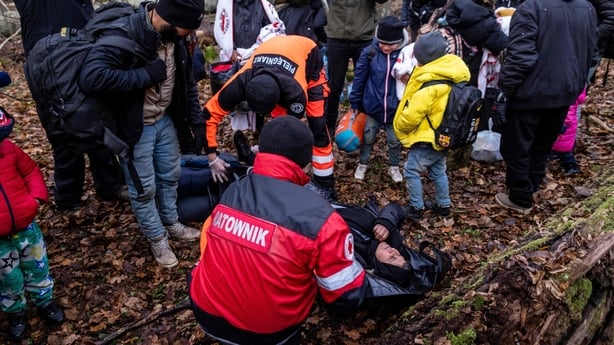 The Polish border guards service reported 599 illegal border crossing attempts yesterday, with nine people detained and 48 sent back.
Mr Blaszczak said the force of Polish soldiers stationed at the border had been strengthened to 15,000 from 12,000.
After midnight, two groups of migrants were turned back. One that was around 200 people near the town of Bialowieza and another of around two dozen was turned back near Dubicze, a spokeswoman said.
Neighbouring EU state Lithuania, which followed in Poland's footsteps by imposing a state of emergency at its border yesterday, reported 281 migrants were turned back that day, the highest figure since August when such pushbacks began.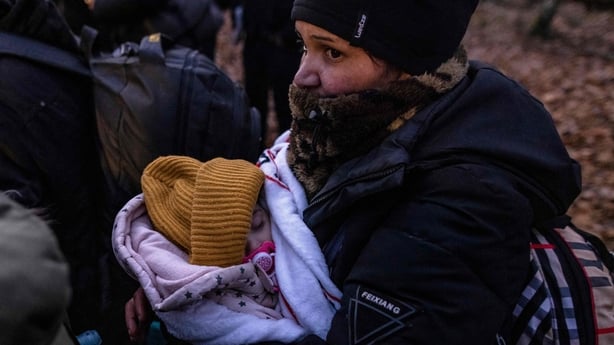 The crisis erupted after the EU, United States and Britain imposed sanctions on Belarus over its violent crackdown on mass street protests that were sparked by Mr Lukashenko's disputed election victory in 2020.
Poland denies accusations by humanitarian groups that it is violating the international right to asylum by hustling migrants back into Belarus instead of accepting their applications for protection. Warsaw says its actions are legal.
Some migrants have complained of being repeatedly pushed back and forth by Polish and Belarusian border guards, putting them at risk of exposure, lack of food and water.
"Yesterday we helped to secure and evacuate one group of immigrants," said Michal Swiatkowski, 30, a member of the Polish Red Cross rescue group from Ostrowiec Swietokrzyski.
"There were 16 people, most of them were children. They did not require medical attention, although we donated warm clothes, blankets and some food," he told Reuters.