China and the United States have announced a joint initiative to deliver enhanced climate action, Beijing's longtime climate envoy told the COP26 summit in Glasgow today.
"Both sides recognise there is a gap between the current effort and the Paris Agreement goals so we will jointly strengthen climate action," Xie Zhenhua told reporters in a surprise announcement.
China and US are the two largest emitters in the world and together account for nearly 40% of all carbon pollution.
Mr Xie said the plan would involve "concrete plans" for enhanced action this decade and that both the US and China were "to work on the finalisation of the Paris Agreement rulebook" at the UN climate summit in Glasgow.
The 2015 accord commits nations to work towards limiting global temperature rises to between 1.5C and 2C through sweeping emissions cuts.
Mr Xie said that China and the US had carried out 30 virtual meetings over the course of the last ten months to come up with the initiative.
"As the two major powers in the world, China and the United States have to take on the responsibility to work together with other parties in address climate change," he said.
I welcome today's agreement between China and the USA to work together to take more ambitious #ClimateAction in this decade.

Tackling the climate crisis requires international collaboration and solidarity, and this is an important step in the right direction. #COP26

— António Guterres (@antonioguterres) November 10, 2021
Earlier, a first draft of a deal for COP26 called on countries to strengthen their emissions-cutting plans in the next year in a bid to keep a goal to limit warming to 1.5C within reach.
It also demands a faster phasing out of coal and subsidies for fossil fuels - a first for a UN deal - but there is likely to be strong resistance to this from some countries and it could be taken out of any final agreement.
Developing countries and campaigners have also raised concerns over the provision of finance for poorer nations to cope with the impact of climate change in the draft deal.
The draft "cover decision", the final version of which must be agreed by consensus of nearly 200 countries at the Glasgow summit, was published today.
British Prime Minister Boris Johnson headed back to the talks as they entered their final days.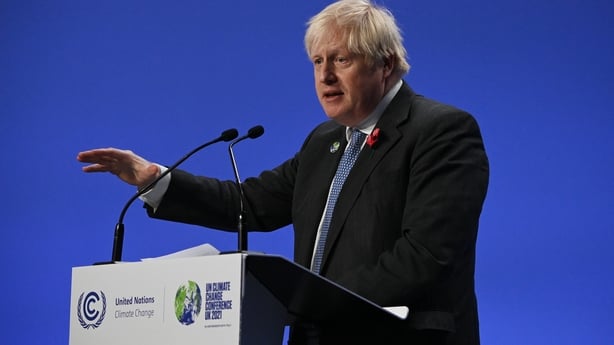 Mr Johnson said the summit had made progress towards halting runaway climate change but more was needed to seal a deal.
"We've moved the ball a long way down the pitch, but we're stuck in a bit of a rolling maul," he told a news conference.
"If we're going to get there, we need a determined push to get us over the line."
Minister for Foreign Affairs Simon Coveney is also attending COP26 today.
"The importance of oceans to our economy & the challenges of protecting marine territories many times the size of our landmasses binds Ireland with the world's small island states"

Minister Coveney, Mary Robinson, Fiji & Seychelles discuss #oceans and #climate justice at #COP26 pic.twitter.com/W1r789T9Hz

— Irish Aid (@Irish_Aid) November 10, 2021
---
---
COP26 president Alok Sharma has made it clear there is no attempt to renegotiate the Paris Agreement, but the draft document says the impact of climate change will be much lower with 1.5C of warming than 2C.
And it "resolves to pursue efforts to limit temperature rises to 1.5C" which will require more action in this decade.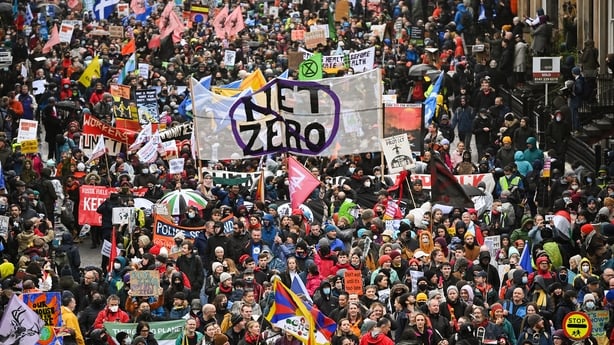 The draft urges countries to "revisit and strengthen" the targets for cutting emissions by 2030 in their national plans to align them with the Paris temperature goal, which still covers both numbers, by the end of 2022.
The document also urges countries to set out long-term strategies by the end of next year to reach net-zero emissions by about mid-century.
'Not a plan to solve the climate crisis'
The Alliance of Small Island States group's chairman, Aubrey Webson, said: "We won't get the ambition on emissions we need for 1.5C if we don't scale up the provision of finance, and this includes the long-overdue recognition of a separate and additional component for loss and damage."
He said: "Urging, calling, encouraging and inviting is not the decisive language that this moment calls for.
"We have limited time left in the COP to get this right and send a clear message to our children, and the most vulnerable communities, that we hear you and we are taking this crisis seriously."
Environmental campaigners criticised the draft deal, with Greenpeace International executive director Jennifer Morgan saying it was "not a plan to solve the climate crisis".
"It's a polite request that countries maybe, possibly, do more next year," she said.
Christian Aid's Kat Kramer said it was a "historic moment" with the first outlines of the phase-out of coal and fossil fuel subsidies, but said there was lots of work to be done on finance for poorer countries.
Bob Ward, from Grantham Research Institute on Climate Change and the Environment at the London School of Economics, said: "This draft includes all the key elements of a successful outcome, but there needs to be more ambition and more precision.
"We need countries to agree to return every one or two years with more ambitious pledges. We also need stronger evidence of action to deliver the pledges."