Without a dramatic change of course from China, the target to keep global warming to 1.5C is nothing but hot air, writes Yvonne Murray in Taipei
China "walked away" from climate commitments was US President Biden's scathing assessment of the Chinese leader's absence from COP26.
But President Xi Jinping was never going to go to Glasgow.
He hasn't left China since the outbreak of the Covid pandemic in January 2020.
In the midst of overhauling China's business and property sectors, dealing with a crippling energy crisis as well as a virus outbreak that threatens China's zero-Covid policy, President Xi is also busy at a closed-door meeting of senior Communist Party officials this week, shoring up his support for a third term at the helm.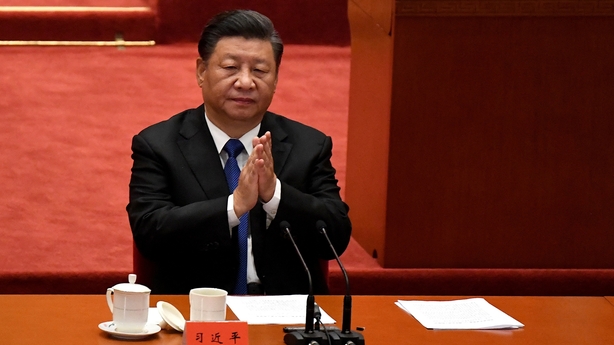 It's a reminder that what matters most to the Chinese leadership is never external issues but what's going on at home. And top of the agenda is keeping the Communist Party in power.
But without China, there can be no climate solution. The way things are going, without a dramatic change of course from China, the target to keep global warming to 1.5 degrees Celsius is nothing but hot air.
"China was responsible for two thirds of the global emissions growth over the past decade," said Lauri Myllyvrta, lead analyst at the Centre for Research on Energy and Clean Air.
"China has made substantial commitments over the past year but still lives space for emissions to grow over the next decade," he said.
Rapid development over the past 40 years has made China the planet's biggest emitter of greenhouse gases, pumping out more carbon than the rest of the developed world combined.
Nearly 300 million vehicles now choke the roads.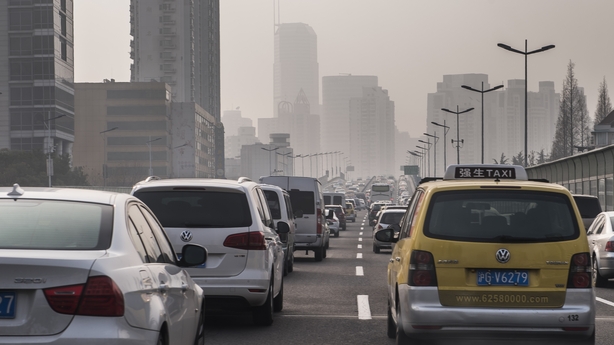 Unparalleled volumes of highly polluting cement and steel production feed a construction frenzy on a scale never seen before. It's estimated that China pours more concrete every three years that the US did in the whole of the 20th century.
And despite commitments to reduce dependency on fossil fuels over time, China is, for now, still building new coal-powered plants.
But the Chinese leadership's stance is clear: China is a developing nation and that developed nations, which have already grown rich through dirty industries, should be the ones to do more.
The Chinese delegation to COP26 reiterated that China had already made substantial commitments including a target to reach net zero by 2060 and peak fossil fuel consumption by 2030.
But China's heavy dependency on coal was thrown into sharp relief just as climate delegates prepared to travel to Glasgow. Faced with a sudden energy shortage, which saw electricity black outs and forced factories to close, the government gave orders to ramp up coal production to meet demand and keep the slowing economy on track.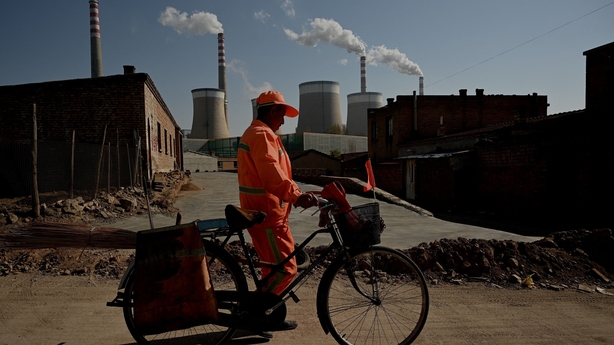 A thick pall of smog soon engulfed Beijing.
"The leadership wants to portray China as a contributor to solving this issue and a responsible player but just like any other major country, the main driver of what happens with energy and emissions is domestic considerations," said Mr Myllyvrta.
Some climate analysts have argued that because China is so crucial to tackling climate change, the deteriorating geo-political situation, especially rising China-US tensions could get in the way of cooperation on climate change.
But others believe, competition between global powers on new energy technology is more likely to encourage the big polluters, to clean up their act.
"This century will belong to those who are competitive in zero-carbon technologies, and you want to develop firms that can thrive in a zero-carbon space," said Mr Myllyvrta.
"If you see other major economies moving fast, you want to move faster yourself so there's an element of competition here that can influence China and others," he said.
China has, what some commentators have described, as an "authoritarian advantage" when it comes to the development of sustainable energy sources. It has invested more in solar, wind and nuclear than any other nation and it has the capacity, not to mention vast land mass and offshore space, to roll out giant renewable projects underpinned by central government support and subsidies.
"The scale of China's economy is such that experimentation with new technologies, whether it's hydrogen or other forms - certainly compared to a country like Ireland but even the European continent - blows other countries out of the water," said Diarmuid Torney, associate professor in DCU's School of Law and Government.
"As China progresses down the road of scaling up new technologies, the rest of the world can hopefully learn from its experience," he added.
But even with the speed at which China is investing in renewable energy, the switch from fossil fuels is a long way off.
"It's not just about building wind and solar in some inland provinces where nobody lives, it's also about, how you maintain a stable transition to get rid of the old industries like mining and the coal-powered plants," said Karoline Kan, a Chinese climate journalist.
"It's about these core industries that have been so important in China's development over the past 30 years and the millions of people employed in them, so it's not like we can just say, like magic, tomorrow we will get rid of all the coal," she said.
China once saw relatively frequent public protests over environmental degradation - filthy air and polluted rivers drove people out onto the streets and the Chinese government is very aware of the potential for environment-related social unrest.
But the crackdown on civil society since Xi Jinping came to power in 2012 - silencing all non-government voices from feminists to human rights lawyers to the citizen journalists reporting on the outbreak of the coronavirus in Wuhan - has left little room for the youth-driven climate activism that has since spread across the democratic world.
18-year-old Howey Ou, often feted in the international environmental movement as China's Greta Thunberg, staged lone protests trying to raise awareness about climate change in her home province of Guilin. She has since moved to Europe.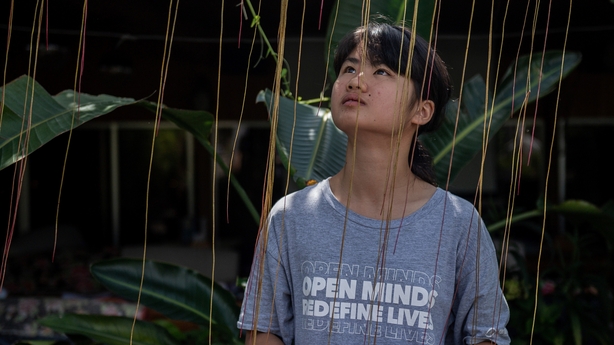 "Some people think doing activism in China will make you disappear or whatever," said Howey Ou, "but I use my experience to tell a message: Chinese people do care about the climate, do use activism to raise the awareness, do make an impact through civil disobedience."
But policy on climate change comes from the top.
"If you look at the environmental protest movement which has been very active in Europe, you don't see that in China," said Ms Kan.
"So, for example, if you are a citizen living in a European city and every Friday, before Covid, you would see the protests from the schoolkids," she said, "no matter whether you care about that issue or not, you will still hear about peoples' concerns. But in China, climate change is seen as a topic that the scientists know better."
"But the positive side is that when China sets the target to peak carbon emissions by 2030, there's a large chance that China will achieve that before the deadline," she added.
But whether China weans itself off coal and the global target to stop the planet warming more that 1.5Cis met, won't be because of what activists shout on the streets of Glasgow or what President Biden says from the podium.
It will be because of whatever is discussed at meetings behind closed doors in Party headquarters in Beijing.