Former president of Ireland Mary Robinson has warned that "we are in an emergency" when it comes to tackling climate change and she said she would be listening most carefully today to the voices of the most vulnerable.
Speaking from Glasgow, she said now is the moment to tackle the problem.
"Governments have to come here in crisis mode and must deliver for the future of the world," she said. "We're running out of time."
Over the weekend, G20 leaders meeting in Rome failed to commit to a 2050 target to halt net carbon emissions - a deadline widely cited as necessary to prevent the most extreme global warming.
However, speaking to RTÉ News today, she said the outcome of this meeting "wasn't the worst" and had delivered some hope for effective action.
The COP26 summit is attempting to complete the rules to implement the 2015 Paris Agreement, which aims to limit global warming to 1.5C above pre-industrial times.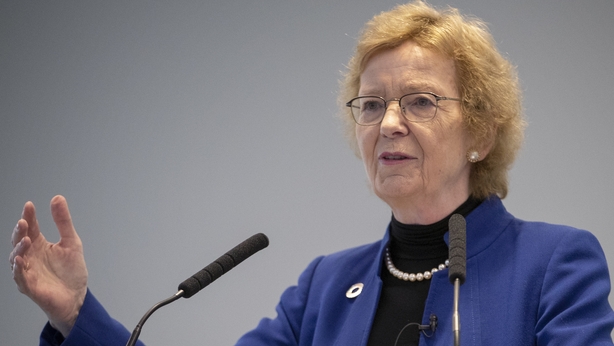 Now, Mary Robinson said it was up to leaders at today's summit to deliver what she said was an urgent "political road map" for the future on this target.
Ms Robinson chairs the Elders group which advocates for human rights and is also the adjunct professor on climate justice at Trinity College Dublin.
She said the action taken at Glasgow needed to be "urgent" and not "the ambition of every five years of Paris. We can't wait for that."
"We need those who have not stepped up enough, and they know who they are, to step up every year."
She said she was pleased to see that countries, including Italy which chaired the G20 meeting in Rome, had trebled their finance when it comes to tackling climate change, and she called for other countries to follow suit.
"We have an awful lot to do… but the point is we're much more accurate now in assessing where we are."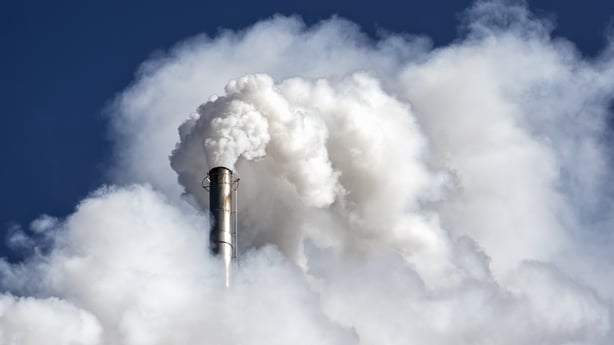 A UN report in the run up to today's meeting gave a stark warning that current commitments to cut greenhouse gas emissions are putting the planet on track for an average 2.7C temperature rise this century.
Mary Robinson said: "We can't do that because that would be catastrophic. So, we need a tight political roadmap and that is implied in what the G20 said."
She said this implied action had not been specified, but that leaders in Glasgow needed to set a course that was aligned with reaching the 1.5C target and that proper financing would be needed to make this a success.
Despite this, doubts have already been expressed in Glasgow about whether richer nations, which are responsible for the bulk or greenhouse gas emissions, will act to put in place enough finance to help poorer nations to cut their own emissions.
Developed countries confirmed last week they had failed to meet a pledge made in 2009 to provide $100 billion a year in climate finance by 2020. Instead, it is expected to arrive by 2023.
"Their credibility is now shot," said Professor Saleemul Huq, Chair of the Expert Advisory Group for the Climate Vulnerable Forum of 48 countries.
He said the broken financial promises could "sour everything else" at the Glasgow talks.
"They are basically leaving the most vulnerable people on the planet in the lurch, after having promised that they're going to help."
The Alliance of Small Island States, whose influence at past UN climate talks has outweighed its members' size, said: "The impact this has had on trust cannot be underestimated."
At today's meeting, Mary Robinson said she would listen most closely to those who she called the "vulnerable voices" on climate change, in some of the most affected communities and countries.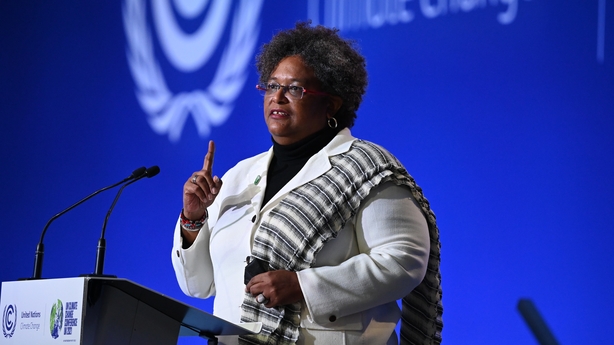 Speaking this afternoon, the prime minister of Barbados was among those urging world leaders to try harder. She warned that rich countries' failure to cough up the promised $100bn a year to help vulnerable nations cope with climate change, would have deadly consequences.
Mia Mottley said the impacts from climate-enhanced droughts, heatwaves, floods and wildfires would be "measured in lives and livelihoods in our communities and that, my friends, is immoral and unjust".
Dozens of small island states and major low-lying cities worldwide are also exposed to the existential threat of super storms, made more destructive by rising seas.
"Are we really going to leave Scotland without the results and ambitions needed to save lives and our planet?" Ms Mottley asked.
"How many more pictures of people must we see on these screens without being able to move? Are we so blinded and hardened that we can no longer appreciate the cries of humanity?"
She said capping global warming at 1.5C - the aspirational goal of the 2015 Paris Agreement - was an absolute necessity to come out of the 13 days of negotiations.
"For those who have eyes to see, for those who have ears to listen, and those who have a heart to feel, 1.5C is what we need to survive," she said.
"2C is a death sentence for the people of Antigua and Barbuda, for the people of the Maldives, of Dominica and Fiji, of Kenya and Mozambique, and yes, for the people of Barbados," she added.