US actor Alec Baldwin has said his "heart is broken" for the family and friends of Halyna Hutchins, after he fired a prop gun that fatally wounded the cinematographer on a film set in New Mexico.
In a post on Twitter, Mr Baldwin said he was "fully cooperating" with the police investigation into the "tragic accident".
The incident happened on the set of 'Rust' in the southwestern US state, where Mr Baldwin is playing the lead in a 19th-century western. The film's director was also injured in the incident.
Halyna Hutchins and Joel Souza "were shot when a prop firearm was discharged by Alec Baldwin," the sheriff in Santa Fe said in a statement.
Ms Hutchins, 42, was taken to hospital but died of her wounds, while Mr Souza, 48, is receiving treatment.
Mr Baldwin said on Twitter: "There are no words to convey my shock and sadness regarding the tragic accident that took the life of Halyna Hutchins, a wife, mother and deeply admired colleague of ours.
"I'm fully cooperating with the police investigation to address how this tragedy occurred and I am in touch with her husband, offering my support to him and his family. My heart is broken for her husband, their son, and all who knew and loved Halyna."
We need your consent to load this rte-player contentWe use rte-player to manage extra content that can set cookies on your device and collect data about your activity. Please review their details and accept them to load the content.Manage Preferences
A Hollywood union has said that the prop gun contained a single live round, according to movie industry trade publications.
"A live single round was accidentally fired on set by the principal actor, hitting both the Director of Photography, Local 600 member Halyna Hutchins, and Director Joel Souza," a local branch of the IATSE union told members in the memo, according to Variety and IndieWire.
Ms Hutchins was in Ireland last year working on a currently untitled Screen Actors Guild feature film.
While in Ireland, she developed a strong interest in Dublin's hidden attractions, especially the city's street art scene, according to the production's co-casting director Barry Coyle.
"Halyna was really taken by the everyday street scenes she found around the city; the old churches and stained glass works of Harry Clarke," Mr Coyle said.
"She enjoyed finding hidden parts of the city that most people, including myself, would overlook.
"She had a real, genuine interest in Irish life and the people here and was so happy to be working in Ireland, especially considering the global industry had more or less closed at the time."
She posted several videos and photos on her Instagram page of her work in Birr Castle and her time living in Dublin.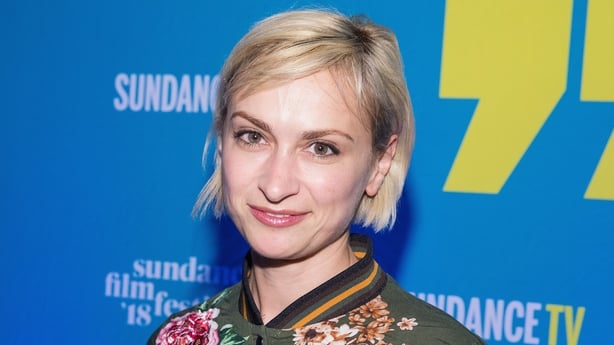 A spokesman for the Santa Fe Sheriff's Office said Mr Baldwin had been interviewed by detectives.
"He provided statements and answered their questions. He came in voluntarily and he left the building after he finished his interviews. No charges have been filed and no arrests have been made."
A spokesperson from the production told The Hollywood Reporter the "accident" involved the misfire of a prop gun with blanks.
The incident took place at the Bonanza Creek Ranch, a production location near Santa Fe which is popular with Hollywood filmmakers.
Movie sets usually have stringent rules over the use of prop weapons, but accidents have happened.
Most famously, Brandon Lee, the son of martial arts legend Bruce Lee, died during filming of 'The Crow' after being shot by a gun that was supposed to fire blanks.
Many tributes that have been paid have called Ms Hutchins a film industry rising star, which Mr Coyle agrees with.
"It was quite obvious that she had an amazing eye. Her work speaks for itself," he said.
"On top of all that, she was a lovely person. She was just an all-around gorgeous person to be with and chat to.
"She was such a warm and enthusiastic person that it was impossible to not fall in love with her a little bit.
We need your consent to load this Instagram contentWe use Instagram to manage extra content that can set cookies on your device and collect data about your activity. Please review their details and accept them to load the content.Manage Preferences
Mr Coyle woke up to the news this morning, which he called "surreal and really shocking".
"I initially read that article and I didn't realise that it was Halyna they were talking about," he said.
"I'd seen on her Instagram a few days before that she was shooting a Western at the minute and then it all just clicked.
"It's overwhelmingly sad news."
Mr Baldwin is a co-producer of 'Rust' and stars as Harland Rust, an outlaw whose grandson is convicted of murder, and who goes on the run with him when the boy is sentenced to be executed for the crime.
The 63-year-old posted a photograph earlier yesterday on Instagram showing him apparently on set, dressed in a period costume and with fake blood on his shirt.
"Back to in-person at the office. Blimey... it's exhausting," he captioned the picture, which went online several hours before the incident.
A joint statement by John Lindley and Rebecca Rhine of the International Cinematographers Guild said news of Ms Hutchins' death was "devastating".
"The details are unclear at this moment, but we are working to learn more, and we support a full investigation into this tragic event. This is a terrible loss, and we mourn the passing of a member of our Guild's family," the statement, reported by Variety, said.
Mr Baldwin has been on television and in films since the 1980s.
He starred in a number of high profile movies, including 'The Hunt for Red October' and two iterations of the 'Mission: Impossible' franchise, and has also voiced animated characters in hits like 'The Boss Baby'.
He garnered new fans with his long-running portrayal of Donald Trump on Saturday Night Live, a character that irritated the former president, but won Mr Baldwin a Primetime Emmy.
Additional reporting: Jason Kennedy