Islamic State has claimed responsibility for a suicide bomb attack at a Shia mosque in the southern Afghan city of Kandahar which left dozens killed and injured, according to a statement posted by the group's Amaq news agency.
The statement added that two Islamic state fighters shot the guards of the mosque dead, broke in and blew themselves up between two groups of worshippers, one of which consisted of around 300 people.
It was the second week in a row that militants bombed Friday prayers and killed dozens of worshippers.
A health official at Kandahar's Mirwais hospital told Reuters it had confirmed 35 dead and was treating 68 wounded.
The assault came just a week after a suicide attack on Shia worshippers at a mosque in the northern city of Kunduz, which was claimed by the Islamic State group.
"Our initial information shows it was a suicide bomber who blew up himself up inside the mosque. We have launched an investigation to find out more," a local Taliban official said.
A doctor at the city's central Mirwais hospital said: "We are overwhelmed.
"We are in urgent need of blood. We have asked all the local media in Kandahar to ask people to come and donate blood."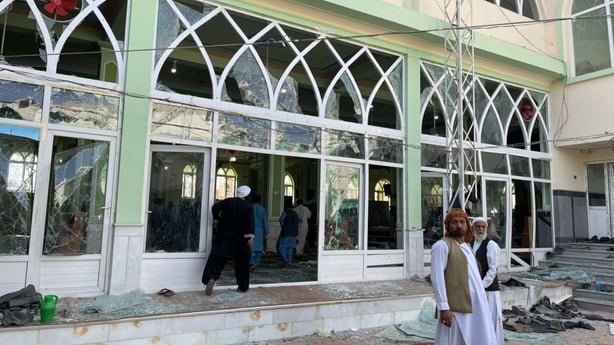 An eyewitness told AFP he heard three explosions, one at the main door of the mosque, another at a southern area, and a third where worshippers wash before their prayers.
Another witness also said that three blasts rocked the mosque in the centre of the town during Friday prayers, the busiest congregation of the week.
Last Friday, an Islamic State-Khorasan (IS-K) suicide bomber targeted a Shiite mosque in Kunduz, killing scores of people.
The group, a bitter rival of fellow Sunni Islamist movement the Taliban, claimed responsibility for the attacks against Shia worshippers, whom it regards as heretics.