Slovenia's Constitutional Court has blocked a government plan to make coronavirus vaccines mandatory for public employees, hours before it was due to come into force.
The government had planned to require around 31,000 people including civil servants, policemen and soldiers to either be vaccinated or to have recovered from Covid-19 in order to continue working.
The mandate was due to come into effect tomorrow, but in response to a complaint against the measure brought by the police officers' union the court decided to block its implementation.
In its decision the court said that "despite the very serious epidemic situation", it considered that "implementing the potentially unconstitutional (measure) ... would have worse consequences than delaying implementation".
The block on the mandate will remain in place until the court rules definitively on the complaint brought by the police union, but no date has been fixed for this.
Public Administration Minister Bostjan Koritnik told reporters that he "regrets the court's decision but will absolutely carry it out".
He insisted the vaccine mandate was aimed at "ensuring safer working conditions in the premises under the government's responsibility".
Under the measure employees had faced losing their jobs if they rejected vaccination and their position did not allow them to work from home.
Slovenia has vaccinated just 45% of its two million people, one of the lowest levels in the European Union.
Rising case numbers have pushed officials to introduce new measures, including a form of health pass that must be shown in workplaces and shops.
Health authorities say those measures have contributed to a steep increase in vaccinations.
An increasing number of countries have taken steps to boost their vaccination rates, including France and Italy where health workers have to be inoculated.
Broadway show cancelled after Covid outbreak among cast
A Covid-19 outbreak within Disney's stage show Aladdin prompted an 11th-hour cancellation of last night's performance in New York.
The production had opened just 24 hours earlier, joining the return of Broadway's biggest musicals from a pandemic-induced hiatus.
In a notice posted on Twitter shortly before the curtain was due to go up, producers said testing protocols had detected an unspecified number of "breakthrough" infections among vaccinated members of the Aladdin company at The New York Amsterdam Theatre.
"Because the wellness and safety of our guests, cast, and crew are our top priority, tonight's performance, Wednesday, 29 September, is cancelled," the tweet said, adding that tickets would be refunded at their points of purchase.
It added that the status of future performances of Aladdin, based on Disney's 1992 animated hit film, would be announced today.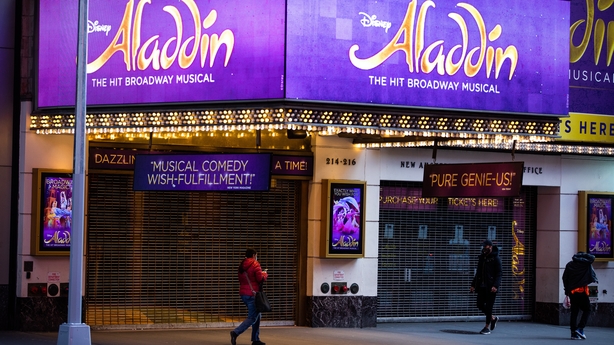 A number of Broadway's leading shows, among them Hamilton and The Lion King, reopened earlier this month, 18 months after the Covid-19 crisis forced an unprecedented shutdown of New York City's theatre community. Aladdin had just joined the fray on Tuesday.
Under health and safety rules agreed between theatre unions and producers, cast and crew members for shows are required to provide proof of vaccination or a valid exemption in order to work, and must be tested for the coronavirus every three days.
According to the New York Times, yesterday's cancellation was the first and only one confirmed for a reopened Broadway production since Springsteen on Broadway kicked off the industry's return in June.
Record surge in new virus cases in Victoria, Australia
Covid-19 cases in Australia's Victoria state have surged to record levels despite Melbourne, the state capital, being stuck in a hard lockdown for nearly two months as officials race to vaccinate the population before easing restrictions.
A total of 1,438 new infections were reported, the majority in Melbourne, eclipsing the previous daily high of 950. Five new deaths were also recorded in the state.
Australia's largest cities, Sydney and Melbourne, and the capital Canberra are in a weeks-long lockdown to combat a third wave of infections fuelled by the fast-moving Delta variant.
Authorities have ditched a Covid-zero strategy and are looking at higher vaccination rates as their exit strategy from lockdowns.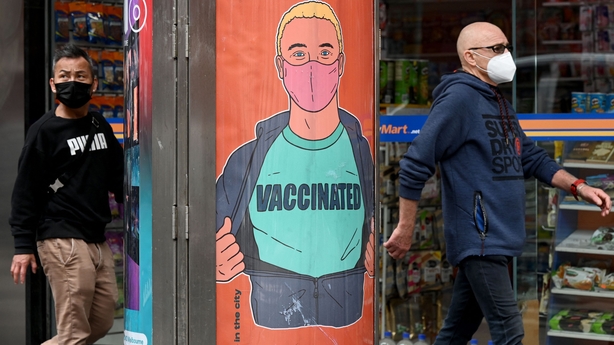 The record cases in Victoria come as the federal government decided to phase out its emergency financial support for businesses impacted by the lockdowns, in line with its plan to end support to virus-impacted employees.
Treasurer Josh Frydenberg said the temporary payments will stop once 80% of the adult population in states and territories becomes fully vaccinated.
But Victoria's businesses will receive a fresh €1 billion support from the federal government through the next six weeks at which point the state should hit that dosage target, from around 50% now.
"We can't eliminate the virus, we need to learn to live with it in a Covid-safe way", Mr Frydenberg said in a statement.
Australian Prime Minister Scott Morrison has been pressing all states and territories to begin living with the virus once full inoculations reach 70%-80% but Queensland and Western Australia, largely Covid-free, flagged they may delay their reopening.
Despite the latest Delta outbreaks, total cases in Australia stand at around 104,000 and deaths at 1,283, well below other comparable nations.
Egypt receives first 1.6 million doses of Pfizer vaccine from US
Egypt has received 1.6 million doses of the Covid-19 vaccine produced by Pfizer as a gift from the United States as part of the COVAX initiative, the first batch of a total of five million doses, the country's health ministry said in a statement.
Egypt has been quickly accumulating a stock of vaccines for its population of over 100 million, having already received vaccines produced by AstraZeneca, Sinopharm, Sputnik and Johnson & Johnson, as well as Sinovac, which it is also producing locally.
Germany supplied a total of 2.3 million doses to Egypt over two days last week, the Egyptian health ministry said.
The COVAX facility, backed by the World Health Organization and the Global Alliance for Vaccines and Immunization (GAVI), has delivered over 301 million doses to 142 countries.
Beijing Olympics rules out overseas fans over virus threat
The Beijing Winter Olympics in February next year will be held without overseas spectators and athletes must be fully vaccinated against coronavirus or face 21 days' quarantine, the International Olympic Committee said.
The measures, which do allow spectators who are living in mainland China, were revealed with the Games just four months away and after the Tokyo 2020 Olympics similarly juggled with how to go ahead safely during the pandemic.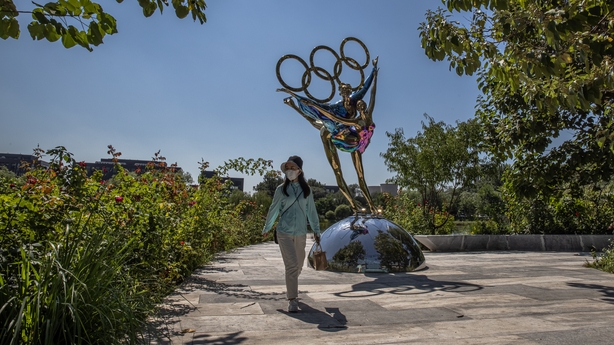 The Tokyo Games, which were postponed by a year because of the health crisis, mostly took place without any spectators to prevent infections.
Another difference from Tokyo will be that all participants must be vaccinated or will need to do a 21-day quarantine on arrival in the Chinese capital.
Athletes who can provide a "justified medical exemption" will have their cases considered.
All attendees will enter a strict "bubble" as soon as they land that covers Games-related areas and stadiums as well as accommodation, transport, catering and the opening and closing ceremonies.