Taoiseach Micheál Martin has said the opening session of the United Nations General Assembly was significant and the strong theme emanating from it is that "we are facing into the abyss on climate change".
Speaking to reporters in New York, he said both the UN Secretary General Antonio Guterres and US President Joe Biden gave strong presentations.
He said: "One senses that given recent extreme weather events there is a growing momentum to doing better than we have been on the climate change issue."
Mr Martin said there were very strong themes covered at the UN session, not just on climate change, but also on the Covid-19 challenge and the consistent theme to defend democracy.
He said it dovetails with Ireland's agenda on the UN Security Council and its general approach to multilateralism and international affairs.
Taoiseach Micheál Martin has welcomed the messages of multilateralism in the speech delivered by US President Joe Biden at the United Nations General Assembly in New York | https://t.co/u2Wug3xZhC pic.twitter.com/MMx7P6HJzZ

— RTÉ News (@rtenews) September 21, 2021
He said he had a good meeting with European Commission President Ursula von der Leyen earlier today and he will be attending an important session later on the issue of women in conflict.
Mr Martin said there are challenges for President Biden internationally, not least in terms of Afghanistan and leaving France out of a defence deal.
"That said he is a committed multi-lateralist at heart. There is no doubt about that. We see him as a very strategic asset and support for our agenda in international affairs in particular on issues like climate change and Covid-19 and defending the idea of democracy and pushing back against authoritarianism."
He said Mr Biden has been very consistent with the messaging he has given to British Prime Minister Boris Johnson and the UK government so far in relation to the NI protocol and agreements.
He said he imagines when they meet this week, Mr Biden will say that it is important the UK government engages with the EU and get the issues resolved. "That is the clear message he has been giving to people."
Regarding Ireland's consideration of the OECD proposal on the global tax rate, the Taoiseach said the bottom line is that they are in an OECD process and it is about engaging in a constructive away.
"We have not joined a consensus so far."
He said the next number of weeks will be "key" as how that process concludes. "It is not as simple as one rate."
"I am loathe and reluctant to get into the specifics until the final process has concluded," adding that
competitiveness is essential.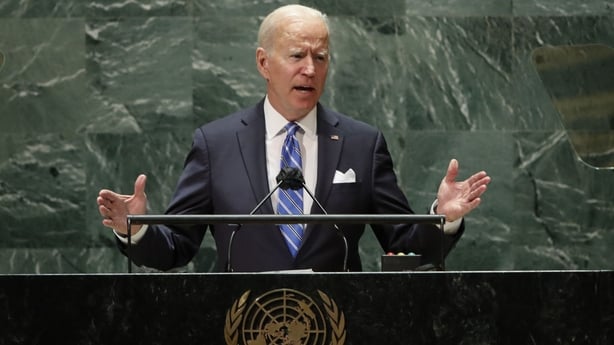 His comments come after Mr Biden defended the chaotic US withdrawal from Afghanistan in his speech to the United Nations, arguing it was a necessary step to pivot US policy to focus on a global challenge from anti-democratic systems, the Covid-19 pandemic and climate change.
The UN General Assembly is meeting in person for the first time in two years but at limited capacity and with pandemic precautions.
"We've ended 20 years of conflict in Afghanistan and as we close this era of relentless war, we're opening a new era of relentless diplomacy," Mr Biden said, making his first appearance as president at the assembly.
Facing criticism of the Afghan pullout, Mr Biden vowed to defend vital US national interests, but said "the mission must be clear and achievable," and the US military "must not be used as the answer to every problem we see around the world".
US President Joe Biden told the United Nations General Assembly that America is "opening a new era of relentless diplomacy" following the end of the war in Afghanistan | https://t.co/iJ9kIsePco pic.twitter.com/kMULaOoZor

— RTÉ News (@rtenews) September 21, 2021
Mr Biden said the United States would be prepared to use force "if necessary" but that military power must be a "tool of last resort".
"The mission must be clear and achievable, undertaken with informed consent of the American people and whenever possible in partnership with our allies," he added.
Mr Biden hoped to present a compelling case that the United States remains a reliable ally to its partners around the world after years of 'America First' policies pursued by his Republican predecessor Donald Trump.
Mr Biden said the world is facing a decisive decade and that addressing a variety of challenges "will hinge on our ability to recognise our common humanity".
He said that "instead of continuing to fight the wars of the past, we are fixing our eyes" on challenges such as the global pandemic, addressing climate change, cyber threats and managing the shift of "global power dynamics".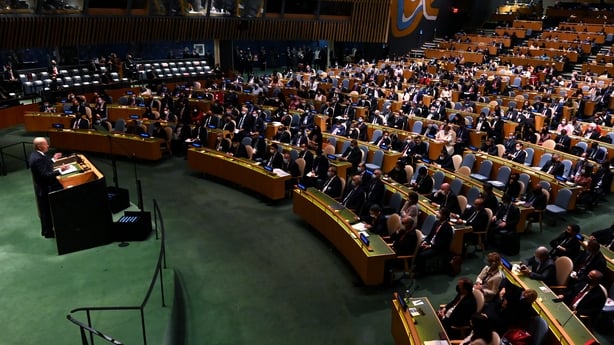 Mr Biden told the Assembly that his country would "double" its contribution to climate finance.
"This will make the United States a leader in public climate finance," Mr Biden said, adding that he would work with Congress to achieve the goal.
The United Nations says there is a $20 billion shortfall in the $100 billion fund that developed countries promised to mobilize annually from 2020-2025 for helping poorer nations adapt to climate change.
"Our collective future will hinge on our ability to recognise our common humanity and to act together."

In his UN address, US President Joe Biden told leaders that the world must work together as never before to face global challenges | https://t.co/iJ9kIsePco pic.twitter.com/MnzGDKHdQt

— RTÉ News (@rtenews) September 21, 2021
Mr Biden also said the United States does not seek a "new Cold War," in a reference to relations with China.
The Biden administration has identified a rising and authoritarian China as the paramount challenge of the 21st century, but in his United Nations debut he made clear he was not trying to sow divisions.
"We are not seeking a new Cold War or a world divided into rigid blocs," Mr Biden said.
"The United States is ready to work with any nation that steps up and pursues peaceful resolution to share challenges even if we have intense disagreement in other areas."
Mr Biden did not mention China by name, other than voicing alarm about human rights in Xinjiang, where experts say more than one million people from the Uyghur and other mostly Muslim populations are incarcerated.
Opening the General Assembly, Mr Guterres warned of growing divisions between the United States and China and urged dialogue.
"I fear our world is creeping towards two different sets of economic, trade, financial and technology rules, two divergent approaches in the development of artificial intelligence - and ultimately two different military and geopolitical strategies," Mr Guterres said.
"This is a recipe for trouble. It would be far less predictable than the Cold War."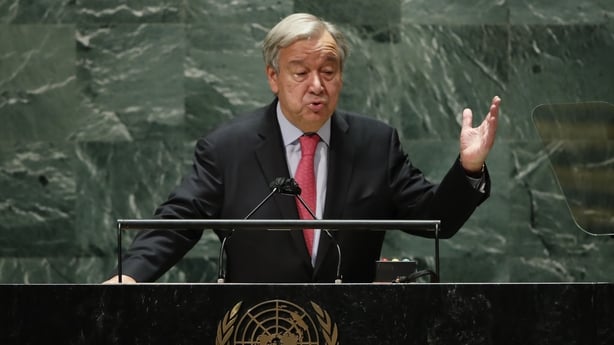 Mr Biden will end a busy diplomatic week with an unprecedented four-way summit at the White House with the leaders of Australia, India and Japan - the so-called "Quad" widely seen as a united front against China.
But his efforts to shore up alliances have faced one sudden and strong hurdle: France.
Paris recalled its ambassador to Washington in fury after Australia canceled a multibillion-dollar contract for French conventional submarines in favor of US nuclear versions as part of a new alliance announced with Washington and London.
French Foreign Minister Jean-Yves Le Drian has said he will not meet one-on-one in New York with US Secretary of State Antony Blinken, and has described Mr Biden's diplomatic style as "brutality."
The White House appears confident it can calm the spat, with Mr Biden set to speak by telephone to French President Emmanuel Macron, who is not attending UNGA due to Covid precautions.
But German Foreign Minister Heiko Maas, who openly rejoiced in Mr Biden's defeat of Donald Trump, voiced solidarity with France and called the submarine decision "disappointing."
"I was never under any illusion that we wouldn't have problems with the new American president," he told reporters.
With reporting - Karen Creed