Dutch Foreign Minister Sigrid Kaag resigned from her job today after the Netherlands parliament formally condemned her handling of the Afghanistan evacuation crisis.
Legislators from across the political spectrum said Ms Kaag bore responsibility for the government's slow response to the surge of the Taliban.
She was also criticised for failing to prepare the safe passage of thousands of Afghans who could have been eligible for asylum in the Netherlands.
Lawmakers approved a motion criticising the government for failing to evacuate some Afghans, and for missing signs of an imminent Taliban takeover.
"The House considers that the government has acted irresponsibly. And although I stand by our commitment, I can only accept the consequences of this judgement as the minister with ultimate responsibility," Ms Kaag said in a statement to parliament.
"In my view on democracy and the culture of our administration, a minister should go if the policy is disapproved. I will therefore submit my resignation as minister of foreign affairs to his majesty the king."
Ms Kaag said she would stay on as leader of the centre-left D66 party, which is in coalition talks with Prime Minister Mark Rutte after winning the second-most seats in elections in March.
Her resignation comes a day after Britain's Dominic Raab was demoted from his position as foreign minister over the way he dealt with the situation in Afghanistan.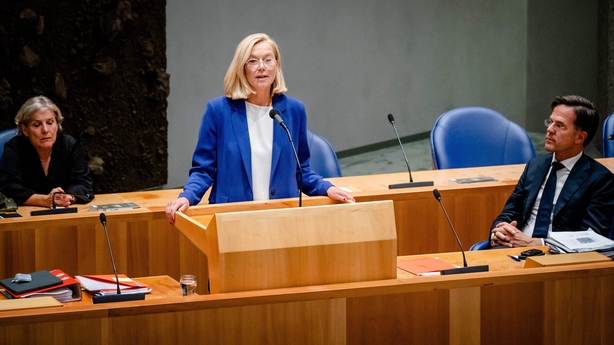 Dutch military planes evacuated around 2,100 people from Afghanistan to neighbouring countries in the last two weeks of August, and almost 1,700 of them had the Netherlands as their final destination.
But hundreds of Dutch citizens, many of Afghan origin, and an unspecified number of Afghans who worked for military missions, news media or non-governmental organisations were left behind as they were not able to reach the airport.
Former diplomat Sigrid Kaag served as UN special coordinator for Lebanon in 2015-2017, and before that headed a UN team overseeing the destruction of Syria's chemical weapons.
Her left-leaning D66 party was one of the main winners in the Dutch general elections last March, but efforts to form a new government have so far stalled.